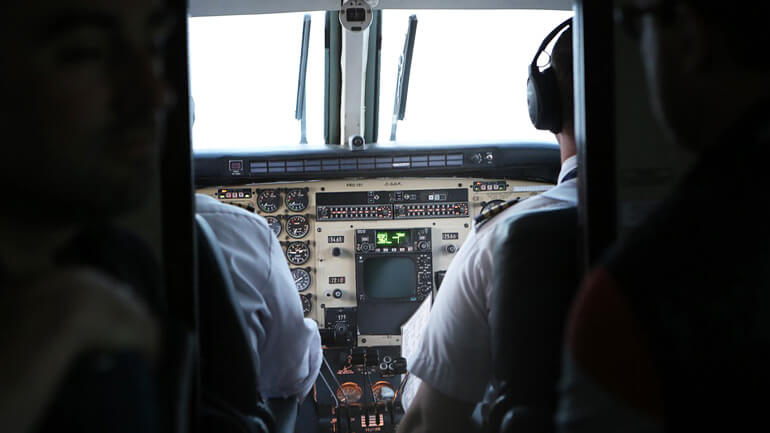 Captain Park Kil-Jae, 53, has been flying A320s for Shanghai-based Spring Airlines for 10 years. "It's much better than flying in Korea," he said.
从十年前开始,现年53岁的机长朴吉宰在以上海为总部的春秋航空公司执飞空客A320。他说:"比在韩国飞好多了。"
When he decided to take the job that made him the first Korean pilot to join a Chinese airline, he didn't expect it to be the start of a seismic change that has resulted in a shortage of experienced pilots in his home country. Korea has become the biggest source of foreign captains in China.
朴吉宰是首位加入中国航空公司的韩国飞行员。当他决定接受这份工作时,并没有想到这是一场造成他的祖国缺少有经验飞行员的大震荡的开端。韩国已经成为在华外国机长的主要来源。
In 2006, Park had just lost his job at South Korea's second biggest carrier Asiana Airlines for leading Korea's biggest pilot strike in 2005. Spring, China's first low-cost carrier, had just been formed the year before. It only had three planes, but offered him a 20% pay rise.
朴吉宰在2005年领导了韩国最大的一场飞行员罢工,也因此在2006年失去了在韩国第二大航空公司亚洲航空公司的工作。中国首家低成本航空公司春秋航空刚好在那之前一年成立。它当时只有3架飞机,但给朴吉宰加薪20%。
China, the world's fastest-growing aviation market, has been relentless in luring experienced foreign pilots with fat paychecks to make up for a systematic shortage of domestic pilots and their lack of job mobility.
中国是世界上发展最快的航空市场,一直在不遗余力地以高薪吸引有经验的外国飞行员,以弥补本国飞行员的系统性短缺和职业流动性的不足。
US aircraft maker Boeing estimates China's commercial aeroplane fleet will nearly triple to 7,210 planes over the next 20 years, and it will need 100,000 pilots over that period – amounting to nearly half of the Asia-Pacific pilot demand and nearly a quarter of the world's total demand. Korean pilots, on the other hand, have been paid below the global average and have hardly won any pay raises since the 2005 strike, according to Korea Times. Korea has replaced the US as the number one place of origin for foreign captains flying for Chinese airlines in 2013, data from the Civil Aviation Administration of China shows.
据美国飞机制造商波音公司估计,未来20年,中国商业机群的规模将增至7210架,同时在这一阶段需要10万名飞行员——相当于亚太地区飞行员需求量的近一半和全球总需求量的近四分之一。与此同时,据《韩国时报》报道,韩国飞行员的收入低于全球平均水平,而且自2005年的罢工以来,几乎没有获得任何加薪。中国民航部门的统计数字显示,2013年,韩国取代美国成为加入中国航空公司的外国机长的首要来源。
China opened up its aviation sector – once monopolised by the state – to private capital in 2005 and started the systemic import of foreign pilots the following year. It was the fastest way for Chinese airlines to meet the demand for people to fly their growing fleet.
中国在2005年对民间资本开放曾由国家垄断的航空业,并在第二年开始系统性地引进外国飞行员。由于飞机越来越多,这是中国航空公司满足飞行员需求的最快途径。
The number of private airlines has mushroomed since 2013. Market liberalisation has intensified the scramble for pilots. The number of foreign captains in service in China peaked in 2014 to 689, with 264 in airlines fewer than 10 years old – a 62% jump from the previous year.
自2013年以来,民营航空公司如雨后春笋般涌现,市场开放加剧了对飞行员的争夺。在华服务的外国机长数量在2014年达到689人的顶点,其中264人供职于成立不到10年的航空公司,与上一年相比飙涨62%。
There were 524 foreign captains in service with mainland airlines in 2015, or 4.73% of the total, a ratio that already declined from a high of 8.49% in 2011. That included 106 from Korea, 71 from the US, and 44 from Mexico.
2015年有524名外国机长供职于中国内地航空公司,占总人数的4.73%,这一数字低于2011年的峰值8.49%。这其中包括106名韩国机长、71名美国机长和44名墨西哥机长。
High pay, a light workload, and fast-track career upgrades are the common attractions for the foreign captains, while geographical and cultural approximity make China especially attractive for Korean pilots.
高薪、工作负担轻和快速的职业上升通道是通常吸引外国机长的几点因素,而地理和文化上的接近令中国尤其对韩国飞行员有吸引力。
The after-tax pay for an A320 captain could be as high as US$20,000 a month with a mainland airline, which can also offer foreign pilots commuter arrangements that allow them to return to their home country for long intervals between work stints.
供职于中国内地航空公司的空客A320机长的税后月收入可以高达2万美元,航空公司还可以为外国飞行员提供通勤安排,使他们能够在工作时段之间回国。
"I can never make that kind of money in my home country," Scott Drummond, 45, who joined Hainan Airlines from the now defunct Canjet in Canada, said,
45岁的斯科特·德拉蒙德从加拿大加捷航空公司跳槽至中国海航,他说:"在加拿大,我永远不可能赚那么多钱。"