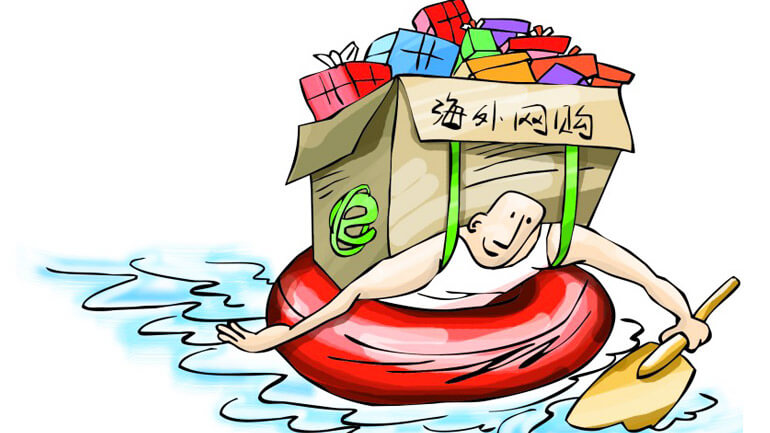 Consumer longing for foreign goods motivated by more than price, with product authenticity and trust key.
对于那些热衷于购买国外商品的消费者而言,价格并非唯一驱动力。商品的纯正性以及信任感才是关键。
Much has changed in the Chinese consumer landscape but the cachet attached to foreign goods remains the same, according to a survey by FT Confidential Research, a unit of the Financial Times, showing cost is not the only motivator.
隶属于《金融时报》的投资参考部门所进行的一项调查显示,虽然中国人的消费情形出现了很大改变,但外国商品所自带的威信却没有改变。这表明,价格并非是中国人对外国货趋之若鹜的唯一原因。
Recent government tax increases and tighter customs treatment of business-to-consumer cross-border ecommerce, dubbed haitao in Chinese, may appear to threaten surging demand for international goods, but the survey shows that consumers are motivated by more than price. Besides, the change in price wrought by the change in tax treatment has been slight. China previously levied a parcel tax on imported goods worth less than Rmb1,000 at a rate of about 10%. But manpower shortages meant customs inspected barely more than 5% of parcels, according to FTCR estimates.
近来中国政府提高税收以及对B2C跨境电商(即"海淘")进行了更为严格的扣税,这些动作看似会对外国货不断攀升的需求量造成威胁。不过调查显示,消费者关注的不仅仅是价格。另外,征税方式的改变所带来的价格变动其实并不大。中国之前对价格低于1000元人民币的进口商品收取10%的行邮税。不过据投资参考估计,海关的人手不足意味着开箱检查率不会超过5%。
Under the new tax rules, FTCR calculations suggest that prices for haitao goods may eventually rise as much as 10%, but the price differential is still solidly in their favour. Channel checks by FTCR on a basket of goods frequently purchased online found a narrowing of this differential following the changes. But the difference was minor.
投资参考的计算显示,根据最新税法,海淘商品的价格最终可能会提高10%。然而即便如此,价格差仍对消费者有利。投资参考对近来在网上购买的一篮货物的价格进行了核查,发现政策改变之后的价格和过去相比稍有变化,但变化不大。
But money isn't everything. A large, recent FTCR survey of outbound tourists found that authenticity and trust in the origin of the product were the most important factors driving Chinese consumers to buy from overseas, ahead of cost. Safety and quality assurance were also key factors, reflecting a broader mistrust of local manufacturers among China's growing middle class.
不过价格并非一切。投资参考近来对中国出境游客进行的一项大型调查发现,保真性及对货源的信赖要排在价格之前,是促使中国消费者从海外购买商品的最重要因素。同时,安全性和质量保障也是重要因素,这反映出中国日渐壮大的中产阶级普遍对国内制造商抱有不信任感。
FTCR's survey suggests this is particularly good news for cosmetics brands. Chinese consumers continue to spend heavily on foreign make-up, both online and when travelling overseas.
投资参考的调查显示,消息对于化妆品品牌来说尤为利好。无论是通过网络,还是出境游,中国消费者大量购买国外化妆品的热忱依旧如常。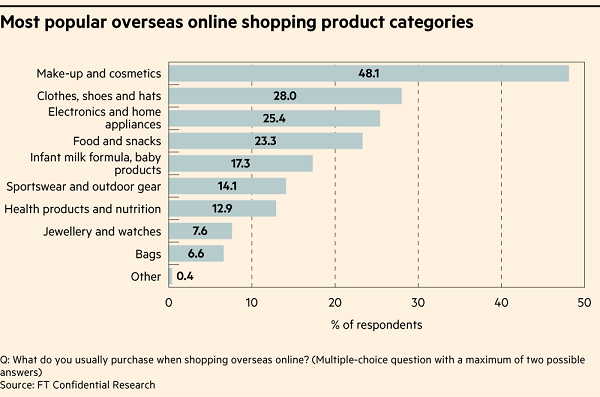 Gan Tian, a 32-year old Beijing-based office worker, estimates he spends an extra 10% by purchasing sports supplements on US-based iherb, but he likes its Chinese-language website and the fact that it accepts Alipay for payment, and he feels he is guaranteed not to be buying fakes. It is the attitude of consumers such as Mr Gan that means even if prices are forced up by additional regulatory and tax moves haitao should continue its rapid growth.
32岁的北京白领甘甜表示,他在美国iHerb直邮网站上购买的运动型补充剂比过去贵了10%,不过他喜欢中文网站的便利,还能直接用支付宝付款,而且绝对保证是正品。正是由于像甘甜这样的消费者所持有的态度,即便价格被新规和税收政策推高了,海淘快速增长的势头依旧不会减弱。
Spending via haitao channels grew 38.5% to Rmb900bn in 2015, according to iResearch, a market research company, while nearly 60% of respondents to a survey of 1,000 local consumers by FTCR said they would increase spending on overseas products over the next 12 months.
市场调查公司艾瑞咨询称,2015年,中国人的海淘消费增长了38.5%,达到9000亿人民币。同时,投资参考对1000名中国本地消费者所进行的调查显示,60%的调查对象均表示,未来一年中他们会在购买海外商品上花更多的钱。
The gradual reduction of the China price premium – bringing prices of goods sold locally more in line with those in the west – may threaten the growth of haitao, but until the trust gap is closed, China's aspirant consumers will continue to buy from international sources.
中国对外国商品加价(本地与西方价格差)的逐渐减少或许会威胁到海淘的增长,但除非人们能跨过信任这道坎,不然中国消费者仍会热衷于从国际渠道购买外国货。