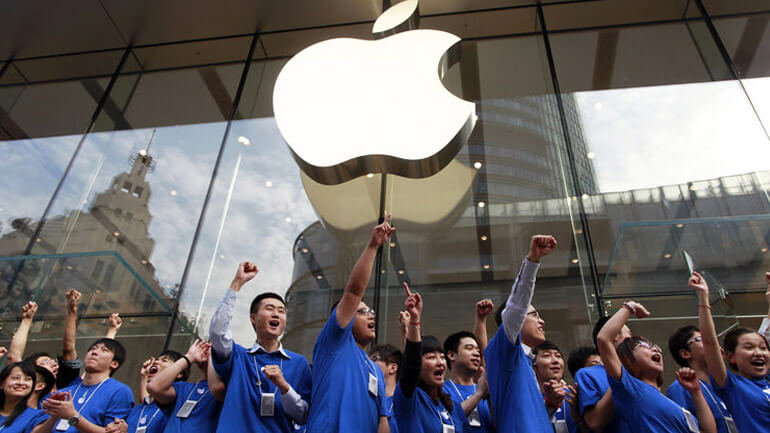 For the last five years, incomes have grown faster in China's rural areas than in cities. Per capital rural incomes now top $6,000 annually — a key threshold for consumer spending and enough, for some, to afford the new low-end iPhone.
过去5年里,中国农村地区的收入增长速度比城镇要快。农村人均年收入现已超过6000美元,这个数字是消费者开始支出和让有些人买得起新款低端iPhone的关键阈值。
Apple's iPhone SE might be one of the company's least impressive products in years. Its tech specs have been available in other iPhone models and Android devices for months, and its form factor dates back to the early part of the decade. Its only distinguishing factor is an entry-level price – around $500 – that Apple executives are hoping will bolster its fortunes in China, where sales are badly sagging.
苹果公司的iPhone SE可能是该公司几年来最不起眼的产品之一。其技术规格已在其它型号的iPhone和安卓设备上用了好几个月,外形则可追溯到几年前。其唯一的亮点是入门级价格(500美元左右),苹果公司高管希望借此支撑在中国的财运,而那里的销量正严重下滑。
It's not a half-bad bet.
苹果作此抉择是对的。
It won't be easy. Rural Chinese may have more money to spend, but not that much more: Their price points remain relatively low. At the same time, their expectations for quality are rising to converge with those of city folk. Global brands that could once depend on selling cheap to China need to learn how to sell better, without raising prices too much, or risk losing market share.
但这并非易事。中国农村人或许有更多的钱可花了,但并没有多很多:他们能接受的价位仍然相对较低。与此同时,他们对质量的要求在提高,逐渐与城里人趋同。曾经可以靠对华销售便宜货过日子的全球性品牌需要学习如何在不涨价太多的前提下提高销售额,否则就有可能失去市场份额。
Disposable diapers are a case in point. In the 2000s, Proctor & Gamble popularized their use in China in part by pricing them as low as $0.10 per diaper. P&G's Pampers quickly became China's most popular brand and stayed that way until the early 2010s, right around the time that rural incomes started to accelerate. Rather than buy more 10-cent diapers with that money, rural consumers started to seek out higher-quality products, with a strong preference for imported Japanese brands.
一次性尿不湿是个很好的例子。21世纪头10年,宝洁公司在中国推广了这种尿不湿,一定程度上靠的是定价低至每片0.1美元。宝洁的帮宝适迅速成为中国最畅销的品牌,这个局面一直持续到这个10年之初,差不多正好是农村收入开始加快增长的时候。而农村消费者不是花同样的钱去买更多单价10美分的尿不湿,而是开始寻求质量更高的产品,且特别青睐进口的日本品牌。帮宝适的销量急剧下降,至今仍未恢复。
In February, P&G CEO Dave Taylor explained the company's mistake: "We looked at China too much like a developing market as opposed to the most discerning market in the world." The company is now pushing higher-end diapers that sell for as much as $0.50 apiece – pricier than top-of-the-line Pampers in the U.S. market.
今年2月,宝洁公司首席执行官戴夫·泰勒解释了公司的失误,他说:"我们把中国过多地看作一个发展中市场,而不是世界上最挑剔的市场。"公司现正推销售价高达每片0.5美元的高端尿不湿,比美国市场上的顶级帮宝适还要贵。
This "premium-ization" of Chinese consumers is driven by a number of factors in addition to income. A series of high-profile food-and-drug scandals have made Chinese especially leery of low-end brands. Concerns about product quality, and a lack of accountability for manufacturers of shoddy goods, have fed the trend. Premium-ization isn't only about fear. It also speaks to the growing sophistication of rural Chinese, most of whom now have access to the same online shopping platforms as their far wealthier counterparts in Shanghai.
中国消费者的这种"高级化"是由诸多因素促成的,收入只是其中之一。一系列引人注目的食品和药物丑闻使中国人对低端品牌格外警觉。对产品质量的担忧和对伪劣商品生产厂家问责制的缺失都对这个趋势起到了推波助澜的作用。高级化不仅与恐惧有关。它还说明中国农村人越来越有头脑,他们中的多数人现在可以与上海的有钱人使用同一个网购平台。
Whatever their preferences, of course, rural Chinese only have so much to spend; smartphone ownership is growing fastest among those earning less than $800 per month. Chinese manufacturers have recognized this instinctively; several are now selling phones with similar specs to recent iPhones – one of the most respected brands in China – but for several hundred dollars cheaper. It's working, too. Last quarter, Oppo and Vivo, two leading Chinese smartphone brands, saw their shipments increase 67 percent and 56 percent, respectively, thanks to China's "premium budget" customers.
当然,无论他们喜欢什么,中国农村人可花的钱只有那么多。而智能手机在月收入不到800美元的人中普及得最快。中国制造商已本能地认识到了这点,有几家现正销售规格与近期的iPhone类似但价格便宜好几百美元的手机。这种策略还真奏效了。上季度,中国的两大智能手机品牌Oppo和Vivo的出货量分别增加了67%和56%。这得益于中国的"高级平价"客户。
The iPhone SE, released in late March, is targeted to those same consumers, out of a reasonable hope that they aspire to Apple's quality pedigree and ecosystem. Though no sales figures are yet available, pre-orders exceeded a healthy 3.4 million in China, while one industry supply chain newsletter reports that Chinese handset makers are scaling back production due to the new competition.
苹果今年3月推出iPhone SE瞄准的也是这些消费者,寄望于他们追求苹果的高贵品质和生态系统。虽然销售数字尚未公布,但在中国的预订数超过了340万部。同时,一份业内供应链简报称,由于出现了这个新竞争对手,中国手机厂商都在缩减产量。
Long-term, all features being relatively equal, the SE has a chance to pace the competition. The key for Apple, as for any illustrious global brand, is to remain adaptable and to appreciate how sophisticated Chinese customers have become. For the right product, at the right price, China can still be the biggest market in the world.
从长远来看,在所有功能特征大同小异的情况下,iPhone SE有望在这场竞争中领先。对苹果及所有全球性大品牌来说,关键是要保持较强的适应能力,要认识到中国客户已变得非常有头脑。对于定价合理的合适产品来说,中国仍会是世界上最大的市场。