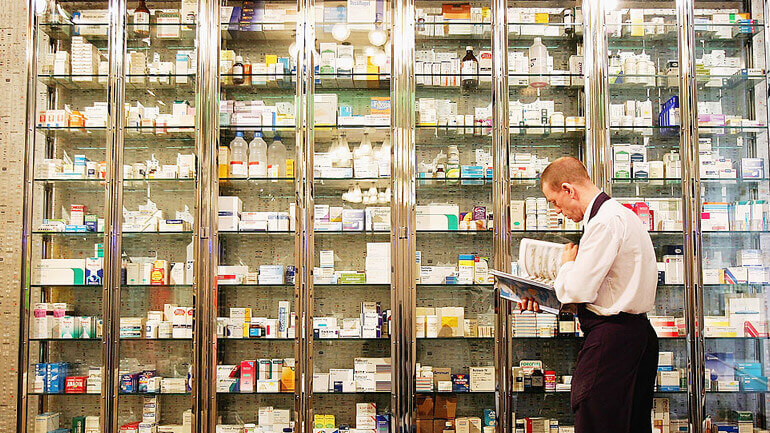 More than 600 Chinese pharmacy store owners and government officials are set to descend on Melbourne with one goal – to strike as many deals as they can.
中国超过600家药店的老板和政府官员将怀着一个共同的目标来到墨尔本——达成尽可能多项生意。
The delegation has invited Australian vitamin makers and other health product manufacturers to do business with them at the Pullman Hotel, overlooking Albert Park.
这个代表团邀请了澳大利亚的维生素制造商和其他健康产品生产商,与他们在俯瞰阿尔伯特公园的铂尔曼酒店谈生意。
Ma Shoujun, chairman of the China Medical Pharmaceutical Material Association, said the event, scheduled for late June, will last for three days, at the end of which contracts would be signed. "This is not like the way Chinese delegations are traditionally done – come here, have a look, talk and then nothing happens," Mr Ma said.
中国医药物资协会主席马守军说,这项将于6月底举行的活动将持续三天,在活动的最后将签署合同。马守军说:"这与中国代表团的常规行事方式不同——到了,看看,谈谈,然后什么事都不会发生。"
"This time something will happen, contracts will be signed – business to business. And the business will be ongoing. We want to form partnerships."
他说:"这一次会有事情发生,将会签署合同——商家对商家。而且这种商业关系会持续。我们将建立合作关系。"
Mr Ma's association represents 240,000 pharmacy outlets, the frontline of China's health industry, which is estimated to be worth about 8000 billion yuan. The pharmacy owners will be looking to source products such vitamins, infant formula, health drinks, lambs wool and allergy resistant bedding and other health products.
马守军的协会代表着24万家药店,是中国健康产业的前线,这一产业的估价约为8万亿元人民币。这些药店老板将着眼于采购维生素、婴儿奶粉、健康饮品、羊毛和防过敏的床上用品、以及其他健康产品。
Mr Ma said the association, which represents about 80 per cent of China's pharmacies, was looking to adopt a similar model to Chemist Warehouse, in which the majority of products were not sold through the dispensary. He said in China about 70 per cent of pharmacy sales were through the dispensary, while 30 per cent were over-the-counter medications or health-related products. Pharmacy owners were looking to flip that model to capitalise on China's growing middle class.
马守军说,这个协会代表着中国80%的药店,正在寻求采取一种类似于"化学家药房"的模式,后者中的大部分产品都不通过药房出售。他说,在中国,药店销售额的约70%是通过药房,而只有30%是通过非处方药和保健品。药店老板们正在着眼于改变这一模式,以从中国规模日益增长的中产阶级身上获利。
"The health industry will be a huge market for China, worth 8,000 billion yuan, so that the big opportunity for us to share part of the pie with Australia," Mr Ma said.
马守军说:"对于中国来说,健康产业将是一个价值8万亿元的巨大市场,因此这也是我们与澳大利亚分享这个蛋糕的巨大机会。"
"The Australian products are reliable, good products and Chinese pharmacies and customers feel comfortable with them."
"澳大利亚的产品可靠、质量好,中国的药店和消费者对这些产品很放心。"
He said the association chose Australia to host the delegation because the Chinese free trade agreement, which came into effect in December, had made Australian products more competitive. Under the agreement, tariffs of up to 10 per cent on pharmaceuticals, including vitamins and other health products, will be eliminated progressively by January 2019. Mr also hoped that Australian retailers will look to source traditional Chinese medicines and health equipment from China during the visit.
他说,协会选择澳大利亚作为代表团的目的地,是因为于去年12月生效的中国和澳大利亚的自由贸易协定令澳大利亚的产品更具竞争力。根据这一协议,到2019年1月,对药品,包括维生素和其他健康产品,所征收的10%的关税将被逐步取消。马守军还希望,澳大利亚的零售商在访问中国期间将会考虑采购中国的传统中药和健康仪器。
Mr Ma said Chinese government officials would accompany the pharmacy owners to ensure smooth trade between the two countries.
马守军说,中国政府的官员将与药店老板一起访问澳大利亚,以确保两国之间的贸易能够顺畅进行。
Currently, products with health claims – such as dietary supplements – have an expensive and lengthy approval process to be sold in China, costing about $200,000 an item and taking up to three years. Australia-China Business Council chairman Ken Smith said he understood the government officials would help streamline that process.
当前,宣称有保健作用的产品——如膳食补充剂——要在中国市场销售需要经历一个昂贵而漫长的审批程序,每件产品耗资约20万澳元,耗时可达3年。澳中商业委员会主席肯·史密斯说,他知道政府官员将帮助简化这一程序。
"It is a wonderful opportunity for Australian manufacturers to promote their products to China as well as local distributors to discuss managing the influx of Chinese complementary medicines products into Australia," Mr Smith said.
史密斯说:"对于澳大利亚制造商向中国推广自身的产品以及本地经销商讨论如何控制中国辅助药物流入澳大利亚来说,这是一个绝佳的机会。"