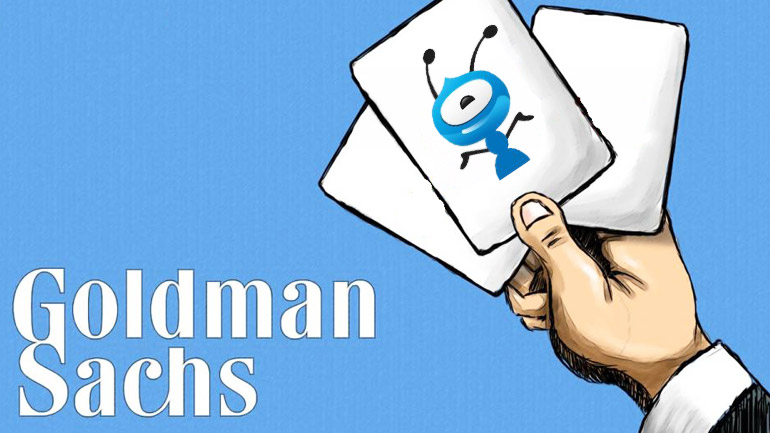 "Former Goldman Sachs banker" is fast becoming a common line on résumés in the Chinese tech sector's senior ranks.
"前高盛银行家"正在迅速成为应聘中国科技公司高层职务的一个必要条件。
The financial affiliate of e-commerce giant Alibaba Group Holding Ltd. is close to announcing the hiring of Goldman Sachs Group Inc. banker Douglas Feagin to help its global push, according to people familiar with the situation.
知情人士说,电子商务巨头阿里巴巴集团旗下的金融公司即将宣布,聘请高盛集团前银行家道格拉斯·费金,帮助该公司扩展海外业务。
Ant Financial Services Group, China's most valuable financial-technology company, runs the country's largest online payments platform by transaction volume, Alipay. Its global push includes investments in India and a deal with Uber Technologies Inc. to allow riders to pay fares with Alipay world-wide.
作为中国估值最高的金融技术公司,蚂蚁金服经营着中国最大的网络支付平台——支付宝。它的全球推进计划包括,在印度投资以及与优步公司达成协议,允许乘客在世界各地用支付宝付费。
Ant Financial is flush with cash after a clutch of mostly Chinese state-backed firms invested $4.5 billion in its latest fundraising round—valuing the privately held company at roughly $60 billion—and has stepped up its hiring of deal makers ahead of its planned initial public offering.
蚂蚁金服在最新一轮融资中,获得45亿美元的投资,使这家私有企业的估值达到600亿美元,"不差钱"的蚂蚁金服开始招聘交易师,为上市作准备。
Mr. Feagin joins a group of Goldman Sachs alumni in senior positions at Chinese Internet giants that includes presidents of two of the biggest— Michael Evans at Alibaba and Martin Lau at Tencent Holdings Ltd. Hiring polished Western bankers can help these Chinese upstarts build credibility with partners in the U.S. and elsewhere.
在费金之前,出任中国互联网巨头高管的前高盛银行家包括,加盟阿里巴巴的迈克尔·埃文斯和加盟腾讯公司的刘炽平。聘请优秀的西方银行家有助于这些中国企业获得美国和其他国家伙伴的信任。
Investment banking isn't as attractive as it once was, even for Goldman Sachs bankers, long among Wall Street's best-paid. Goldman's first-quarter revenue—$6.34 billion, down 40%—was the lowest in any first quarter since 2004.
投行的工作已经失去往日风光,即使对高盛的银行家来说也是如此,虽然他们的薪酬在华尔街是最高的。高盛今年一季度营收为63.4亿美元,同比减少40%,是2004年以来同期营收最低的一年。
Mr. Feagin could help Ant Financial build ties with the U.S. banking establishment and guide its investments in financial startups. He previously ran investment banking for financial-institution clients for the Americas at Goldman, after working in the same role in Asia until 2010. In Asia, he worked on two of Goldman's most-lucrative Chinese-bank deals—its investment in Industrial & Commercial Bank of China Ltd., the country's largest bank by market capitalization, and the IPO of Bank of China Ltd.
费金可以帮助蚂蚁金服与美国银行业界建立联系,并引导该公司对金融初创企业的投资。他曾在高盛负责美洲金融机构客户投行业务,2010年之前,他在亚洲负责同样的工作。在亚洲任职时,他参与了两笔给高盛带来丰厚利润的中资银行交易,即对中国市值最高的银行——工商银行的投资和中国银行上市。
Mr. Feagin has retired from Goldman Sachs, according to an internal memo sent to Goldman employees last month. The memo didn't say where he was going. His hiring by Ant Financial as a senior vice president could be announced as early as this week, according to a person familiar with the situation.
高盛公司内部的一份备忘录显示,费金上月从该公司离职。这份备忘录没有透露他的去向。一位知情人士说,他出任蚂蚁金服高级副总裁的消息最早将于本周宣布。
In hiring Mr. Feagin, Ant Financial appears to be following the playbook of Alibaba, which in August hired Mr. Evans, Goldman's former chairman, as its president with a mandate to push its international expansion. Mr. Evans and Mr. Feagin worked together in Goldman's Hong Kong office.
蚂蚁金服聘请费金,似乎是效仿阿里巴巴,阿里巴巴去年8月聘请高盛前副主席埃文斯出任该公司总裁,旨在加速全球扩张。埃文斯和费金曾在高盛香港办事处共事。
Tencent's Mr. Lau, a former executive director at Goldman, joined China's largest gaming and social-networking company in 2005 as head of strategy and investments. The current chief strategy officer, James Mitchell, was formerly Goldman's New York-based head of communications, media and entertainment research.
腾讯的刘炽平曾任高盛执行董事,他于2005年加盟这家中国最大的游戏和社交公司,出任首席战略投资官。该公司现任首席战略官詹姆斯·米切尔,曾任高盛纽约分公司通讯、传媒和娱乐业研究负责人。
Before joining the homegrown Uber competitor now called Didi Kuaidi Joint Co. in 2014, Jean Liu was with Goldman Sachs for more than a decade, much of it on a Hong Kong-based team investing in Chinese deals on Goldman's behalf. As president of the ride-sharing company—valued at more than $25 billion, Ms. Liu oversees parts of the business that include dealing with global partners and U.S. investors. She is also the daughter of Liu Chuanzhi, founder of personal-computer maker Lenovo Group Ltd.
在2014年加盟优步在中国本土的竞争对手滴滴快的之前,柳青曾在高盛任职十几年,主要是在一个驻香港团队负责中国业务。作为一家估值超过250亿美元的网络出行平台的总裁,柳青负责包括与全球伙伴和美国投资者打交道的业务。她还是联想集团创始人柳传志的女儿。
Since being split off from Alibaba, Ant Financial has expanded from an online-payment platform into online wealth management and banking. More acquisitions across developing markets are in the cards.
蚂蚁金服从阿里巴巴剥离后,已经从一个网络支付平台,发展为网络理财与金融服务平台。该公司计划在发展中市场进行更多并购。