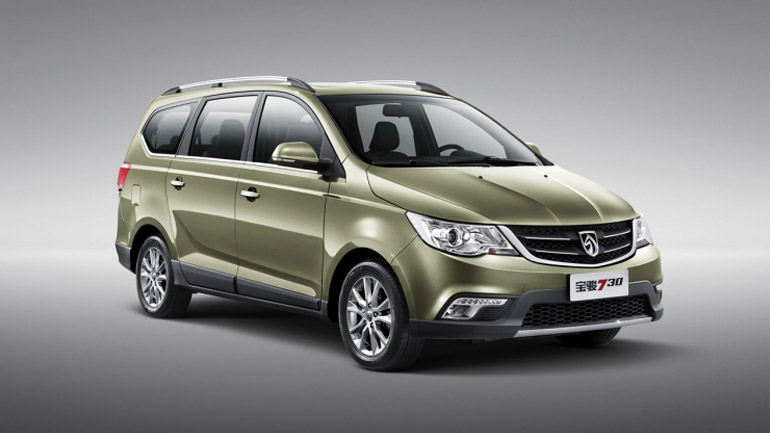 Even as Chinese car buyers feed a boom in crossovers and sport utility vehicles (SUVs), automakers are looking ahead to the likely 'next big thing' and reckon affordable people-carriers, or multi-purpose vehicles (MPVs), could be it.
在中国汽车消费者推动跨界车和运动型多用途乘用车(SUV)热销之际,汽车制造商却在思考"下一个热门车型"——他们预计那很可能就是多功能乘用车(MPV)。
Shifts towards electric cars in many cities, potential breakthroughs in autonomous, self-driving technology and lifestyle changes with the relaxation of China's one-child policy pose challenges for product planners in the world's largest autos market.
很多城市鼓励购买电动汽车,自动驾驶技术的潜在突破以及中国全面放开二孩后生活方式的改变,都给中国汽车市场的产品规划者带来挑战。
In the near-term, some predict car buyers will want roomier, more comfortable interior space. Further ahead, others see self-driving cars and electric propulsion leading to radically new body styles with even more space and comfort in cars.
近期来说,一些人预测消费者想要更宽敞、更舒适的车内空间。再往后,其他人则认为自动驾驶汽车和电力推进系统可带来空间更大、舒适度更高的革命性车身设计。
Chinese tend to live near their parents, and the changes to the one-child policy are expected to make family units larger, Hiroji Onishi, head of Toyota Motor's China operations, said on the sidelines of the Beijing auto show.
丰田汽车中国业务主管大西弘致在北京车展间隙表示,中国人倾向于住在父母附近,二孩放开预期令家庭规模变大。
"We think MPVs have good prospects in China. Given those changing life-stage needs, we think what's going to be popular are smaller, more affordable MPVs like the Noah Voxy, a compact minivan which we market in Japan," he said.
他指出,"我们认为MPV在中国有良好前景。鉴于人们在不同阶段的需求变化,我们认为未来受欢迎的是更小型、更经济的多功能汽车,譬如我们正在日本销售的紧凑型厢式旅行车Noah Voxy。"
Rising demand for MPVs contributed to an 8.8 percent increase in overall vehicle sales in March, according to the China Association of Automobile Manufacturers. MPVs account for about 5.5 percent of China's passenger vehicle market, with sales of 1.08 million vehicles last year, says consultancy IHS Automotive.
据中国汽车工业协会,3月汽车整体销售增长8.8%,MPV需求的增长也为此做出了贡献。汽车行业咨询公司IHS Automotive称,MPV约占中国乘用车市场的5.5%,MPV去年销量达108万辆。
At the more affordable end of the market are the Wuling Hongguan microvan and the Baojun 730, a minivan from SAIC-GM-Wuling. Among global automakers' offerings are the Buick GL8 and Honda Motor Co's Odyssey. The MPV segment has also expanded into a lucrative niche for spacious, luxury people-movers such as the Mercedes-Benz Viano and the Alphard.
五菱宏光微型厢式车和宝骏730是MPV市场上更经济的车型。全球汽车大厂推出的MPV车型有别克GL8和本田汽车的奥德赛。梅赛德斯-奔驰旗下唯雅诺和丰田埃尔法等宽敞豪华的MPV车型也已进入了这一有利可图的细分市场。
James Chao, Asia-Pacific managing director at IHS, believes other global automakers will mimic GM's strategy of emphasizing a market for affordable, family-oriented minivans. Chao, meanwhile, sees China's SUV boom making up as much as 45 percent of the total market in around a decade – in line with industry trends in the United States – up from around 35 percent today and just 10 percent five years ago.
IHS亚太区总监赵英智认为,其他全球汽车制造商将效仿通用汽车专注于经济型家用厢式旅行车的策略。他认为未来十年左右,SUV在中国汽车市场的占比或将达到最高45%,高于目前的约35%以及五年前的仅10%。这与美国的行业趋势一致。
The boom has been driven by China's well-off thirty somethings who want sleek looks and a roomy interior. Auto executives and industry experts predict SUV sales will continue to grow strongly for several years, even as the market becomes more crowded and profitability dips.
中国三十多岁的富裕人群青睐时髦的汽车外观与宽敞的车内空间,这驱动了SUV的繁荣。业界高管和专家预计,SUV销售未来数年将继续强劲增长,但市场会变得更拥挤、盈利能力将下滑。
MPVs aren't likely to hit those heights, but demand is expected to grow at 5-6 percent a year, Chao said. "We expect the popularity of MPVs will spread more and more to family purchases".
赵英智称,MPV不太可能有这种增速,但其需求料每年增长5-6%。"我们预计MPV会越来越受家庭钟爱。"