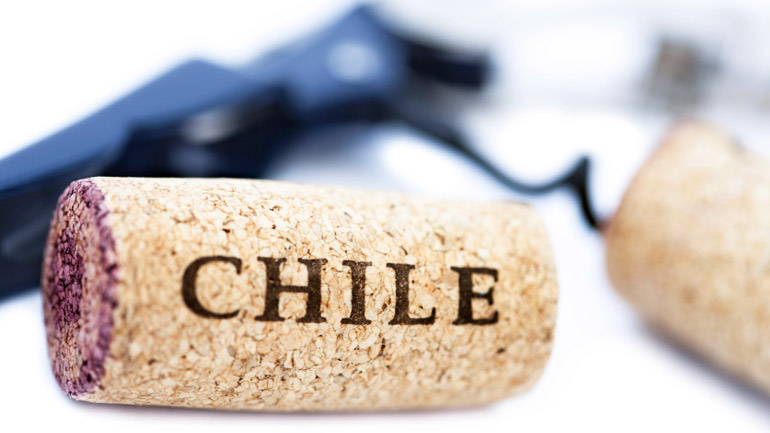 China is the world's largest market for red wine, which should be enough to put it on the radar of any winemaker. But as the business seeks to recover from the Chinese government's crackdown on corruption and lavish gift-giving, consumers are turning away from expensive French labels to "new world" exporters like Chile, the fifth-largest wine-producing nation and second-largest supplier to China.
中国是世界最大的红酒市场,这应足以让所有红酒企业关注中国。就在红酒行业寻求从中国政府打击腐败和送豪礼的行动中复苏之际,消费者正在从昂贵的法国品牌转向智利等"新世界"的红酒。如今,智利是世界第五大红酒生产国,是中国的第二大红酒供应国。
For Chile, this is more than a sales opportunity: the hope is that the wine business can wean the country off its dependence on bulk exports like copper and agricultural commodities.
对智利而言,这并不仅仅是个销售机会:希望在于,红酒贸易可能会使该国摆脱对铜和农产品等大宗商品出口的依赖。
Wine appreciation is growing among prosperous Chinese. In Shanghai or Beijing, professionals meet at wine bars. Well-off couples give a bottle as a gift. At holiday times, families propose toasts with red wine instead of the fiery, high-alcohol baijiu favoured by older men.
红酒越来越受到中国富人的青睐。在上海或北京,专业人士们会在葡萄酒吧见面。有钱的夫妇把红酒作为礼物送给对方。到了节假日,城市家庭在聚餐中喝红酒,而不是上年纪的人喜欢的酒精度高、口味浓烈的白酒。
Ten years ago, Chinese who liked the cachet but not the taste of wine mixed it with Sprite to make it go down better. Supermarkets would plastic-wrap two bottles of wine to a can of Coca-Cola as a sales promotion. A Chinese dairy executive once proudly poured yoghurt into French wine, to demonstrate the versatility of his product.
10年前,喜欢红酒的高品味、但不喜欢其味道的中国人,把雪碧兑入红酒中喝,那样更容易入口。超市为了促销红酒,会用保鲜膜把两瓶红酒跟一罐可口可乐捆绑在一起出售。一位中国乳品公司高管曾自豪地把酸奶倒入法国红酒中,以证明自家酸奶有广泛的用途。
All that is in the past. Ecommerce is the fastest-growing channel for wine sales in China and specialist clubs are springing up. In 2013, Mr López moved to Shanghai, intending to stay for six months. He ended up living for two years in a country he calls "crazy, like a movie on fast-forward".
那一切都成了过去。如今,电子商务是中国市场上增长最快的红酒销售渠道,红酒俱乐部雨后春笋般涌现出来。2013年,洛佩兹来到了上海,打算驻留半年。结果,他在这个他口中"像快放电影一样疯狂的国度"住了两年。
Around the globe, wines from Chile, South Africa, Australia and the US have eroded the market for their French counterparts. Diners in London and New York now choose a bottle based on the type of grape rather than their knowledge of French geography.
在世界各地,来自智利、南非、澳大利亚和美国的红酒已侵蚀了法国红酒的市场份额。伦敦和纽约的食客发现,根据葡萄种类而不是自己对法国地理的了解来选择红酒,是一种解脱。
China was an exception to this until recently. Confused about which wine to buy, newly rich Chinese would simply buy the most expensive French labels. "People are becoming more sophisticated in terms of thinking which countries the wine is coming from rather than just choosing France," says James Roy, analyst at the China Market Research Group in Shanghai.
直到不久前,中国在这方面还是个例外。由于不知道选哪种红酒,中国的新富人群干脆购买最贵的法国品牌。"人们正变得更加精明,开始考虑红酒产自哪个国家,而不再单单选法国品牌,"上海中国市场研究集团的分析师詹姆斯•罗伊说。
Mr López sees an opening for Chile. He wants to convince the 36m Chinese who purchase at least one bottle a month that wine need not be expensive to be good value.
洛佩兹从中看到了智利的机会。他想让每月至少买1瓶红酒的3600万中国人相信,优质红酒未必价格昂贵。
Wine consultant Guy Hooper recalls extravagant dinners even in provincial cities, far from Beijing. "Everyone was very glamorous and we were like the celebrities. There were models on catwalks, signed bottles as gifts, and then a businessman buys 60 or 80 cases."
红酒行业顾问盖伊•胡珀回忆了中国地方上的奢华红酒宴会。"每个人都光彩夺目,我们像名人一样出场。有模特在走猫步,有签名红酒作为礼品,一个企业家当场买了60箱或80箱红酒。"
Those in the marketing business who thought one such sale meant they had mastered China are having to think again. Many failed to check on basics, such as whether their Chinese agents owned refrigerated warehouses or genuine distribution networks. "Wine spoil destroys brand," Mr Hooper says.
有些营销人士曾认为,这样一次销售表明,自己已经掌握了中国市场。他们如今不得不重新思考了。许多人没有调查基本事实,比如他们的中国代理商是否拥有冷藏库或者真正的分销网络。"红酒变质会毁了品牌,"胡珀说。
Following that deal, copper exports quickly turned China into Chile's largest trading partner. Wine exports also surged, doubling within eight years. But most Chinese who drank Chilean wine were no more aware of where it came from than they were of the origin of the copper in their mobile phones. That is because most of the Chilean product sold to China is "bulk wine", a commodity, like copper. Chile's sunny, dry days and cool evenings create far more grape juice than the market for Chilean bottled wine can support. The excess is pumped into plastic bladders big enough to fit inside a shipping container and sent to China or Europe.
中国与智利自由贸易协定生效之后,智利铜出口迅速把中国变成了智利的最大贸易伙伴国。红酒出口也大幅增加,8年间翻了一倍。但喝智利红酒的多数中国人对其产地的了解,一点也不比对他们手机中铜的产地的了解多。那是因为,多数销售到中国的智利红酒是"散装红酒"——像铜一样的大宗商品。智利阳光充沛、气候干燥、夜晚凉爽,生产出的葡萄汁远远超过了智利瓶装红酒市场所能支撑的规模。多余的红酒被泵入巨大的塑料囊,通过船运集装箱运往中国或欧洲。
Bottled wines account for three-quarters of Chile's wine sales to China by value, but only one-third by volume. The bulk trade could suffer if China ever adopts labelling rules to make clear where wine comes from.
在智利对华红酒销售中,瓶装红酒占到了销售额的四分之三,但仅占销量的三分之一。如果中国调整标签规则、要求写明红酒产地,那么散装红酒生意可能会受到冲击。