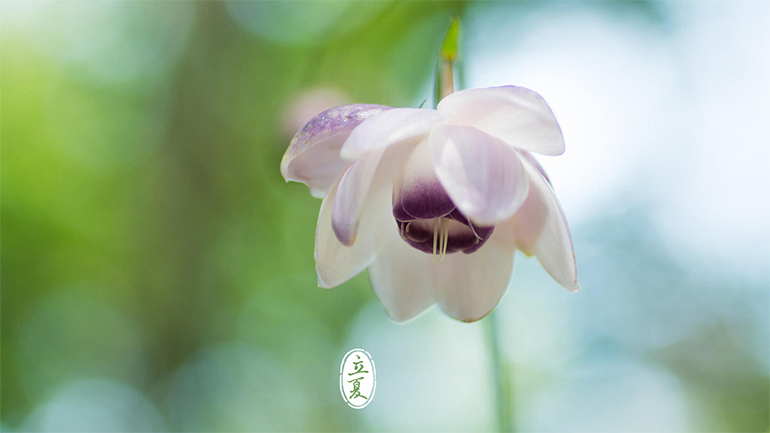 Each year around May 6, when the sun reaches the celestial longitude of 45°, it marks the beginning of lixia, a solar term signifying the advent of summer. In fact, according to the standards of climatology, summer begins when daily temperatures stabilize at 22℃ or above. Only the region south of Fuzhou to Nanling in southern China actually enters summer around the time of lixia. While the regions in Northeast and Northwest China have just entered spring. 
每年5月6日前后太阳到达黄经45度时,为立夏节气开始。实际上,若按气候学的标准,日平均气温稳定升达22℃以上为夏季开始。立夏前后,我国只有福州到南岭一线以南地区真正进入夏季,而东北和西北部分地区这时则刚刚进入春季。
立夏 (lìxià), the 7th solar term of the lunar calendar, falls on May 5 this year. It marks "the beginning summer". 
今天是立夏,农历年的第七个节气。立夏预示着夏天的到来。
In ancient China, people divided lixia into three periods—first period: the sounding of the crickets; second period: the earthworms coming out; third period: the budding of the cucumber blossom. From this description, we can see that when lixia begins, the first thing that occurs is the chirping of the crickets (or some people say frogs) in the fields, then the activity of the earthworms is seen and last the vine of the cucumber begins its rapid growth.
我国古代将立夏分为三候:"一候蝼蝈鸣,二候蚯蚓出,三候王瓜生。"即是说这一节气中首先可听到蜊蜊蛄(即蝼蛄)在田间的鸣叫声(一说是蛙声),接着大地上便可看到蚯蚓掘土,然后王瓜的蔓藤开始快速攀爬生长。
Astronomers indicate that during the solar period of lixia, summer crops enter their final growth stages, the winter wheat begins its flowering and ripening stage, rape enters its final growth stage and the date of summer harvest is tentatively determined. As a result, the farmers have the proverb, "See the summer from lixia."
天文专家表示,立夏时节,夏收作物进入生长后期,冬小麦扬花灌浆,油菜接近成熟,夏收作物年景基本定局,故农谚有"立夏看夏"之说。
As far as is known, the solar term of lixia has always been seen as very important in China since antiquity. According to historical records, during the Zhou Dynasty (1099-1050 BC), on the day of lixia, the emperor led all the civil and military officials to the southern outskirts of country's capital city to welcome the summer by holding a sacrificial ceremony of offerings to the Yan Emperor (c. 25th century BC) and Zhu Rong (the fire god). In ancient times, the color of the ceremonial dress and the jade pendant worn by this party and even the carriages and horses which they rode and the flags on their carriages were all red. It signified the fiery summer that was about to arrive.
据了解,我国自古以来就很重视立夏节气。据记载,周朝时立夏这天,皇帝要率领文武百官到京城外的南郊迎夏,举行祭祀炎帝、祝融的仪式。古时,迎夏的队伍穿的礼服、佩的玉、坐的马车和马、甚至于车上的旗帜都是红色的,这象征着炽热的夏天就要来了。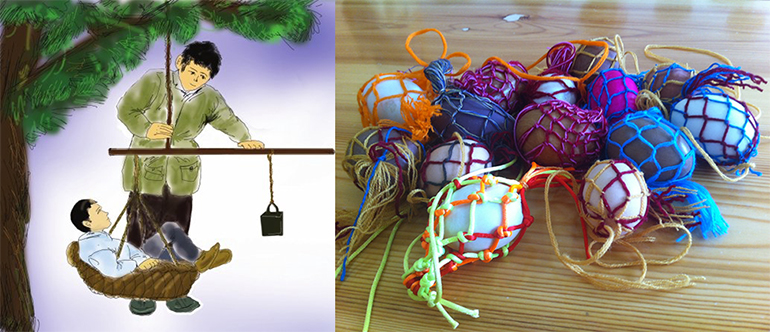 On the day of lixia, the Chinese have many other interesting folk customs. Many people throughout southern China during lixia will make what they traditionally call, "colorful rice." It is made from many different kinds of beans, like red beans, soy beans, black beans, green beans and mung beans mixed together with white japonica rice. After eating the "lixia rice," the people also had the custom of eating "lixia eggs" and weighing themselves, for they say that those who weigh themselves on that day don't have to be afraid of pining away during the sweltering heat of the summer.

立夏这天,我国民间还有很多趣味习俗。立夏当天,我国南方很多地方的人们会用赤豆、黄豆、黑豆、青豆、绿豆等五色豆拌合白粳米煮成"五色饭",俗称吃"立夏饭"。吃过"立夏饭",还有吃"立夏蛋"、"称人"的习俗。据说这一天称了体重之后,就不怕夏季炎热,不会消瘦。