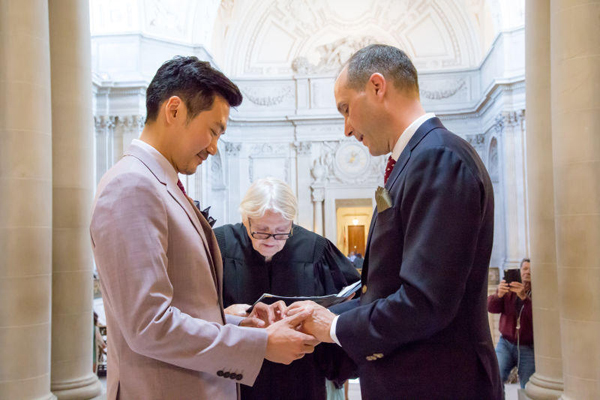 The US consul general in Shanghai has married his Chinese male partner in first such gay marriage by a foreign diplomat serving in the country.
美国驻沪领事馆总领事与他的中国男伴举行婚礼,这是中国第一例外国在华外交家同性恋婚姻。
Though a common enough scene in the Bay Area, San Francisco, the marriage ceremony for this couple was notable for many Chinese people seeing the news: One of the men was Hanscom Smith, the United States consul general in Shanghai. Photographs of his marriage, posted Tuesday on the official Chinese microblog account of the United States consul general, generated interest in China, which does not allow same-sex marriage.
旧金山湾区一如往常,但这对新人的婚礼对许多看了这条新闻的中国人来说意义非凡:主角的一方是史墨客,时任美国驻上海领事馆总领事!美国驻上海领事馆在其中国官方微博账号上分享了总领事的婚礼照后,激发了中国人极大的兴趣。目前中国仍禁止同性恋婚姻。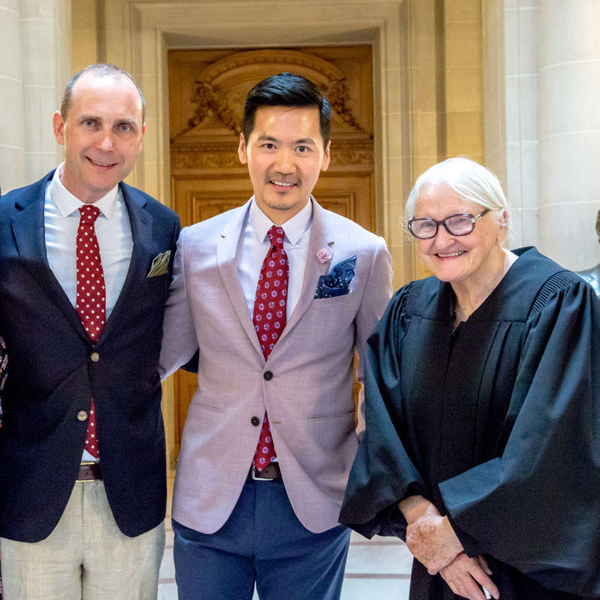 Mr. Smith married Lv Yingzong, or Eric Lv, who is from Taipei, Taiwan.
与史墨客步入婚姻殿堂的伴侣是来自台北的吕英宗先生。
One Chinese Internet user by the name of Daniel Chen Dandan posted an image of a beating heart on a microblog, writing, "Respect any type of love."
一位中国网友激动得传了一张图片,写道:"所有形式的爱都值得被尊重"。
A few official Chinese news media websites picked up the photographs of the wedding and posted a short accompanying announcement. One photograph showed the men exchanging rings in front of a judge at City Hall.
一些中国官媒网站挑选了几张图片并附上简短的评论。其中一张正是俩人在市政厅见证人面前交换戒指的照片。
In an interview posted on a website of the American Chamber of Commerce in Shanghai, Mr. Smith said it was important for American officials like him "to engage with the Chinese audience directly through social media."
在接受上海美国商会采访时,史墨客认为,这场婚礼对像他一样的美国官员来说很重要,"同时也通过社交媒体直接鼓励中国人"。
The article is translated and editted by Chinlingo. Please indicate the source (info.chinlingo.com) for any use, reproduction or transfer.
本文由Chinlingo编译后发布,如需转载,请标明来源:info.chinlingo.com.