Chinese regulators have begun an investigation into the Internet giant Baidu after the death of a college student who said he received distorted information on cancer treatment from the company's search engine.

中国监管机构已开始调查互联网巨头百度,此前,一名最近去世的大学生曾表示,他从百度的搜索引擎查到的癌症治疗信息是误导。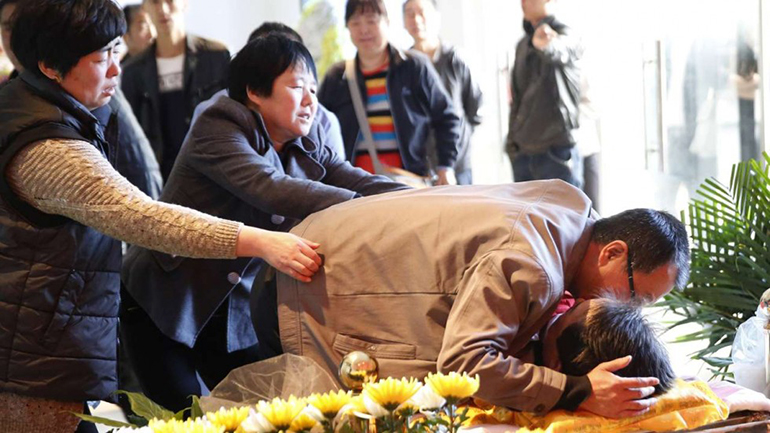 The student, Wei Zexi, 21, from the central province of Shaanxi, died of synovial sarcoma, a rare form of cancer, on April 12. Before his death, he wrote a long post on a Chinese website that detailed his experience seeking treatment.
这名学生叫魏则西,来自陕西省中部,于4月12日因滑膜肉瘤去世,享年21岁,那是一种罕见的癌症。去世之前,他在一个中文网站写了一个详细介绍自己求医经历的长帖。
In a promoted search result on Baidu, he learned of a hospital in Beijing that offered treatment for people with his condition. His family borrowed money to raise the more than 200,000 renminbi, or about $30,000, to pay for a type of immunotherapy from the Second Hospital of the Beijing Armed Police Corps.
从百度推广的搜索结果中,他了解到北京某医院为像患有他这种疾病的人提供治疗。他的家人借钱筹集了20多万元人民币,以支付武警北京总队第二医院的一种免疫疗法。
Mr. Wei's form of cancer is generally treated with surgery and chemotherapy, and he accused Baidu of taking money to promote less proven treatments in its search results. After his death, the search company has been denounced online, with some people calling it by the similar sounding 百毒, or "100 poisons."
魏则西患的那种癌症的通常治疗方法是手术和化疗,他指责百度通过在其搜索结果中推广不成熟的治疗方法来赚钱。他去世后,这家搜索引擎公司在网上备受谴责,有些人用发音类似的"百毒"称呼之。
China has strict laws against false advertising in medical products, but how they apply to online search results is not clear. It also is unclear whether the promoted link that Mr. Wei followed was in fact misleading.
中国有严格的法律禁止医疗产品虚假广告,但这些法律如何用于网络搜索结果尚不清楚。目前也不清楚魏则西访问的那个推广链接中的内容是否确属误导。
"Companies that were involved in services that deal with human life should be particularly conscientious of their duties when conducting their businesses," the website of People's Daily, the Communist Party's flagship publication, wrote in a commentary that questioned Baidu's corporate ethics. "Billions of net users trusted Baidu for their search engine and online forum services, the company is hence responsible for the trust and is obligated to taking up their social responsibilities."
一篇发表在共产党旗舰出版物《人民日报》网站上的英文评论对百度的企业道德提出质疑,文章写道,"从事有关为人类生命服务的公司在开展自己的业务时,应特别注意自己的职责。亿万网络用户信赖百度的搜索引擎和网上论坛服务,公司应对这种信赖负责,有义务承担起自己的社会责任。"
The Cyberspace Administration of China, the country's online regulator, acknowledged the public complaints and said on Monday that it would conduct a joint investigation into Baidu with the State Administration for Industry and Commerce as well as the National Health and Family Planning Commission.
中国的网络监督机构国家互联网信息办公室表示收到了网民举报,并在周一说,将会同国家工商行政管理总局、国家卫生和计划生育委员会对百度进行联合调查。
Government and military health authorities have announced a separate investigation into the hospital, Xinhua, the state news agency, reported on Tuesday.
据官方通讯社新华社周二报道,政府和军队的卫生部门已宣布将对一家医院进行调查。
Government and military health authorities have announced a separate investigation into the hospital, Xinhua, the state news agency, reported on Tuesday.
据官方通讯社新华社周二报道,政府和军队的卫生部门已宣布将对一家医院进行调查。
"Our deepest condolences go out to Wei Zexi's family," Tracy Hu, a Baidu spokeswoman, wrote by email. "Baidu is a trusted company and we uphold extremely high standards to make our platform safe and trustworthy."
"我们对魏则西的家属表示最深切的哀悼,"百度发言人特蕾西·胡(Tracy Hu)在一封电子信中写道。"百度是一家值得信赖的公司,我们用极高的标准来维护我们平台的安全性和可靠性。"
On its Weibo account, Baidu said that the Second Hospital of the Beijing Armed Police Corps, where Mr. Wei received treatment, is a top-level institution.
百度在其微博帐号上说,魏则西前去就医的武警北京总队第二医院是一家顶级医院。
"We will cooperate with law enforcement investigations to the best of our ability and crack down on all illegal behavior," Baidu said in a Weibo post. "And we strongly call on the management departments of related hospital bureaus to strengthen hospital supervision and build a trustworthy treatment environment for patients."
"我们全力配合执法部门调查和打击一切违法违规行为,"百度在其微博上说。"也强烈呼吁相关医院主管部门,加强医院监管,为广大患者创造可信赖的医疗环境。"
The Second Hospital of the Beijing Armed Police Corps has not yet commented on the case. A representative for the hospital could not be reached on Tuesday.
北京武警总队第二医院尚未对此事发表任何评论。周二联系该医院代表的努力未果。
Baidu has faced criticism before over the handling of health-related information. In January, it overhauled its health forums after the moderator of a hemophilia discussion group said the management of the page had been sold to a private hospital. In 2012, Zhou Hongyi, the chief executive of the Internet company Qihoo 360, accused Baidu of relying on advertisements of fake health care products for 30 percent of its revenue.
百度此前已在处理与健康有关的信息问题上受到批评。今年1月,百度对其健康论坛进行了改革,之前,百度血友病吧的吧主曾表示,该网页的管理已出售给了一家私人医院。2012年,互联网公司奇虎360的首席执行官周鸿祎曾指责百度,称其收入的30%依赖于虚假的保健广告。
Mr. Wei wrote that he did not know that when he consulted Baidu for medical information.
魏则西写道,他咨询百度的医疗信息时,并不知道这点。
"Baidu, at that time I didn't know how sinister it could be," he wrote. "Bidding for ranking on medical information, or the matter with the hemophilia page, should make it clear what sort of thing it was."
他写道,"百度,当时根本不知道有多么邪恶。医学信息的竞价排名,还有之前血友病吧的事情,应该都明白它是怎么一个东西。"
Baidu says it applies "particular vigilance" to health care pages and has "proactively cleaned up the customer base" by using certification standards and screening potentially misleading ads.
百度说,它对医疗类的网页采取"特别严格的前置审查",并通过资质审核、以及对可能存在误导的广告进行筛查,"主动清理了客户群。"
Mr. Wei's death has also increased attention on medical entrepreneurs connected with the so-called Putian system, named after the city in Fujian Province from which many of them came. The entrepreneurs made money by selling folk remedies and went on to invest in hospitals around the country.
魏则西的死亡也让所谓的莆田系受到越来越多的关注,这是一个以福建省一个城市得名的医疗企业家系统,因为这些人大多来自莆田市。这些企业家通过出售民间偏方赚了钱,后来转向投资全国各地的医院。
They are now represented by a national association, the Putian (Chinese) Health Industry Association. Last year, the association was reported to have 8,600 member hospitals, about 80 percent of all private hospitals in China.
这些企业家目前还拥有自己的协会:莆田(中国)健康产业总会。据报道,去年,总会名下共有8600个会员医院,占中国所有民营医院的80%左右。
The spread of the Putian hospitals has relied on widespread online advertising, and Chinese news outlets have questioned the reliability of such promotions.
莆田系医院的流行主要靠大量的网络广告,中国新闻媒体曾对这种广告的可靠性提出质疑。
"It is necessary to conduct an in-depth review, alongside a serious investigation over whether Baidu's business is legal, of why, despite prohibitions and supervision, a number of Putian system medical institutions can still rely on swindling to become a formidable presence in China's medical market," The Beijing News wrote in a commentary on Tuesday.
新京报网周二的一篇评论写道,"有必要在严肃调查百度商业行为是否合法的同时,深刻检讨为何在一道道禁令监管之下,一些莆田系医疗机构依然能够依靠坑蒙拐骗破茧而出,俨然成为中国医疗市场一个庞大的存在。"
It was not immediately clear if the department in the Beijing hospital that treated Mr. Wei had a connection to a Putian system company. Although some Chinese news outlets suggested a link, a nurse at the hospital told Huashang Bao, a newspaper based in Xi'an, that the hospital itself controlled the department.
目前尚不清楚,魏则西在北京那家医院接受治疗的部门是否与莆田系统的一家公司有关联。虽然一些中国新闻媒体暗示有关联,但该医院的一名护士对西安的《华商报》说,该部门由医院直接管理。