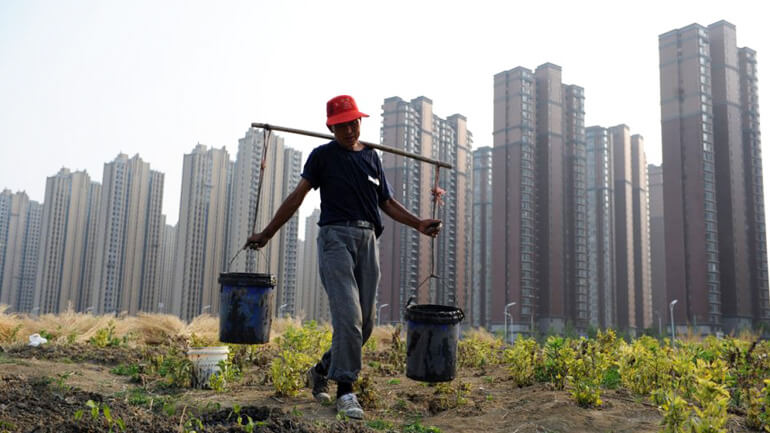 This year's annual average salary of rural residents in China is expected to exceed 5,000 yuan, an increase of 10 percent compared with last year, according to the latest report.
据最近一份报告指出,中国农村居民年平均工资将有望超过5000元,同比去年增长约10%。
Released by the Rural Development Institute of the Chinese Academy of Social Sciences and Social Sciences Academic Press, the report said the income of rural residents has been increasing in recent years and the annual average net earnings in 2015 – which includes their salary and other sources of income – exceeded 10,000 yuan for the first time. It said this was due to the increase of wages and family business earnings.
据中国社科院农村发展研究所和社科院学术出版社联合发布的报告称,近几年农村居民的收入一直在增加,2015年,农村居民包括工资和其他收入来源的平均净收入第一次超过了10000元。据说这是工资增长和家庭业务收入增加的结果。
"Chinese rural residents have begun to rely more on their wages," said the report, adding that it is expected that their average salary will exceed 5,000 yuan in 2016.
报告说:"中国农村居民的工资收入占总收入的比重越来越大。"并指出农村居民平均工资将在2016年达到5000元。
The report pointed out that the country's economic transition and the accompanying policy adjustments greatly influenced their income.
报告还提到,中国目前的经济转型和相应的政策调整在很大程度上影响了农村居民的收入。
The country still maintains a medium-to-high economic growth rate, which will have an impact on their wages, the report said, adding that some rural residents have given up their small-scale agriculture businesses due to the price fluctuations of some agricultural products and sought jobs in other industries, which have led to an increase in migrant workers.
报告指出,中国经济仍然保持一个中高速的增长势头,而这将对农村居民的工资带来影响。目前,由于部分农产品价格波动的原因,一些农村居民已经放弃了自家的小农产业,转而寻求其他行业的就业机会,导致了农民工大量增加。
About 168 million rural folk were working outside their hometowns in 2015.
2015年,中国一共有大约1亿6800万在外务工人员。