BEIJING — Po, the wisdom-seeking hero of the "Kung Fu Panda" films, might recognize this temple in China where the world's first robot monk dwells. For Po's Jade Palace, there is Longquan (Dragon Spring) Temple, a place of Buddhist worship in the mountains northwest of Beijing, where gnarled gingko and cypress trees tower over red-walled buildings underneath rocky Phoenix Ridge.
北京——阿宝,也就是"功夫熊猫"系列电影中那个追寻智慧的主人公,也许会对这座中国寺庙激赏有加,这里生活着世界上首个机器人和尚。阿宝有翡翠宫,这里有龙泉寺,一个坐落于北京西北部山区的佛教寺庙。在怪石盘踞的凤凰岭,这个四面红墙的建筑群笼罩在高大虬曲的银杏和柏树之中。
For his Hall of Warriors, there is the Comic Center deep inside the temple, at the end of winding stone paths and steps, past a flower-shaped audio device that crackles sutras.
阿宝有武士殿,这里在寺庙深处,沿着蜿蜒的石径和阶梯走到尽头,有动漫制作中心,途中有一座花朵造型的音响设备在咏诵经文。
As for Po himself, there is Xian'er, the two-foot-tall, advice-dispensing robot whose full title is Worthy Stupid Robot Monk. (In the Beijing dialect, "er," or "stupid," is a term of affection.)
至于阿宝自己,这里对应的是贤二,一个两英尺高、能提供建议的机器人,他的全名是"贤二机器僧"。(在北京方言中,"二",即"愚蠢",是一个可以表示亲昵的字眼。)
Not so much "Kung Fu Panda 3," perhaps, as "Robot Monk 1."
《功夫熊猫3》也许就比不了了,现在只有"机器僧一代"。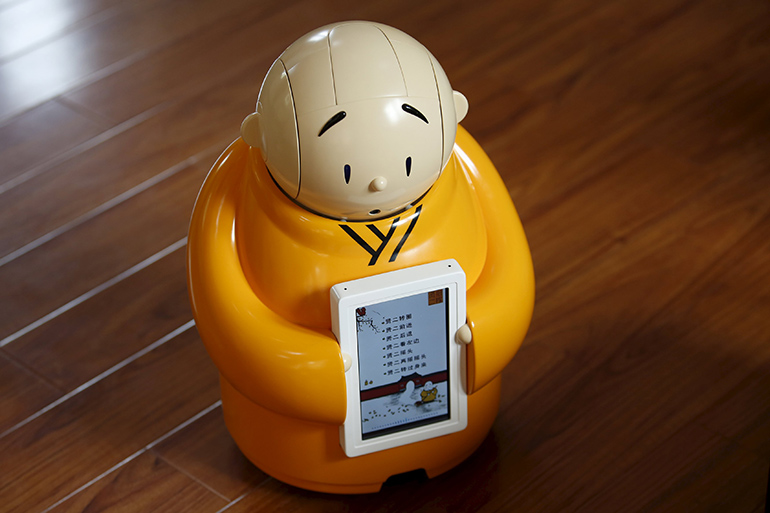 A childlike creature in an orange Buddhist robe, Xian'er is an object of fascination in China amid an increasingly urgent pursuit of spirituality and, more recently, artificial intelligence. But Xian Fan, the head of the Comic Center, told National Business Daily that the temple did not plan to commercialize the robot and that its development was for "the public welfare."
穿着橙色僧袍、一脸稚气的贤二在中国是一个万人迷,这里的人们对信仰的追求正日渐迫切,而近年又对人工智能产生兴趣。但是动漫中心负责人贤帆法师对每经网说,寺方不打算将机器人投入商用,他的开发属"公益性质"。
And the monks do not seem to be planning a franchise. There is only one robot monk for now, Xian Fan told Beijing News, adding, "We're not doing this for commerce, but just because we want to use more modern ways to spread Buddhist teachings."
而且僧人们似乎也没有开展特许经营的打算。贤帆法师对《新京报》说,目前只有一个机器僧,还说,"我们这不是商业的行为,只是想用更现代化的方式传播佛法。"
The robot was created last year by the temple in collaboration with about a dozen Chinese technology, culture and investment companies, according to Chinese news reports. But the character of Xian'er was first designed by artists at the Comic Center for a 2014 Buddhist comic book series, whose first title was "Troubles Are Self-Made." The series has sold well in Chinese bookstores, and an English-language edition is due out soon.
据中国媒体报道,寺方在去年与十几家中国科技、文化和投资公司合作创造了这个机器僧。但是贤二这个人物,最初是动漫中心为2014年出版的一套佛教漫画丛书创作的,其中第一本的书名是《烦恼都是自找的》。丛书在中国的书店里有很好的销量,即将推出英文版。
As a robot, Xian'er has expanded his repertoire. He has a touch pad on his chest that allows him to respond to supplicants' questions and statements, such as: "Who are your parents?" "I'm not happy" and "What is the meaning of life?"
作为一个机器人,贤二对自己的技能进行了拓展。他的胸前有一块触摸屏,用来回应求教者的问题和陈述,例如:"你父母是谁?""我不开心"和"人生的意义是什么?"
On Wednesday morning, employees at the Comic Center declined to let visitors communicate directly with Xian'er, saying he was — literally — recharging in order to meet a delegation of government officials from Beijing later in the day. They would not say who the officials were or give their own names, saying they were not authorized to speak to the news media.
周三上午,动漫中心的工作人员拒绝让来访者和贤二直接交流,他们表示他在充电——没有别的含义,就是真的充电——因为今天晚些时候要接待一个北京的政府官员代表团。他们没有透露是什么官员,由于没有得到与新闻媒体通话的授权,他们也没有说出自己的名字。
No matter. There was always Weixin, or WeChat, where Xian'er maintains an account. (Readers can find him under 贤二机器人.)
没关系。还有微信,贤二在那里有一个帐号。(读者可以搜索"贤二机器人"。)
Clearly no sentimentalist, his answers to the above queries were:
他显然不是多愁善感之辈,对前面的三个问题,他的回答分别是:
· "That's ridiculous, how can robots have parents?"
"好搞笑,机器人怎么会有爸妈。"
· "If you're not happy, what can anyone else do about it?"
"你自己不开心,别人有什么办法。"
· "My master says the meaning of life is to help more people finally leave behind bitterness and gain happiness."
"我师父说,人生的意义就是帮助更多的人究竟离苦得乐。"
Po might have approved.
阿宝也许会认同。
Many visitors to Longquan Temple on Wednesday, however, expressed doubt as to whether Xian'er could really help people with their problems, though some said they expected technology to advance so quickly that future generations of robot monks might. A second, smarter Xian'er is already in development, a center employee said.
然而周三在龙泉寺,许多来访者怀疑贤二是否真能给人指点迷津,不过有人说技术的进步这么快,机器僧将来的版本也许能做到。一名中心员工说,更聪明的第二代贤二正在研发中。
"I haven't seen it, but I've heard of it," Zhang Ping, a middle-aged woman who was visiting the temple, said of the robot monk.
"我还没看到,不过听说过,"来庙中游览的中年女士张萍(音)谈及机器僧时说。
"It relies on permutations and combinations of words to solve problems, but whether it can really deal with deep personal issues, I'm not sure," Ms. Zhang said. "Everyone is different. For some, those may be about family, for others, about work. But look at how fast artificial intelligence is progressing. In 20 years, I think it's completely possible it will be able to."
"这是依靠对词语的排列组合来解决问题,但是否真的能处理深刻的个人问题呢,我说不好,"张萍说。"人和人是不同的。有的人可能是因为家庭,有的人可能是工作。但是看看人工智能发展多么快。在20年后,我认为完全有可能做到。"
Another templegoer disagreed. "I don't think it's possible for the intelligence of a robot to be advanced enough to understand human feelings," said Wang Yiren, 23, a Buddhist and volunteer at the temple. "The robot doesn't really live up to my expectations. But I've seen robots in other parts of the world that can communicate with human beings, and that's pretty amazing."
另一位常来寺庙的人不同意这个说法。"我认为机器人的智能不可能发展到能理解人类情感的地步,"现年23岁的佛教徒、寺庙的志愿者王怡仁(音)说哦。"机器人没能真正达到我期待的水平。但我在世界其他地方也见过可以和人类交流的机器人,相当惊人。"
He Haikun, 33, a woman who was visiting the temple with a friend, said: "If you have no one to talk to, maybe it would help to talk to a robot."
和朋友来庙中游览的何海坤(音)现年33岁,她说:"如果你没有能说话的人,也许跟机器人说说话是有帮助的。"
Here are some other answers provided by Xian'er, via WeChat:
下面是微信上的贤二对其他一些问题的回答:
Q: "What is love?"
问:"什么是爱情?"
A: "Love is your own obsessions not being satisfied, the clashing of other people's troubles with yours."
答:"爱情,是自己的我执得不到满足,是他人的烦恼与自己的烦恼相撞了。"
Q: "I don't want to work."
问:"我不想工作。"
A: "If you don't want to starve and have an O.K. job, work hard."
答:"不想饿肚子的话,有个差不多的工作就好好干。"
Q: "I want to die."
问:"我想死。"
A: "Don't assume you're the most pathetic person in the world."
答:"别以为世界上就你一个人最惨。"
Q: "Who is Xi Jinping [the president of China]?"
问:"习近平是谁?[中国国家主席]?"
A: "A robot doesn't know any people."
答:"机器人不认识任何人……"
And finally:
最后还有:
Q: "Could there be another Cultural Revolution?"
问:"会不会再来一场文化大革命?"
A: "Wait, I will ask my master."
答:"等等,我去问问我师父。"
Po would have been envious of Xian'er for being able to pass a difficult question on to his master, having been required in "Kung Fu Panda 3" to solve his community's problems himself.
阿宝也许会羡慕贤二这样,可以把棘手的问题推给自己的师傅,在《功夫熊猫3》中,他要自己解决他的社区遇到的问题。
The robotics companies Canbot and Turing Robotic Industries, among the companies cited in Chinese news reports as working with the temple to produce Xian'er, agreed to answer questions about the project but had not responded as of Wednesday evening. At Interjoy, another company listed as one of the designers, and others, the phone rang unanswered.
在中国新闻报道中提到的寺方合作机构包括康力优蓝和图灵机器人等机器人公司,他们同意就该项目回答问题,但截至周三晚间仍未回应。在另一家被列为设计方的盛开互动公司,以及其他几家公司,则无人接听电话。