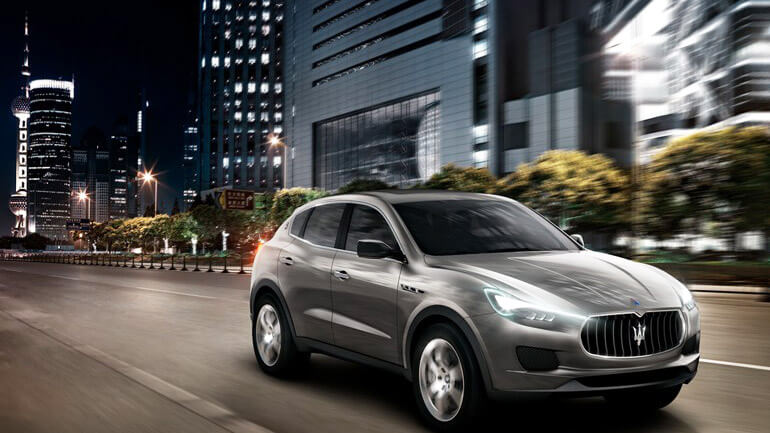 Chinese drivers are rushing to buy sport-utility vehicles in an "arms race" for safety on the country's hair-raising roads, analysts say, as SUV sales hit the gas despite a slowing economy.
分析家称,由于中国恐怖的道路状况,中国司机们购买SUV,就好像正在参加一场有关安全的"军备竞赛"。尽管中国经济低迷,但是SUV在中国的销售却快速增加。
SUV purchases in the world's number one car market surged more than 50 percent in the first quarter of 2016 from a year earlier, while sedan sales fell 9.3 percent, according to industry data.
根据产业数据,在这个世界第一大汽车市场,SUV的销售量2016年第一季度比去年同期上涨了近5成,但是三厢轿车的销售量去下跌了9.3%。
"The primary reason is a fairly primitive one," says Robin Zhu, auto analyst at Sanford C. Bernstein in Hong Kong. "It's about survival."It's about people's desire to feel safe on the roads. Because SUVs are bigger, and in low-speed collisions, from a consumer psychology point of view, you'd rather be the one in the SUV."
这是一件事关生死的事情,盛博香港有限公司的汽车分析师罗宾·朱认为,主要原因其实相当简单,这主要和人们渴望在路上拥有更多安全感。因为从消费者的心态考虑,SUV体积更大,在低速的碰撞中,你更想待在SUV中。
Another 50 models new to the Chinese market will go into production in the country this year, according to consultancy IHS Automotive, many of them to be showcased at the Beijing Auto Show opening Monday.
根据美国汽车专业调查公司IHSAutomotive,今年在中国市场,将会有50辆新型SUV投产,大部分将会在周一开幕的北京国际汽车展中展出。
The World Health Organization estimates that more than a quarter of a million people are killed on the country's roads every year – over four times official government statistics. Death rates remain comparatively high because of inadequate rescue systems and poor treatment, according to a study by Chinese researchers published last year in medical journal The Lancet.
世界卫生组织预计,每年有超过25万人死于交通事故,超过官方公布数据的四倍。根据去年中国研究者发布在医学杂志《柳叶刀》上的文章,死亡率如此之高的原因还有不健全的救援系统,以及差劲的医疗措施。
A businessman in an SUV in Beijing told AFP he chose it "because it makes me feel safe when I drive".
北京买SUV一名商业人士告诉法新社称,他之所以买SUV,是因为它让人感觉开车的时候更有安全感。
Bill Russo, automotive chief of advisory Gao Feng in Shanghai, said the appeal of an SUV comes from a feeling of "command" and the perception "you can deal with anything the road throws at you".
上海高风咨询公司汽车首席顾问比尔·罗索说,SUV的吸引力来自于一种"控制力",以及"你可以处理路上遇到的任何事情",这样一种感觉。
Rising road rage on China's congested streets has also made SUVs more popular, said Zhu.
罗宾·朱称,在中国拥挤道路上,不断增多的路怒现象,也使SUV更流行。