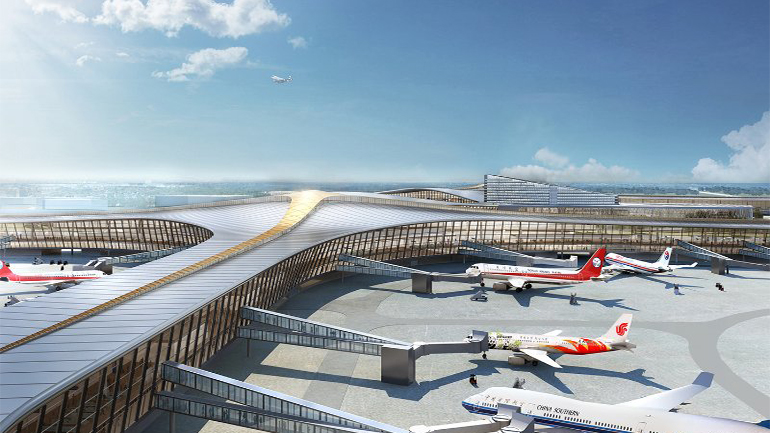 Chengdu Tianfu International Airport, the biggest airport in West China once built, is about to start construction after getting approval from the National Development and Reform Commission, reported jiemian.com on Tuesday.
据界面新闻星期二报道,中国西部最大的飞机场 ——成都天府国际机场,在得到国家发改委批准后,即将开工建设。
With a total investment of 71.86 billion yuan (around $11 billion), the new airport is the biggest civilian airport to be built during the 13th Five-Year Plan.
总投资为718.6亿元(约合110亿美元),这个新机场是第十三个五年计划中最大的民用机场。
The airport is set to become the biggest one in West China and the fourth largest in China when it comes into service in 2020, said Pan Gangjun, general manager of Sichuan Airports Group.
四川机场集团总经理潘岗军说,这个机场被定位为中国西部最大的机场和中国的第四大机场,计划于2020年正式运行。
Located in Jianyang city in Southwest China's Sichuan province, the new airport is 51.5 kilometers away from provincial capital Chengdu. Once completed, the airport will have six runways and a terminal covering 1.26 million square meters, which is more than twice the size of Chengdu Shuangliu International Airport, and it is able to accommodate 90 million passengers annually.
新机场位于中国西南部四川省简阳市,距省会成都51.5公里。新机场建成后,将有六条跑道和占地126万平方米的航站楼,是现有的成都双流国际机场的规模的两倍以上,年旅客吞吐量将达到9000万。
Three runways will be built in the first phase of the project which is set to be completed by 2025 and 40 million passengers will be transported annually. But it is not disclosed when the whole project will be finished.
工程初期将建成三条跑道,预计在2025年完成,年输送旅客量将达4000万人次。目前尚未公布所有工程的竣工时间。
Chengdu Shuangliu International Airport first exceeded Shanghai Hongqiao International Airport in passenger volume in 2015, which made it the fourth busiest airport in China.
2015年,成都双流国际机场旅客吞吐量首次超过上海虹桥国际机场,使其成为中国第四大繁忙的航空枢纽。
"After the completion of Tianfu Airport, the passenger volume of Shuangliu Airport will be at around 60 million annually," said Pan.
潘总表示,"天府国际机场建成后,双流机场的年旅客量将会维持在6000万左右。"
"Built as a national aerial hub, the new airport mainly hosts international airlines, especially those flying to the Europe and Middle East," added Pan.
他补充说,"作为国家性的航空枢纽,天府机场主要承载的是国际航线,尤其是飞往欧洲和中东地区的路线。"
Chengdu is within 15 hours' flight from most cities in the world.
从世界大多数城市飞往成都,15小时内都可以到达。
According to an official of Sichuan Provincial Development and Reform Commission, the new airport will attract investment and push forward the joint development of Yangtze River Economic Zone and the Silk Road Economic Belt.
四川省发改委的一官员表示,新机场将吸引投资,并推进长江经济区和丝绸之路经济带的共同发展。