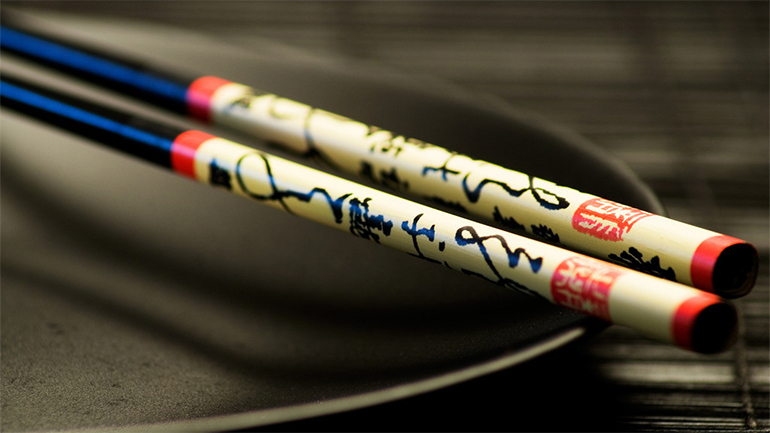 Are you able to use chopsticks while eating Chinese food? To use chopsticks is perhaps the first thing some foreigners must learn in China. Chinese seem to be masters of chopsticks. They can eat slippery dumplings, round glutinous rice dumplings and long-pulled noodles with chopsticks. For some foreigners, such a task can be termed as mission impossible.
你会用筷子吃中餐吗?对有些外国人来说,使用筷子是他们在中国第一个必学的技能。中国人是筷子大师,能用筷子夹起湿滑的饺子、黏黏的粽子、长长的拉面。对有些外国人来说,这简直难以办到。
The correct way of using chopsticks is simple: use your thumb, index and middle fingers to control the upper stick and hold still the lower stick with your thumb and ring fingers. When you try to take the food, only move the upper chopstick. In this way you can put the food into your mouth. Chopsticks are daily utensils for Chinese. They become a perfect gift item. Elegantly made bamboo chopsticks are well-received gifts that represent steady improvement and good luck.
正确使用筷子的方法很简单:用你的大拇指、食指和中指控制上部分,用拇指和无名指握住下部分。夹食物时,只需移动筷子的上部分,这样才能将食物送进嘴里。筷子是中国人的日常餐具,也成了一种礼品。竹制筷子代表稳步高升和好运,是比较受欢迎的礼品。
The traditional shape of chopsticks holds the same kaleidoscopic view as Yi or principle of changes. One end of the chopstick is square and the other is round, representing the round sky and square earth. While using chopsticks, some Chinese regard certain ways as taboo. For example, you should not point at others with chopsticks. Or you should not strike the bowl and plate with chopsticks. Do not hold the chopsticks in the mouth. When the food is taken with chopsticks, it should not be put back in the plate. There are certain ways to place chopsticks. Don't insert chopsticks into the bowl of rice, as it is the ritual at the sacrifices offering ceremony for ancestors. Some people believe chopsticks are the best training utensils. To use them every day can make your fingers nimbler and nurture your brains as well.
传统筷子的形状反映了《易经》关于变化的思想。一端是方的,另一端是圆的,代表天圆地方。使用筷子时,中国人认为有些方式是禁忌。比如,拿筷子指着别人,或者用筷子敲碗或盘子。不要把筷子含在嘴里。用筷子夹出来的食物不应该再放回盘子。放筷子也有讲究。不要把筷子插入米饭里,因为这是祭祀祖先时的礼仪。有人认为筷子是最好的训练餐具,每天使用能让手指更敏捷,也能训练大脑。
The article is translated and editted by Chinlingo. Please indicate the source (info.chinlingo.com) for any use, reproduction or transfer.
本文由Chinlingo编译后发布,如需转载,请标明来源:info.chinlingo.com.