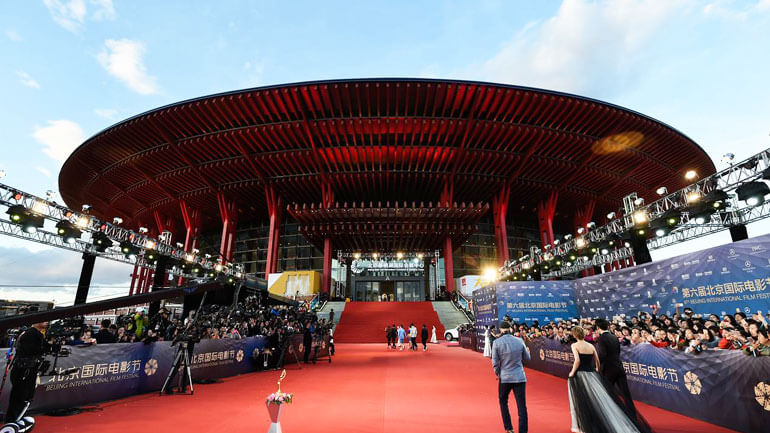 Is China going to replace Hollywood as the hub of global filmmaking talent? Some Chinese and Hollywood filmmakers vote yes.
中国将取代好莱坞成为全球电影制片人的中心吗?一些中国和美国好莱坞的电影制片人都表示认可。
"The investors in China's film market are entrepreneurs with innovative teams, while Hollywood is producing more sequels and lacks innovation," Yu Dong, CEO of Bona Film Group, said Sunday at a seminar on China-foreign co-productions hosted by the Beijing International Film Festival.
博纳影业集团总裁于冬17日在北京国际电影节中外电影合作论坛上说,与保守的好莱坞电影公司职业经理人相比,中国电影产业背后的资本掌握在一批创业家手中。
"The young Hollywood and Asian directors who can't get support from big Hollywood studios will come to China because Chinese capital is overflowing," said Mr. Yu, whose company recently delisted from the Nasdaq stock market and has won investments from arms of Chinese Internet giants including Alibaba Group and Tencent Holdings.
于冬还说,"中国市场资本过剩,当中国的制作满足不了这些资本的需求时,必然带来资本的溢出,中国资本正在以一种强势的姿态向好莱坞渗透。"日前,博纳影业集团正式退出了纳斯达克,并获得阿里巴巴集团和腾讯控股有限公司等中国互联网巨头的投资。
The seminar was attended by a number of big-name Western filmmakers including veteran British producer Iain Smith, whose recent productions include "Mad Max: Fury Road", and American actress Natalie Portman, who brought her directorial debut "A Tale of Love and Darkness" to this year's festival.
很多知名的西方电影制片人士出席了此次中外电影合作论坛,其中包括出品《疯狂的麦克斯:狂暴之路》的英国电影制片商伊恩·史密斯和带着自己导演处女作《爱与黑暗的故事》参加北京国际电影节的美国女演员娜塔莉·波特曼。
James Schamus, an award-winning American screenwriter and producer, said at the seminar that China is helping to "create a new Hollywood".
屡次获得大奖的美国剧作家詹姆士·沙穆斯在论坛上说,中国正在"缔造一个新的好莱坞"。
Joe Russo, the director of Marvel's "Captain America" franchise, said in a separate interview on Sunday that a growing number of Hollywood producers are coming to China for both "economic and artistic reasons." "The film market in the U.S. is becoming more and more about branded content, the safe play," said Mr. Russo. "There's no room in Hollywood unless you plan a superhero film or Star Wars." "China is an explosive market, so it's absolutely another option for filmmakers," he said, adding that he and his brother, Anthony Russo, are becoming frequent visitors to Beijing in search of "new voices and new experiences."
《美国队长》导演乔·罗素17日在接受采访时说,来中国的好莱坞制片商人数越来越多是源于"经济和艺术"两大因素。罗素说:"美国的电影市场现在越来越品牌化,缺乏创新,一味拍摄超级英雄的续集电影和科幻大片,好莱坞的发展已没有空间。"他说:"中国是一个爆炸式的市场,因此它绝对是电影制片人不二的选择。"他还说,自己和兄弟安东尼·罗素经常访问北京,寻找"新的声音和新的体验"。
The Russo brothers first came to China in 2014 to promote "Captain America: The Winter Soldier." They are now setting up Anthem Pictures, a startup studio that will produce Chinese-language films targeting local audiences. Its principal investor is Chinese private-equity fund HDQH, which has already invested $100 million in the venture, according to Mr. Russo.
罗素兄弟在2014年首次来华,为《美国队长2:冬日战士》做宣传活动。现在,他们已成立Anthem Pictures制片公司,将制作面向中国观众的中文电影。据罗素称,公司的主要投资方是中国私募基金HDQH,该基金已向其投资1亿美元。
The studio plans to release two films by 2018. One of the projects under development is helmed by a young Chinese director and features an original story about a Chinese superhero. As producers, Mr. Russo said he and his brother aim to help Chinese filmmakers "make a movie correctly" based on their years of experience in the business.
Anthem Pictures制片公司计划在2018年前推出两部电影。其中一部电影将由一名年轻的中国导演执导,讲述的是一个中国超级英雄的原创故事。作为制片商,罗素说他和他的兄弟希望用自己多年的从业经验帮助中国电影制片人"正确地制作一部电影"。
It appears to be the right time for Western filmmaking talents to bring their know-how to Chinese cinemas, as Chinese audiences are showing growing interest in domestic productions over Hollywood blockbusters.
对西方电影制片人而言,现在似乎是将自己的专业知识传授给中国电影业的最佳时机,因为中国观众对国产影片表现出越来越浓厚的兴趣,甚至超过了好莱坞大片。