Chinese scientists have successfully grown mouse embryos in space, becoming the first group in the world to overcome the biological hurdles of reproduction in orbit. If confirmed, the findings suggest mammals could one day reproduce in the harsh microgravity environment of space – which could vastly improve the chances of humans being able to colonise distant worlds.
中国科学家已成功培育出太空鼠胚胎,成为世界上第一个克服在轨生育生物障碍的科研小组。如果得到证实,这一研究成果将表明,哺乳类动物有朝一日可以在太空严酷的微重力环境下进行繁殖。这可能大大提高人类聚居遥远星球的可能性。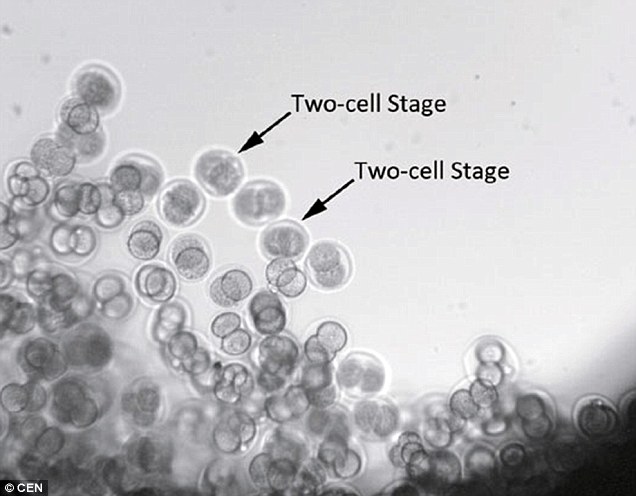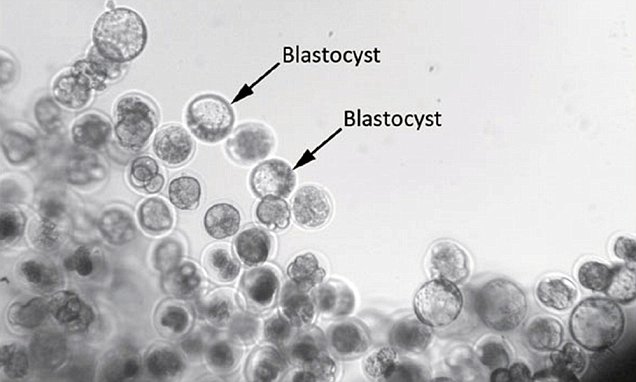 Scientists in China claim to have successfully grown mouse embryos in space,
making them the first group in the world to successfully do so. The team sent
early embryos (pictured above) into orbit aboard a probe,
which developed into blastocysts (below)
Scientists feared the development of embryos on Earth require gravity to ensure cells organise correctly so the resulting limbs, organs and tissues.
科学家担心地球上的胚胎发育需要引力才能确保细胞正确构造,从而形成四肢、器官和组织。
According to the Chinese Academy of Sciences, the early stage mouse embryos were launched aboard the SJ-10 space probe with a number of other experiments earlier this month, in a retrievable capsule. The capsule spent several days in orbit aboard the SJ-10 probe before returning to Earth.
中国科学院说,本月初,"实践十号"太空探测器用返回式太空舱载着早期小鼠胚胎发射升空。太空舱搭载在"实践十号"探测器上,并在太空轨道上运行数日,然后返回地球。
High resolution images show that some of the embryos developed into balls of cells called blastocysts – a key developmental stage at which the embryo can be implanted into the womb. Exposing mice embryos to microgravity is a key step in the long path to colonising other planets.
高清图像显示,一些小鼠胚胎发育成了细胞球,称作"胚囊"。这是胚胎发育的关键阶段,只有这个阶段的胚胎才能植入子宫。让小鼠胚胎在微重力环境下发育,这是人类聚居其他星球的漫漫长路中的重要一步。
Space agencies have carried out a number of experiments in which embryos have been taken into space to expose them to microgravity, before being returned to Earth for implantation in surrogate mice. However, previous attempts to grow mammalian embryos have been hampered by biological factors.
太空机构实施了一系列实验,把胚胎带入太空,让它们暴露在微重力环境下,然后再运回地球植入代孕鼠体内。然而,此前试图培育哺乳类动物胚胎的实验都遇到了生物学因素的障碍而未获成功。
In the mid-1990s, Nasa astronauts attempted to develop mouse embryos aboard the Colombia space shuttle. But embryos exposed stopped growing at an early stage of cell division, indicating that gravity played a crucial role in embryonic development.
20世纪90年代中期,美国航天局天文学家试图在"哥伦比亚"号航天飞机上培育小鼠胚胎。但是,微重力下的胚胎在细胞分裂初期就停止了发育,说明引力在胚胎发育过程中发挥着至关重要的作用。
The breakthrough findings reported by the Chinese team look to have overcome the issues which have plagued previous attempts.
中国团队报告的突破性科研成果重点解决了困扰此前实验的问题。
Speaking to China Daily, principle researcher of the experiment, Professor Duan Enkui of the Chinese Academy of Sciences, said: 'The human race may still have a long way to go before we can colonize space. 'But before that, we have to figure out whether it is possible for us to survive and reproduce in the outer space environment like we do on Earth.'
这项实验的主要研究人员、中国科学院教授段恩奎告诉《中国日报》:"人类可能还要走过很长一段路才能聚居太空。但是,在此之前,我们必须解决在外太空环境下是否能够像我们在地球上那样生存和生育的问题。"
He added: 'Now, we finally proved that the most crucial step in our reproduction – the early embryo development – is possible in the outer space.'
他说:"现在,我们终于证明了生育过程中最关键的一步(胚胎早期发育)在外太空是可以完成的。"
According to China Daily, more than 6,000 embryos were carried aboard the probe in a self-contained chamber the size of a microwave, which contained the cell culture and nutrients.
据《中国日报》报道,"实践十号"探测器在一个大小与微波炉相当的独立封闭箱内,搭载了6000多个小鼠胚胎,封闭箱内包含细胞培养液和营养成分。
Following their recovery, the embryos will undergo further analysis to see if their brief time in space has affected their cell structure, function, and gene expression.
在发现胚胎成功发育之后,科研人员还将对这些胚胎进行进一步的分析,以期发现在太空的短期逗留是否影响其细胞结构、功能和基因表达。