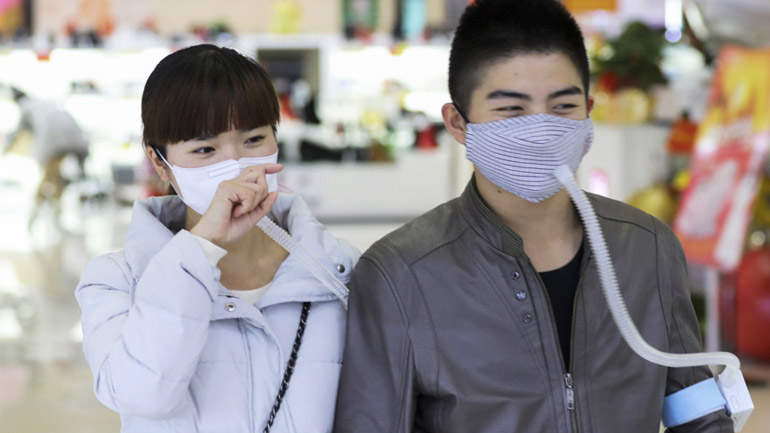 Some pollution-weary Chinese consumers have moved beyond stocking up on home air purifiers and strap-on face masks and are now trying to breathe better with second-generation gadgets.
对一些不堪污染侵扰的中国消费者来说,对抗污染的方式已不仅仅是在家安装空气净化器和出门戴口罩,现在他们使用第二代高科技产品来改善空气质量。
Li Lingling, who lives in the central Chinese city of Changsha, recently bought a snorkel-like device from Broad Group's Lung-Pro line, an armband air filter that feeds purified air to a face mask via a breathing tube.
在中国中部城市长沙生活的李玲玲最近买了一个类似于浮潜面罩的呼吸装置"远大肺保"。其原理是,佩戴在手臂上的空气净化器将空气过滤并通过一个呼吸管送入面罩。
"The 3M mask suffocates me if I wear it too long," Ms. Li said about one of the more popular types of masks available in China. She liked the Mini Lung-Pro, which retails for 190 yuan, so much that she bought five more for her friends, though she admitted the nose-to-arm apparatus does turn heads on the street.
李女士在谈到一种在中国更流行的口罩时说:"3M口罩戴久了会呼吸困难。"因为非常喜欢这款售价为190元的移动肺保,李女士还买了5个送给朋友,不过她也承认,这种从鼻子连接到手臂的装置的确会吸引路人的注意。
China's economic slowdown has meant slightly better air across much of the country in the past year. Still, a greater awareness of air quality among the general population has spurred Chinese companies—both startups and more traditional conglomerates—to bring new products to the market. The devices are aimed at reducing levels of PM2.5—fine particulate matter that penetrates deep into the lungs and is especially hazardous to human health.
在中国经济增速放缓的背景下,过去一年中国大部分地区空气质量都略有改善。但公众对空气质量更加关注却促使中国企业——无论是初创企业,还是传统的企业集团——纷纷推出新产品。这些新产品的功能都是降低PM2.5的水平。PM2.5是能够深入肺部的细颗粒物,对人类健康危害极大。
In a survey from market research firm Mintel last year, of 3,000 Internet users aged 20 to 49, 83% of respondents said they already owned face masks. Of those surveyed, 61% said they were "very concerned" about PM2.5. And the number of air purifiers sold in China nearly quadrupled between 2010 and 2015 to 4.4 million units, according to market-data provider Euromonitor.
根据明特尔市场调查公司去年的一项调查,在3000名20岁至49岁的互联网受访者中,83%的受访者表示他们已有口罩。61%的受访者表示"非常担心"PM2.5。根据欧睿信息咨询公司的数据,2015年中国空气净化器的销量达到440万台,是2010年的4倍。
Now, "the concept and market for wearable devices has become quite popular," says Neil Wang, managing director at consulting firm Frost & Sullivan.
弗罗斯特-沙利文咨询公司总经理尼尔·王说,现在"可穿戴设备的概念和市场越来越流行。"
There is little independent research on how well the new antipollution offerings work. "Consumers focus most on if a product works, and are willing to pay a bit more if the product is really proven to be effective," said Lindi Li, a Mintel research analyst.
至于这些新型防霾产品的功效,目前还缺乏独立的研究。明特尔市场调查公司分析师林迪·李说:"消费者最关注的是产品是否有效,如果产品真的有效,他们还是愿意多花一些钱的。"
Startup Beijing Zhongqing Technologies Co.'s CoClean looks like an amulet. Its manufacturer says the device's technology is based on ionization, which reduces particles in the air, and data mining, which combines user information and locations to give CoClean users diagnostics on a larger scale.
北京众清科技有限公司是一家初创企业,其研发的CoClean随身空气净化器看上去像一个护身符。该产品采用的离子静电除尘技术能有效减少佩戴者周围空气中的细颗粒物,另外,它通过数据发掘技术综合使用者信息和方位,给使用者提供更多的"诊断"。
The result is a 1 cubic meter breathing space with PM2.5 levels reduced by as much as 99%, according to Zhao Fei, an environmental scientist who worked with his fellow Tsinghua University alums and an engineering professor at the University of California, Los Angeles, to create the CoClean. It can be worn on a necklace or be pinned to a shirt collar. "The best distance from your nose is 20 to 30 centimeters," said Zhao. He said Beijing Zhongqing Technologies has shipped more than 5,000 CoCleans since launching in October and has raised about 10 million yuan in two rounds of funding from Chinese venture capitalists.
CoClean随身空气净化器的研发者包括环境科学家赵飞、他的清华校友和一名来自美国加州大学的工程学教授。赵飞说,这种净化器能将使用者周围1立方米以内的PM2.5减少99%。使用者可将其挂在项链上或别在衬衣领上。赵飞说:"距离鼻子的最佳距离是20厘米至30厘米。"他说,自去年10月推出这款产品以来,众清科技有限公司已累计出货5000台,并在两轮融资中获得大约1000万元的风险投资。
Mr. Wang of Frost & Sullivan said many traditional manufacturers are also jumping into the second-generation antipollution market.
弗罗斯特-沙利文咨询公司总经理尼尔·王说,许多传统制造商也投身于第二代抗污染产品市场。
But the new wave of devices aren't just wearable or for cars. Ecovacs, a Hong Kong-based robotics firm, introduced the Atmobot A630, an air-purification robot, in October with a sticker price of 6,999 yuan. It works like the Roomba robot vacuum cleaner and can be connected to a smartphone. The company says the Atmobot can purify a home in about half the time it takes for an ordinary air purifier to do the job. An Ecovacs spokeswoman said about 1,000 units have sold so far.
但这一代新型设备不仅仅是可穿戴设备或车载设备。去年10月,总部设在香港的科沃斯机器人公司推出了A630空气净化机器人。这款售价为6999元的机器人外形类似于Roomba扫地机器人,而且能与智能手机连接。科沃斯机器人公司称,A630净化一个家庭空间的时间仅约为普通空气净化器的一半。该公司发言人说,目前已售出大约1000台A630。
To be sure, with the average cost of an air purifier at more than $300, antipollution products are still a niche market. Analysts say upper-middle-class urbanites are the primary buyers.
鉴于空气净化器的平均价格超过300美元,抗污染产品市场仍是一个利基市场。分析人士说,中上阶层的城市居民是其主要消费者。
Antipollution innovation hasn't been limited to just protection. Beijing residents Liam Bates and Jessica Lam, who are married, created the Origins Laser Egg—a portable air-quality measuring device. Mr. Bates said some pollution sensors on e-commerce sites that claim to measure PM2.5 simply measure dust or the transparency of air. The Origins egg uses a laser that together with a photo sensor determines the size and concentration of particles in the air. It spits out an air-quality reading that can be calculated according to both official U.S. and Chinese standards. The 499-yuan product is sold in Apple Inc. outlets across China and in foreign grocery stores and lifestyle shops in Beijing. Mr. Bates, a former documentary filmmaker, said "tens of thousands" of laser eggs have sold so far.
抗污染新产品不仅限于防护产品。居住在北京的夫妇利亚姆·贝茨和杰茜卡·拉姆就发明了原点生活"镭豆"——一种便携式智能空气质量检测仪。贝茨说,电子商务网站上一些号称能检测PM2.5的设备其实只能检测灰尘或空气透明度。"镭豆"利用激光和光电传感器来确定空气中颗粒物的大小和浓度,并根据美国和中国的标准计算出空气质量指数。这款售价为499元的产品在中国各地的苹果零售店、外国杂货店和北京的家居用品店有售。贝茨说,目前已售出上万台"镭豆"。