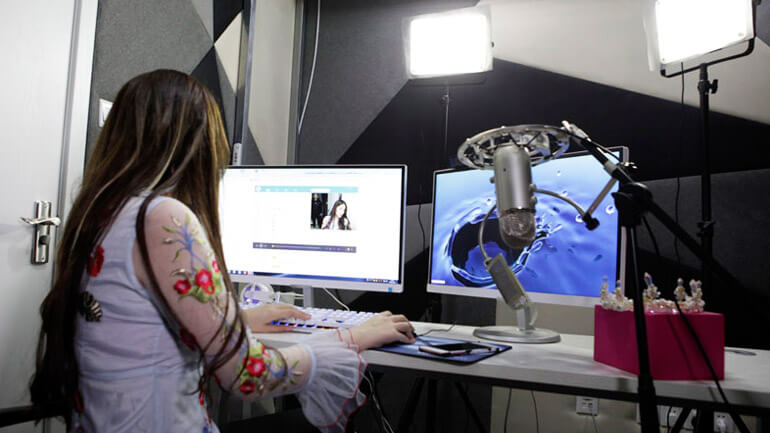 China's live-streaming sites have become a burgeoning industry, offering money-making opportunities even stardom to their mostly female hosts and an entertaining new alternative for millions of viewers to online dramas and stodgy state-controlled TV.
中国的流媒体直播网站已经成为一个生机勃勃的产业,不仅提供赚钱的机会,甚至给多数女主播提供当演员的机会,也让数以百万计的观众除了网剧外还有别的观看选择。
Zhang Qige, a 23-year-old woman who plays computer games and chats on her webcam, attracts hundreds of thousands of real-time viewers at once. She has more than 2 million subscribers on the website Douyu TV and an average viewership of 400,000 for each nightly show.
23岁的张琪格在她的网络演播室内玩电子游戏、聊天,一下子吸引了数十万实时观众。她在斗鱼网站上有超越200万的订户,每场夜间秀平均吸引观众40万人。
"They like me chatting with them," explained Zhang, who says she earns more than 1 million yuan a year from her performances. "They feel like I'm talking to them face to face."
张琪格说:"他们喜欢跟我聊天。他们觉得好像跟我面对面聊天"她说,这样的表演能让她每年赚到逾百万元人民币。
The proliferation of such shows and sites demonstrate the entrepreneurial drive of young Chinese as well as the financial potential of social media in the country, which has 668 million people online — the world's largest.
这类表演和网站的迅速繁殖,既表明了中国年轻人兴起创业浪潮,又说明社交媒体在中国具有的经济潜力,中国有6.68亿网民,是世界上最大的网民群体。
But their popularity also reflects the loneliness of Chinese urban life as well as the growing surplus of single men, blamed in part on the country's former one-child policy.
不过,这些人的走红也反映出中国都市生活的寂寞以及之前独生子女政策一定程度上导致的剩男越来越多的现象。
The Ministry of Culture said online live-streaming platforms draw around 200 million users, with major sites running several thousand live-streaming "studios" simultaneously. These sites derive a small proportion of their revenue through advertising. They survive primarily through a practice invented by Chinese companies: virtual gifting.
文化部说,在线流媒体直播平台吸引了约2亿用户,大型网站甚至同时运行数千个流媒体直播"室"。广告在这些网站的收入中只占一小部分。它们主要靠中国企业发明的一种做法来维生:虚拟送礼。
Viewers can buy imaginary gifts such as images of flowers or bottles of beer for their favorite performers, who receive a portion of the cash, with the site getting a hefty cut. Viewers can also send comments that pop up onscreen, giving them the perception they are interacting with the host.
观众可以购买虚拟礼物,比如鲜花、啤酒,送给他们喜爱的表演者,表演者只能拿到部分钱,大头被网站抽走。观众还可以发送评论,评论会跳到屏幕上,让观众感觉自己在与主播互动。
"I think everyone, without exception, likes to watch beautiful girls," said a 28-year-old single office worker who asked that he be identified only by his surname, Zhai. He said he spends 500-800 yuan a week purchasing virtual gifts on four or more different sites. This business model works in China because it builds on the traditional culture of giving red envelopes stuffed with money at weddings and fruit, cigarettes or bottles of booze at Lunar New Year.
28岁的翟姓单身白领职员说:"我觉得所有人无一例外都喜欢看美女。"他说,他每周在四家甚至更多网站上用来购买虚拟礼物的钱大概在500到800元之间。这种商业模式在中国之所以有效,是因为中国传统文化中的一些习惯,比如在婚礼上送出塞满现金的红包,在春节有送水果、香烟和瓶装白酒。
"Gifting is a common practice offline, and having that happen online to make it easier to form social relationships seems quite natural," said Hans Tung, a managing partner at GGV Capital, a venture capital firm.
风投公司纪源资本的管理合伙人童士豪说:"送礼在线下是一种常见的行为,由线下走到线上,使社交关系更容易地建立起来似乎是很自然的事情。"
U.S. players are paying attention, but so far haven't gotten this model to work. "There are a lot more ways people can make money now online," Tung said.
美国的公司在关注这种模式,但目前还没有采用。童士豪说:"现在在网上有很多途径可以赚钱。"
One of the biggest Chinese hosting sites, YY, is listed on the Nasdaq stock exchange and saw its revenues rise 60 percent to 5.9 billion yuan last year, according to unaudited financial results announced in March. It claims more than 120 million active users who spend an average of 48 hours per month on the site.
中国最大的主播网站之一YY在纳斯达克股市上市,3月份公布的尚未审计的财务报告显示,去年公司收入激增60%,达到59亿元人民币。公司宣称每月在该网站上平均逗留48小时的活跃用户有逾1.2亿。
Young Chinese see virtual gifting as a fun way to spend their disposable income, said Dong Mengyuan, head of entertainment content at China Renaissance, an investment bank that focuses on Internet and technology companies.
以互联网和科技公司为主业的投资银行华兴资本负责娱乐内容的主管董蒙元说,中国的年轻人将虚拟送礼视为一种有趣的花钱方式。
"They don't just only pay for their clothes, food and some other basic demands," she said. "They also want to pay for something like entertainment."
他说:"他们不仅花钱买衣服、吃的以及其他一些基本需求。他们还想买消遣之类的东西。"
Many young people are exploiting the trend simply to make some money. Eighteen-year-old Wang Weiying has turned to one live broadcast site, Huajiao, to earn money to study abroad. She pulls in around 2,000 yuan each month for 20 hours of broadcasts, sometimes talking into her mobile phone as she walks along the street. The competition is already stiff. In the quest to draw viewers, Wang has sometimes broadcast 100 hours a month or more.
许多年轻人利用这一趋势赚钱。18岁的王薇英为了留学到直播网站花椒网上赚钱。她每个月做20小时的节目,能赚取2000元,有时候在路上边走便讲手机。报道称,这一行的竞争现在已经很激烈了。为了吸引观众,王薇英有时一个月主持100个小时甚至更多。
In the U.S., there are live streaming services like Meerkat and Twitter's Periscope that allow people to use their smartphones to shoot video, and Facebook has recently expanded its own version — Facebook Live — to all users. Initially, the feature was just for celebrities and other public figures.
美国也有流媒体直播服务,比如Meerkat和推特的"潜望镜",人们可以使用智能手机来拍摄视频,"脸书"网站最近扩大直播服务Facebook Live面向所有用户。起初,这一功能只面向名人和一些公众人物。