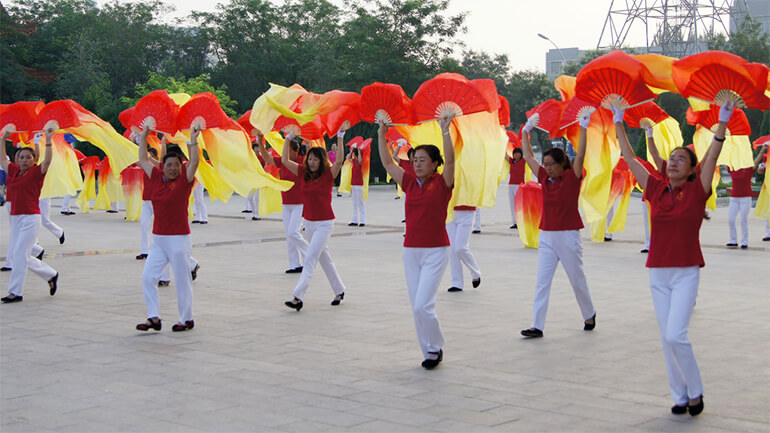 A team of energetic "Chinese dama" are going abroad to perform their neighborhood "square dancing" on a bigger stage this July.
今年七月,一群充满活力的"中国大妈"将受邀出国去一个更大的舞台上表演他们的"广场舞"。
The term Dama, a Chinese pinyin that translated literally as "big mamas", refers to the group of women, usually middle aged, who gather in parks and squares to dance in unison to often deafeningly-loud music.
"大妈"这个词,是中文的拼音,字面翻译为"大妈妈们",指的一般是一群中年女性,她们聚在公园或者广场上和着震耳欲聋的音乐整齐地跳舞。
Ottawa mayor office this year invites 30 senior people from Guangzhou, south China's Guangdong province to perform square dancing on Canada Day.
渥太华市长办公室今年邀请了30位来自广州的大妈到加拿大国庆日上来表演广场舞。
An official with Ottawa Tourism Bureau said Wednesday at a press conference that more Chinese elements would be added to this year's Canada Day to mark the friendship between the two countries.
渥太华旅游局的一名官员周三在新闻发布会上说,越来越多地中国元素会加到今年的加拿大国庆日中,来表示两国之间的友谊。
Ottawa, Canada's capital, is the place for the country's biggest annual birthday celebration on July 1 every year. People dressed in their best red and white outfits participate in parade, carnival, barbecue parties and outdoor concerts on that day.
渥太华是加拿大首都,是每年7月1日举行全国最盛大的国庆活动的地方。这一天,人们穿上他们最好的红色和白色的服装加入到游行,狂欢,烧烤派对和室外音乐会中。
30 seniors from Guangzhou are invited to perform square dancing with "Little Apple" and "The Hottest Ethnic Trend", two of the most popular folk songs in China on that day too.
30位来自广州的大妈受邀表演广场舞"小苹果"和"最炫民族风",这两首歌也是中国目前最火的两首民歌。
"Officials from the city's tourism bureau will attend the grand 'Welcome Dinner' for Chinese guests on June 30," said the official.
这名官员说:"旅游局的关于将会加入6月30日为中国客人举办的盛大的'欢迎晚宴'。"
Every Chinese performer will be named honorary citizen of Ottawa and receive a certificate issued by the Mayor's Office, the official added. And all of them are invited to the firework display party on the night of July 1.
该官员还补充道,每个参演的中国大妈都会被授予渥太华荣誉市民的称号并获得市长办公室授予的证书。另外他们也都被邀请观赏7月1日晚上的烟火表演。