What kind of ship never sinks? Friendship!
什么船从来不翻?友谊之船!
While this joke has always been popular, it has never been able to show how the ship sinks. Until now, that is. A recent set of cartoons reveals the whole story with the help of cute penguins.
但是最近,"友谊的小船说翻就翻"迅速火起来,而这里头究竟有什么梗?一组可爱的企鹅漫画告诉你答案。
The cartoons were first put online on Sina Weibo, a Twitter-like service in China, on April 2. Captions on the cartoons show that the two are on a 'friend ship'. But then one gets thinner and the ship sinks.
这组漫画首先出现在4月12日的新浪微博上。漫画显示:好朋友同乘友谊之船,如果一方变瘦,小船说翻就翻。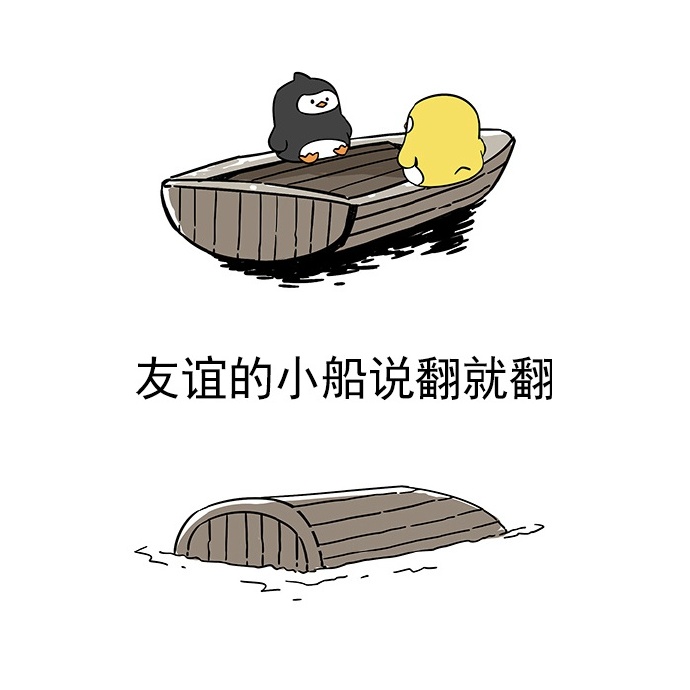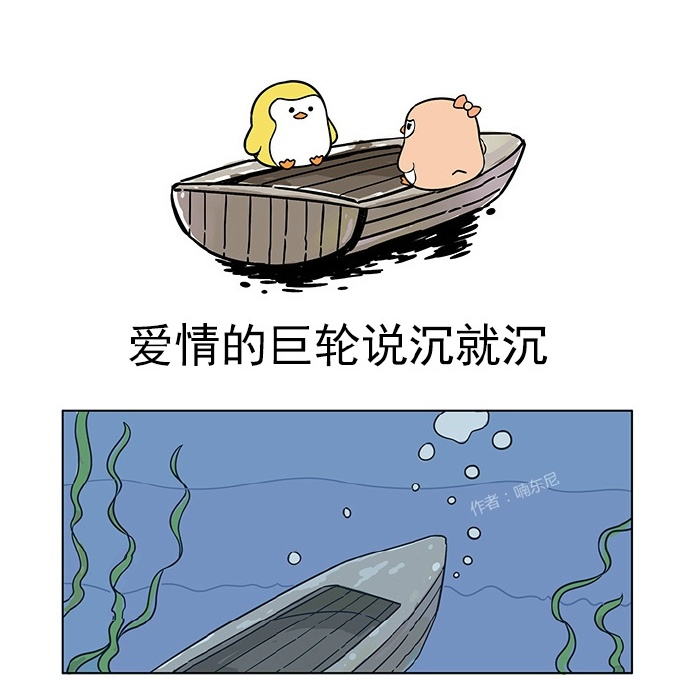 The artist, who uses the pseudonym Nan Dongni, allowed internet users on April 6 to replace his captions with their own. Nan wanted to publish the best ones on his verified Weibo account and offered prizes.
创作这组漫画的是漫画家喃东尼,4月6日,他还邀请网友据此来创造自己"翻船体"。喃东尼希望能够将最好的版本放在他的微博上,并提供了奖金。
The cartoons went viral on social media, such as Weibo, WeChat and online forums. Captions suggested the reasons why the "friend ship" sinks, such as friends having different jobs and industries.
这些漫画图迅速火遍各大社交媒体,在微博、微信等平台大量转载。漫画解释了为什么"友谊的小船说翻就翻",比如说因为工作领域不一致而导致友谊结束。
For instance, if you have a journalist friend and ask them to have a meal together and they respond that they have to finish a news report first, the "friend ship" sinks. Or, when your friend is a teacher and you ask if they want to have a meal today and they reply that they have to finish school reports, the "friend ship" sinks.
例如,你的朋友是记者,你想要约他们出来吃饭。他们却答复你必须要先完成新闻报道,然后"友谊的小船说翻就翻"。或者说,你的朋友是教师,你想要约饭,他们却说学校还有事,这时候,"友谊的小船说翻就翻"。
The popularity of the cartoons shows that people have little understanding of the different demands made by careers, which causes barriers in communication and that in turn creates misunderstandings and that sinks friendship.
这些漫画图的走红告诉我们,大家对不同领域的工作者的需求知之甚少,以至于造成交流障碍,进而产生误解,最后"友谊的小船说翻就翻"。
These cartoons with different captions have been viewed more than 16 million times. Nan said April 12 on his Weibo account that some changed cartoons without his permission but they too attracted more than 100,000 views.
而不同版本的"翻船体"漫画一共被浏览了1600万次。喃东尼说,有些未经他允许的改编版也放在了他的微博上,被浏览了10万次。
The "friend ship" cartoons have finally transformed Nan into a cyber celebrity, or Wanghong, in Chinese.
"翻船体"漫画也让喃东尼成为了新晋网红。
Nan was born in the late 1980s in Linyi, East China's Shandong province. He told media that he left university to embark on creating cartoons. His decision came after he bought two books by Chinese cartoonist Jimmy in 2010.
喃东尼出生在80年代末,老家在山东省东部。他告诉媒体,从大学退学后,他开始了漫画创作。这一决定始于他在2010年买了两部漫画家几米的作品。
Nan wrote on his WeChat account, a messaging service, "I never thought I'd be the creator of a hot event. As you can see, the 'friend ship' cartoons and notes have flooded the circle of friends on social media."
在微信上,他写道:"我从未想过自己会成为热点事件的制造者。正如大家所见,朋友圈已经被各种'友谊的小船说翻就翻'给刷屏了。"
He said he created the two penguins – a yellow one named Dongni and a black one called Ade – last year. He was happy that the two penguins have become popular with Chinese netizens, but he worried that some people posted the cartoons with their own captions without giving him credit as the creator.
他说去年他就创作了这两只企鹅——黄色的叫东尼,黑色的叫阿德。他很高兴网友们能喜欢它们。但是,他也担心一些人未经他允许随意刊登他们的改编版。