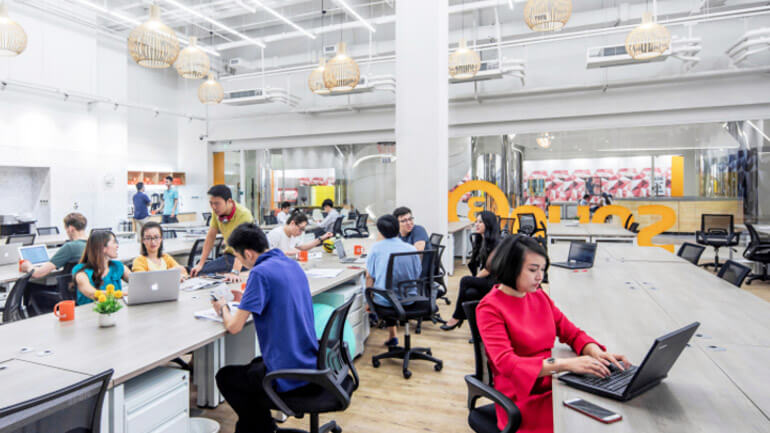 Shortly after joining online dating company MarryU Inc. last September, Fu Yonggang clashed with founder and Chief Executive Huang Zhen at a product meeting. Mr. Huang suggested when a user clicks on the "chat" button on another user's profile page, the system would send an automated greeting to that user. Mr. Fu thought the function could make the user who initiated the conversation look insincere, undermining his or her chance to get a response. Their argument escalated into shouting and table pounding.
去年9月加入网上婚恋公司MarryU后不久,付永刚在一个产品会议上与公司创建人兼首席执行官黄镇发生了冲突。黄镇认为,当某个用户点击另一名用户档案页上的"聊天"按钮时,系统应该自动向后者发送问候。付永刚则认为,系统的这个功能会让发起聊天的用户显得不真诚,不利于他或她获得对方的回应。他们的争论升级成大喊大叫和拍桌子。
The two men have argued like that at least a dozen times since 26-year-old Mr. Fu came on board, according to both of them. Mr. Huang, a 38-year-old serial tech entrepreneur in Hangzhou, says he found Mr. Fu too blunt and stubborn in the beginning but had learned to appreciate his candor and passion. He put the younger man in charge of project management, and gave him several pay raises.
自从26岁的付永刚加入以来,两人之间至少已经发生了十几次像这样的争论。现年38岁的黄镇说,一开始他觉得付永刚过于直率、太过固执,不过慢慢地他开始学会欣赏对方的坦白和热情。他让这名年轻人负责项目管理,并几次给他加薪。
"I've stopped thinking of myself as someone who gives order," says Mr. Huang, adding that he recently fired a new employee who turned out to be too much of a yes-person. Mr. Fu says he did feel pressure in those arguments but he had to speak up when he felt he understood an issue better than Mr. Huang.
黄镇说:"我已经不再把自己当成发号施令的人。"他还补充说,他最近解雇了一名新员工,因为后者太顺从了。付永刚则表示,他在这些争论中确实感受到了压力,但当他认为自己对问题的理解好于黄镇时,他必须说出自己的想法。
Millennials—generally defined as people born in the 1980s and 90s—are shaking up corporate cultures in the U.S. and other countries. In China, given its rapid societal changes in the past several decades, the generational divides are even wider.
千禧一代(一般定义为上世纪80年代和90年代出生的人)正在影响美国和其他国家的企业文化。在中国,考虑到过去几十年里社会的快速变迁,代沟问题甚至更严重。
In China, the cohort that is spurring the most change is called the "Post-90s" generation, describing people born in or after 1990. They are almost all only children, thanks China's one-child policy, and they're first to grow up when Internet access was widely available. They tend to be more open-minded, rebellious, individualistic and willing to challenge the authority than previous generations, says Eric Fish, author of the book "China's Millennials: The Want Generation."
在中国,激发最大变化的是"90后"一代人,在中国的计划生育政策下,他们几乎都是独生子女,也是互联网普及后最先成长起来的一代人。《中国千禧一代》的作者埃里克·菲什指出,他们往往思想更开放、更叛逆、以个人为中心,还比前几代人更愿意挑战权威。
The contrast, he says, is sharp even with Chinese born in the 1980s, given how rapidly living standards improved in the '90s and access to technology increased. Someone born in 1995 entered a Chinese economy more than twice its size in 1985, for example. As for their parents' generation, "It's an entire world apart," he says.
菲什表示,鉴于90年代生活水平有了快速提升以及人们更多地接触科技,即便是上世纪80年代出生的中国人,90后跟他们也形成了非常鲜明的对比。譬如说,1995年出生的人面对的中国经济规模是1985年的两倍以上。菲什说,至于他们的父母辈,"那完全是两个世界了"。
Chinese companies generally have had strict hierarchical structures and cultures in which bosses are rarely challenged and professional success largely depends on executing orders. Openly challenging the boss the way Mr. Fu did would be unthinkable to older Chinese workers. But now some older tech managers are realizing that the traditional approach doesn't work for their younger employees, who are eager to be heard and value personal fulfillment more than superiors' praises.
中国企业一般有着严格的等级制度。在传统的企业文化中,下属很少挑战上司,职业生涯是否成功在很大程度上取决于执行命令。对年纪较大的中国员工来说,公开挑战上司的权威是不可想象的。但现在,一些年龄较大的科技公司经理开始意识到,传统的方法不适用于更年轻的员工。这些年轻人希望自己的声音能够被听取,他们更看重个人的成就感,而不是上级的表扬。
According to a 2014 survey of 160 employees at 22 tech startups in China, conducted by venture-capital firm China's Innovation Works, post-90s employees are driven much more by user satisfaction and personal development than people five or 10 years older.
2014年风险投资企业中国创新工场对中国22家科技初创企业的160名员工进行调查。调查发现,跟比他们大5到10岁的人相比,90后雇员更加看重用户满意度和个人发展。
A parallel survey by the same firm of 30 startup CEOs found that they consider younger employees both angels and monsters. Such workers can be a force for disruptive innovation, the CEOs said, but also pose big management challenges because they are reluctant to work overtime, place bigger emphasis on work-life balance, and have difficulty sustaining enthusiasm for work.
与此同时,创新工场对30家初创企业的首席执行官进行了调查。调查发现,他们认为较年轻的员工既是天使,又是恶魔。这些企业高管说,年轻员工是激发颠覆性创新的一股力量,但同时在管理上构成了巨大挑战,因为他们不愿加班加点,更看重平衡工作与生活,很难维持对工作的热情。
Tech companies are adapting to get the most out of these employees. Immediately after founding Dewmobile Inc. in Beijing in 2012, Frank Wang started hiring post-90s interns because his company's primary product, Zapya, is a private file-sharing app for users between 13 and 24. He needed their input to make the product a success.
科技公司正在逐渐适应,以充分利用这些年轻员工。2012年在北京创建邻动网络科技有限公司后,王晓东立即开始雇用90后实习生,因为他公司的主要产品"快牙"是一款针对13岁到24岁年轻人的文件共享应用软件,他需要这些90后的员工来让产品获得成功。
Now 60% of the company's 110 employees are post-90s people, and Mr. Wang, who calls himself a post-60s, has developed close relationships with many of them after overcoming some shocks.
如今在公司的110名雇员当中,60%的人是90后。克服一些困难后,自称是60后的王晓东与他们当中的很多人建立了亲密无间的关系。
His young employees aren't afraid to tell him and other older colleagues—including graduates of top universities like Tsinghua and Stanford, with years of experience working in Silicon Valley—that their product ideas stink. "I have the responsibility to stop Frank from having unrealistic ideas about our users," says Cui Jianxiong, Zapya's 25-year-old iOS product manager. "I complain so much about our product and user interface that Frank nicknamed me 'sharp tongue.'"
他的年轻员工不怕告诉他和其他年龄较大的同事,包括从清华和斯坦福大学等顶级高校毕业、在硅谷有过多年工作经历的人,称他们对产品的想法糟糕透顶。"快牙"25岁的iOS产品经理崔建雄说:"我负责阻止王晓东对我们的用户有不切实际的想法。我对我们的产品和用户界面有着如此多的抱怨,以至于王晓东把我戏称为'毒舌'。"
Tech executives like Mr. Wang, who spent 15 years in the U.S. and whose family still lives there, say that while they appreciate post-90s employees' creativity and openness, they find some to be unreliable. They switch jobs frequently, and it isn't uncommon for them to not show up for job interviews—or for work, even after signing offer letters.
王晓东在美国生活了15年,他的家人如今仍然在美国。像他这样的企业高管说,虽然他们欣赏90后雇员的创造性和开放性,但他们发现一些人不可靠。他们频繁地换工作,不来参加工作面试——或者是工作——是常有的事情,即便在他们签约后。
But while Mr. Wang found that these young employees are often reluctant to work as hard as his generation, they're more than willing to spend time on projects where they feel they have ownership. Serena Zhang, who started as an intern Web writer at the company in 2012, refused to work overtime until after she got her wish to work on an interactive-design project. "I worked until 2 a.m. every day on that first project," says Ms. Zhang, now a product manager. "It kind of felt like my baby."
不过王晓东发现,虽然这些年轻员工往往不愿像他们的前辈那样刻苦工作,但他们更愿意在自己能做主的项目上花时间。2012年开始在公司实习的塞雷娜·张拒绝加班加点,直到她如愿以偿地为一个交互式设计项目工作。现在已经成为一名产品经理的张说:"在第一个项目上,我每天工作到凌晨两点,它就像是我的孩子一样。"