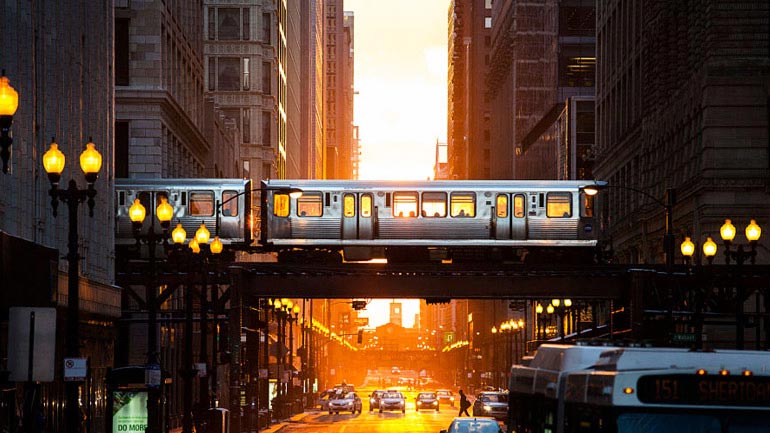 CRRC Corp., China's only maker of high-speed locomotives, said it's interested in investing in more U.S. cities after winning a $1.3 billion rail-car contract from Chicago's transport authorities.
在赢得了芝加哥13亿美元的地铁车辆合同后,中国的高速火车制造商表示有兴趣在更多的美国城市投资。
The company is bidding for a subway project in Los Angeles and a double-deck train contract in Philadelphia, CRRC Vice-President Yu Weiping said in an interview in Manhattan. It also is looking for work in New York, according to Yu.
中国中车股份有限公司副总裁余卫平在曼哈顿接受采访时说,该公司正在竞标洛杉矶的一个地铁项目以及费城的一个双层火车合同。他说,公司也正在纽约寻找项目。
"Time and time again, you ask me whether I love you, yes I do," said Yu, citing a Chinese pop song on his interest in New York. "It is the most dynamic center in the world."
"一次又一次,你问我是否爱你,是的,"余卫平引用了中国一首流行歌曲来表达了他对纽约的兴趣:"这是世界最具活力的中心。"
Yu's comments came after the Chicago Transport Authority last month ordered 846 rail cars from a unit of CRRC, its second U.S. deal in 18 months. The Chinese government combined former trainmakers CSR Corp. and China CNR Corp. last year, forming CRRC to better compete with Germany's Siemens AG and France's Alstom SA. A $567 million Boston deal that CNR won before the merger in 2014 was China's first major rail contract in North America. It's proposal was 50 percent cheaper than Bombardier Inc.'s bid.
上个月,芝加哥运输局从中车股份有限公司订购了846节轨道车辆,这是该公司在18个月里获得的第二单美国生意。去年,中国政府将中国南车与中国北车公司合并为中车公司,旨在与德国的西门子和法国的阿尔斯通公司更好地展开竞争。在南车和北车合并之前,北车公司在2014年获得了波士顿的一份价值5.67亿美元的合同,这是中国首次在北美赢得大的铁路合同。其要价比庞巴迪公司低了50%。
CRRC, which has 170,000 employees, will focus on the U.S. this year while it's also interested in Europe and other markets, Yu said.
余卫平说,拥有17万员工的中车公司今年的主攻目标是美国市场,不过它也对欧洲和其他市场感兴趣。
China is leading the nation's overseas push by train equipment makers as part of the government's broader strategy to turn China into an advanced industrial nation. They have targeted emerging markets in Africa, Latin America and Southeast Asia for rail-related orders, while also bidding for high-profile contracts in the developed world. China won the rights to build a $5.5 billion railway line in Indonesia in October last year, beating out Japan for the link from Jakarta to Bandung.
中国正在推进本国火车设备制造商的海外拓展,作为将中国转变为先进工业国家的更宏大战略的一部分。他们已瞄准了非洲、拉美和东南亚等新兴市场的铁路相关订单,同时也在积极争取发达国家的高调合同。去年10月,中国击败日本赢得了在印度尼西亚修建价值55亿美元的雅加达-万隆铁路线的合同。
A China Railway Group-led consortium and XpressWest Enterprises LLC is forming a joint venture to build a high-speed railway linking Las Vegas and Los Angeles, the first Chinese-made bullet-train project in the U.S.
一个中国中铁股份有限公司领导的联合企业与美国西部快线公司正在组建合资公司修建拉斯韦加斯到洛杉矶的高速铁路,这是美国首个由中国承建的高速列车项目。