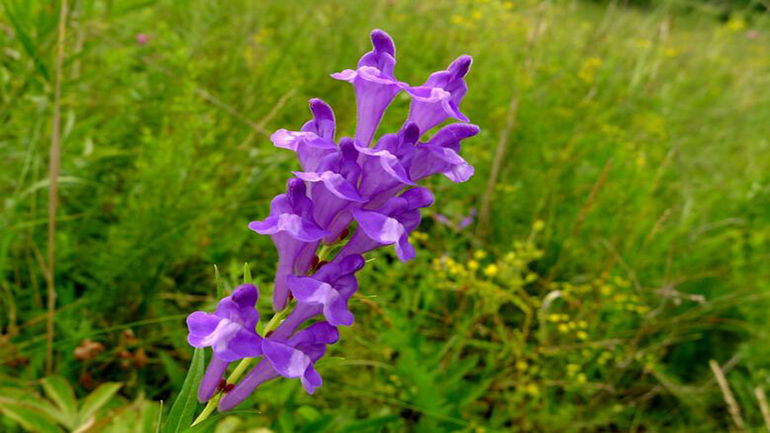 Scientists have unravelled one of the secrets of a plant used in traditional Chinese medicine.
科学家发现了在中药里使用的一种植物的秘密。
The Chinese skullcap – known as Huang-Qin – is traditionally used for fever, liver and lung problems.
这种中国的药草——被称为黄芩,传统上用来治疗发烧、肝炎、肺炎等。
Scientists have discovered that the plant uses a special pathway to make chemicals with potential cancer-fighting properties.
科学家已经发现,黄芩通过一种特殊的途径产生出具有潜在抗癌特性的化学物质。
They say it is a step towards being able to scale up production to make new drugs.
他们表示,这标志着向扩大生产新药物又前进了一步。
Prof Cathie Martin, of the John Innes Centre in Norwich, is lead researcher of the study, published in Science Advances.
诺维奇John Innes研究中心的凯西-马丁教授是该研究的带头人,将此发现发表在科学先锋上。
Working in collaboration with Chinese scientists, her team deduced how the plant, Scutellaria baicalensis, synthesises the chemicals, known as flavones.
与中国的科学家合作,她的团队推导出了这种叫黄芩的植物如何合成出被称为黄酮的化学物质。
Flavones are found widely in the plant kingdom, giving some plants vivid blue flowers.
黄酮类化合物在植物界广泛存在,一些植物会开出鲜艳的蓝色花朵。
"Understanding the pathway should help us to produce these special flavones in large quantities, which will enable further research into their potential medicinal uses," said Prof Martin.
马丁教授说,"了解到这种方法,将有助于我们大量生产这些特殊的黄酮类化合物,这将使得对其潜在的药用研究能更进一步。"
"It's exciting to consider that the plants which have been used as traditional Chinese remedies for thousands of years may lead to effective modern medicines."
"这些数千年来被用作中国传统药物的植物,却能通往高效的现代药物研究,真令人兴奋!"
Previous lab research suggests that flavones have anti-cancer properties, offering hope that they may one day lead to effective cancer treatments.
早前就有实验显示,黄酮有抗癌功效,已经为其某一天走向高效抗癌治疗研究燃起了希望。
Commenting on the study, Dr Alan Worsley of Cancer Research UK, said: "This paper answers a very interesting biological question about how these plants are able to make particular molecules, but the study doesn't look at whether the molecules can be used to treat cancer.
英国癌症研究中心的艾伦博士对这项研究发表评论说,"本文回答了一个非常有趣的生物学问题——这些植物如何产生出特定的分子,但研究并未着眼于这些分子是否可以用来治疗癌症。"
"Instead it looks at how this compound is made in nature, which may allow scientists to make more of it in the lab and be able to research its potential uses."
"相反,它考虑的是这些合成物是如何自然生成的,这样科学家就能在实验室里大量的生产出来,然后,才有可能去研究出它潜在的功效。"
This herb is a member of the mint family and native to China.
这种叫黄芩的药草属唇形科,原产于中国。
In traditional Chinese medicine, the root was used in combination with other plants to treat fever and other ailments.
在中医里,黄芩的根和其它植物混合被用来治疗发烧及一些其他小毛病。
There is increasing scientific interest in ancient medicinal plants.
对古老药草的科学兴趣与日俱增。
In 2015, Tu Youyou was awarded the Nobel Prize for Medicine for her work on artemisinin, an antimalarial drug derived from the sweet wormwood plant, Artemisia annua.
2015年,由于提取出抗疟疾的药物青蒿素,屠呦呦获得了诺贝尔医学奖。青蒿素是从一种艾科植物青蒿中提取出来的药物。
The fever-reducing properties of the plant were first recognised in the 4th Century by Chinese physicians.
中国的医师们早在公元4世纪时就发现了黄芩的退烧功效。