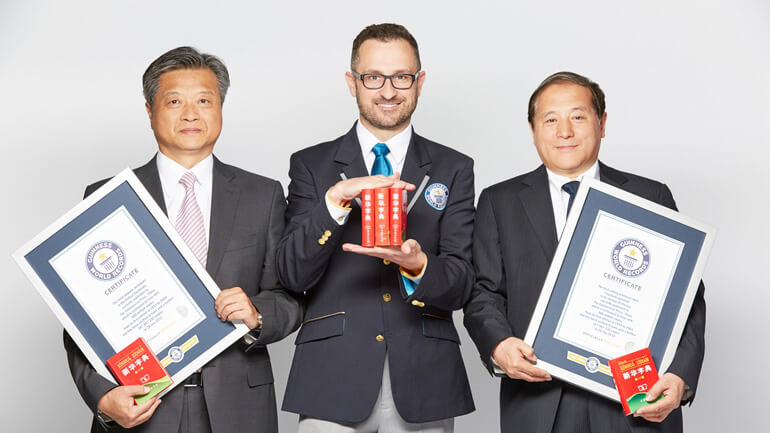 Guinness World Records was honoured to welcome members of the Chinese publishing companie The Commercial Press, Ltd to its headquarters in London to present them with certificates for their incredible records Most popular dictionary and Best-selling book (regularly updated).
世界权威的纪录认证机构吉尼斯世界纪录在颁发仪式上正式宣布,由中国商务印书馆出版的《新华字典》是 "最受欢迎的字典" 和 "最畅销的书(定期修订)" 。
The Xinhua Dictionary, currently published by The Commercial Press, China, is estimated to have sold a staggering 400 million copies from its first edition in 1953 to 2004 and has been verified to have sold a further 167,007,232 copies, as of 28 July 2015.
《新华字典》由商务印书馆出版,自1953年首版发售至2004年,其销量超过了惊人的4亿本。与此同时,截至两项世界纪录统计的计算时间2015年7月28日,《新华字典》全球发行量共达5.67亿本。
Marco Frigatti, SVP Records at Guinness World Records said, "Over the past year, our teams have completed extensive data investigation, collection and examination for these two records and we are delighted to verify that Xinhua Dictionary is the most popular dictionary and the best-selling regularly updated book."
吉尼斯世界纪录纪录高级副总裁Marco Frigatti表示:"在过去一年里,我们的团队完成了数据调查、汇总、审核等相关工作。我们很高兴能够证实《新华字典》是最受欢迎的字典,也是定期修订的最畅销的书。"
Mr. Yu Dianli, President of The Commercial Press, commented: "The Commercial Press is the first modern publishing house of China, also honored as 'Kingdom of Dictionary' and 'Stronghold for Academic Publishing'. The two Guinness World Records titles held by Xinhua Dictionary confirm the international influence of this famous title, and will bring more opportunities for cooperation between globally famous cultural institutes."
商务印书馆于殿利总经理说:"商务印书馆是中国第一家现代出版机构,被誉为 '工具书的王国' 和 '学术出版的重镇'。此次《新华字典》获得吉尼斯两项纪录称号,印证了《新华字典》品牌的国际影响力,也将会为我们和吉尼斯世界纪录以及更多国际一流文化机构的合作带来新的契机。"
Rowan Simons, President of Greater China, Guinness World Records added: "To sell over half a billion copies is an amazing achievement and one can easily imagine how important it has been in promoting learning of Chinese language."
吉尼斯世界纪录机构中国区总裁罗恩·西蒙斯表示,"销售量超5亿本是一项令人尊敬的巨大成就,显示了《新华字典》在促进中文学习方面的巨大作用。"