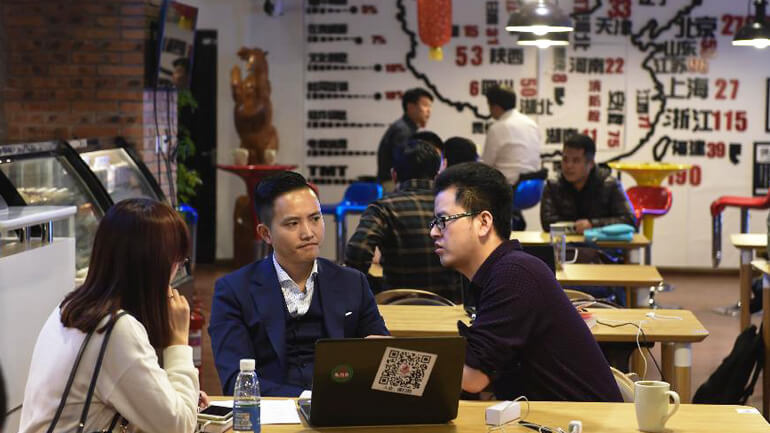 It's first thing on a Saturday morning and the foyer at Beijing's Tsinghua University is echoing with the busy chatter of more than 100 wannabe startup entrepreneurs.
周天一大早,在北京一所大学的礼堂内,100多名有志创业者正在热烈讨论。
The crowd of mostly 20-somethings had all given one-minute presentations the night before. Those with the strongest ideas – or, perhaps, the most magnetic personalities – are allowed to recruit team members from those who didn't make the cut. Tomorrow, they will present their pitches to an audience of fellow entrepreneurs, mentors and venture capitalists at a Startup Salad roadshow.
这群人大多只有20多岁,前一天晚上都做了一分钟展示。点子最棒或者个性最有吸引力的人获准从其他人当中挑选助手组队。然后,他们将通过巡回创业活动"创业沙拉"的路演,向企业家、导师和风投人士组成的观众推介自己的点子。
Chen Xu, 25, moved to Beijing five years ago to develop a job seeking platform for blue collar workers, believing there is a yawning gap in a market where websites mainly cater for white collar professionals. Yang Lu, 26, is working on a healthcare and nutrition monitoring system targeted at simplifying the work of aged care homes straining to cater for the country's rapidly greying population.
25岁的陈旭5年前搬到北京,为蓝领工人开发了一个求职平台。他认为现有求职网站主要服务于白领,市场存在巨大的缺口。26岁的杨路正在研发一套保健与营养监控系统,旨在简化养老院的工作。中国人口迅速老龄化,养老机构压力很大。
Much of Tian Shuo's future happiness, meanwhile, could well depend on the success of her idea. The 28-year-old is hoping to find love and riches by developing a smartphone dating app, but one that eschews the casual hook-up culture engendered by existing phone apps. She says her brainchild is targeted at "older" singles in their late-20s who are serious about settling down. As a further way to filter out the duds, only those within two degrees of separation will be able to contact each other.
与此同时,田朔未来的幸福在很大程度上可能取决于她的点子能否成功。28岁、自称"剩女"的她希望通过开发一个智能手机约会软件找到爱情和财富,这一软件避开了现有约会软件带来的不良风气。她说,自己的发明针对近30岁的"大龄"单身青年。为了进一步过滤掉不可靠的人,只有在半熟人圈子以内的人才能彼此联络。
The epicentre of China's innovation boom is in Beijing's Zhongguancun, where a cluster of tech incubators, startup accelerators and shared workspaces have sprouted near the capital's university district. It has drawn some of the country's brightest young entrepreneurs, programmers, venture capitalists and angel investors – seeking to alter China's lingering image of technology copycats to world-beating innovators one idea at a time. As Wired magazine put it, "The next Silicon Valley has emerged – and it's in the East".
中国创新潮的中心在北京中关村,这里位于首都的高校区附近,大量科技孵化器、新兴企业加速器和共享的创业空间如雨后春笋般涌现。中关村吸引了中国一些最具才华的年轻企业家、程序员、风险投资家,他们力图改变中国的技术抄袭者形象。正如《连线》杂志所说:"下一个硅谷已经出现——在东方。"
The risk-taking mindset required for success, though, has taken time to evolve. Chinese graduates are still brought up through an educational system rooted in rote-learning. And most are still drummed by their parents and peers to seek solid, respectable jobs at solid, respectable state-run companies.
但是,成功所需的敢于冒险的思维方式需要一定时间才能形成。中国的高校毕业生仍然出自主要靠死记硬背的教育体制。他们大多仍然被父母和同龄人灌输一种思想:要在稳定的国企找一份体面的工作。
While Chinese youngsters have arguably long had the talent, they are now immersed in an environment where they can see what is possible. The more ambitious among them might have once sought to make it in Silicon Valley.
中国年轻人可以说是才华出众,现在身处一个可以看到更大可能性的环境。他们当中最有雄心的人或许曾经寻求在硅谷创业。
Like most things in China, the country's startup and innovation scene is exploding because the government actively wants it to. The huge cash influx is part of the government's effort to bolster the Chinese economy through innovation as it transitions away from its traditional dependence on heavy industry and cheap exports.
像中国其他很多事物一样,这个国家的新兴企业和创业活动风起云涌,因为政府积极主动地希望出现这种情况。政府支持的创业投资基金大幅增加。提供巨额资金是政府通过创业创新提振经济所采取的一个行动:眼下,中国正在努力摆脱对重工业和廉价产品出口的传统依赖。政府支持一场影响深远的行动,促进创新,支持创业。
But the huge influx of cash in such a short space of time has raised natural concerns over whether, like the country's property industry and stockmarkets before it, the hot tech boom is yet another government cash-fuelled bubble primed to pop. This is especially given the government wants to attract money for riskier startups shunned by private investors who generally only back surer returns.
但是,如此短的时间内涌入如此巨额的资金自然会引发疑虑。人们担心眼下这场创新热潮是否会像之前的房地产和股市热潮一样,只是政府出钱刺激的泡沫,终将破灭。鉴于政府希望为新兴企业吸引资金,这种担忧尤其突出。
"To go from nothing to something, and then from something to fast-paced growth, there's bound to be some bubbles appearing," says Startup Salad founder Jim Zhao. "The bubble will grow to a point, and then people will discover it, and then it deflates, that's how markets mature."
创业者赵龙说:"从什么都没有到拥有一些东西,再到迅速增长,这个过程中必定会出现一定泡沫。泡沫会扩大到一定程度,然后人们会发现泡沫,然后泡沫变小,市场就是这样成熟起来的。"
Back at Tsinghua, 32-year-old Bi Jingyuan says the government support helps encourage young people to not be afraid to try and fail, and then try again. "Whether or not we can discover some opportunities, make the most of our worth to realise our dreams, this type of environment for entrepreneurship is really beneficial for our generation."
32岁的创业者毕静远说,政府的支持和帮助鼓励年轻人不惧怕尝试失败。毕静远说:"无论我们能否找到一些机会,最大限度地发挥自己的能力以实现自己的梦想,这种创业环境对我们这一代人来说非常有益。"