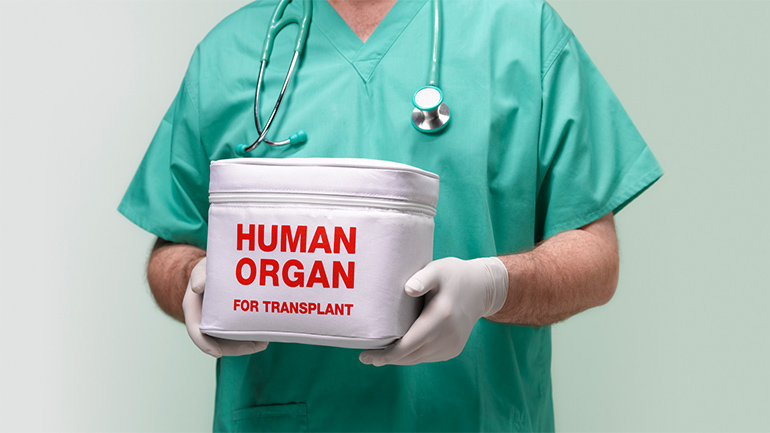 BEIJING — When Cao Yangfang left her nursing job to become a full-time "human organ donation coordinator," someone who asks families to donate their just-deceased relatives' organs, she set herself the goal of persuading one in 100 families to give. That was in 2010, when China set up a nationwide voluntary donation system.
北京的曹阳芳(音)辞去了护士工作而成为一位全职"人体器官捐献协调员",她的工作是劝说人们将刚刚过世的亲属的器官捐献出来。她给自己设定的目标是每100个家庭中劝服一个家庭做器官捐献。她开始做协调员是在2010年,当时中国已建立了一个全国自愿器官捐献体系。
"I didn't realize how big a challenge that figure would pose," said Ms. Cao of the Zhejiang Province Human Organ Donation Management Center. She spoke at an event last Thursday in Beijing ahead of the Qingming festival, when Chinese remember their dead.
浙江省人体器官捐献管理中心的曹阳芳在3月31日于北京举办的活动上说:"我并没有意识到这个数字带来的挑战有多大。"这次活动的举办正值中国的清明节前夕。
"Clear and Bright" is how the name of the festival that fell on Monday translates, and there was hope as well as sorrow at the event in an auditorium of Beijing Hospital. On hand were about 300 medical workers, Red Cross Society of China and government officials, donor families and organ recipients.
在北京医院礼堂举办的这一活动既充满了悲伤,同时又满载着希望。医疗工作者、中国红十字会官员、政府官员、捐献者家庭和器官受赠者出席了这一活动。
The gathering, organized by the Red Cross Society of China and Chinese Organ Donation, one of several groups promoting the switch to voluntary organ donation, was billed as an "organ donation memorial and popularization event." On a wall outside the auditorium were photographs of stone memorials inscribed with the names of donors that are being set up around China to honor their contributions.
该活动由中国红十字会及中国器官移植发展基金会——推动器官捐献向自愿捐献转变的组织之一共同组织举办。此次活动是"器官捐献纪念和推广活动"。会场外的一面墙上贴着照片,照片上是中国各地竖立起来的雕刻有器官捐献者姓名的石头纪念碑,以此向捐献者致敬。
The voluntary donation system has been slow to take off, hampered by cultural beliefs that a person's body must be buried intact. The first year, only 34 people donated, said Hao Lin'na, deputy chairwoman of the Red Cross Society of China.
中国自愿捐献体系发展得相当缓慢,其原因主要在于中国人死要保全尸首的传统观念。中国红十字会副会长郝林娜说,第一年仅有34名捐献者。
Among the reasons people gave Ms. Cao as they declined: "If we donate, he won't find his way home." "We're already so pitiable, why are you making us donate, too?"
每次曹阳芳遭到拒绝,人们都有各种各样的理由,"如果我们把尸首捐献了,他就找不到回家的路了","我们已经够可怜的了,你为什么还要我们捐献器官?"
About 300,000 Chinese people need transplants each year. In the face of this enormous need, a system long riven with controversy for how it transgressed international medical ethical norms is changing, though doubts persist in some quarters.
在中国,每年约有30万人需要器官移植。面对如此之大的需求量,长期以来因违背国际医学伦理道德的争议而分裂的器官捐献体系也正在发生改变,尽管仍有一些疑问留存。
Relying on organs from prisoners was never going to meet demand, said Dr. Jeremy Chapman, a former president of the Transplantation Society, in an interview. A modern system based on humanitarian principles was necessary as well as desirable, he said.
移植学会前会长杰里米•查普曼在接受采访时说,在人道主义原则基础上建立一个现代化的器官捐献体系是必要的、也是合乎需求的。
And voluntary donation figures are rising, officials say. In 2015, Ms. Hao said, 2,766 people donated 7,785 organs.
相关官员表示,中国自愿捐献器官的人数在上升。郝林娜表示,2015年共有2766人捐献了7785个器官组织。
So in speech after speech, health officials, coordinators, the families of recipients and businesspeople issued appeals in an atmosphere that was a cross between a funeral and a charity fund-raiser: Support us! Donate more! Spread the word on WeChat!
卫生官员、器官捐献协调员和器官受赠家庭和商人们不断游说、演说,大声疾呼:支持我们!捐献更多遗体!让这些文字在微信上传播开来!
A new fund to support organ donations and research, the Universal Love Fund, was announced, with 8 million renminbi, about $1.2 million, in seed money from the Shandong Weigao Group Medical Polymer Company, a medical devices manufacturer. The fund is to be overseen by the Red Cross Society of China.
近日,中国红十字会宣布设立一个致力于器官捐献和研究的全新基金"生命接力——博爱基金"。医疗器械生产企业威高集团股份有限公司向红十字会捐赠了800万人民币(约合120万美元)作为启动资金。据悉,该项基金的动向将由中国红十字会监督。
Chen Jingyu, a lung transplant surgeon at the Wuxi People's Hospital and a member of the National People's Congress, appealed for more government support to ensure the speedy transport of organs to avoid waste.
全国人大代表、无锡人民医院的肺移植专家陈静瑜呼吁,政府应多给予支持,保证器官的快速移植,避免浪费现象。
Another challenge is the expense, as organ transplants are not covered by state health insurance, doctors said after the event.
活动结束后,有医生表示,鉴于器官移植并不在医保范畴内,器官移植面临的另一个挑战就是费用昂贵。
Also, people are not used to the idea of donation, often offering to donate an organ a week after a relative's death, which can be too late, they said.
同时医生还表示,中国民众对于器官捐献还不习惯,经常有人在亲人死去一周后才表示想要捐献器官,而此时捐献往往已经太迟了。
China will continue to build its voluntary organ donation system in its own way, said Wang Pei'an, a deputy minister at the National Health and Family Planning Commission.
国家卫计委副主任王培安说,中国将沿着自己的道路建立自愿器官捐献体系。
"For a long time we lacked an organ donation system," Mr. Wang said, leading to a "very serious shortage" that "we will use Chinese methods to solve. This is a resolute struggle."
"长久以来,我们缺乏一个器官捐献体系,"王培安说,而这导致了"非常严重的短缺局面","我们将采取中国方式解决这一问题。这是场坚决的斗争。"