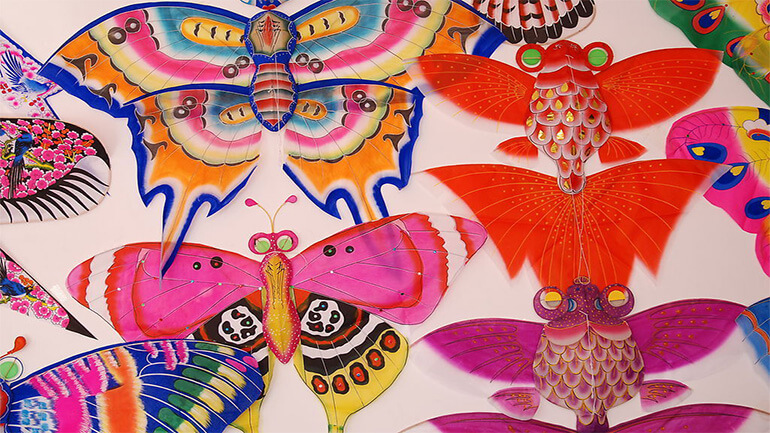 China is believed to be the birthplace of kites. In the beginning, kites were used as a messenger or tool for military reconnaissance missions. Since flying kites needs good weather conditions and a spacious ground, it has turned into an outdoor sport loved by many. In recent years, medical experts have discovered that flying kites could be a good therapy for mentally ill patients. It helps them become more open and outgoing.

中国是风筝的发源地。起初,风筝作为军事侦查的信使和工具。放风筝需要好的天气条件、宽阔的场地,于是放风筝就成了一种大部分人喜爱的户外运动。近年,医学家发现,放风筝对精神疾病患者有良好的疗效,它能帮助患者变得豁达开朗。
Do you know what the earliest kite looked like? More than two thousand years ago, Chinese philosopher, Mozi (墨子), spent three years creating a wooden bird based on bird flight. However, it broke down after one day's flight. It inspired people, afterwards, to invent kites. After the invention of paper making in the Eastern Han Dynasty, paper was used for kite making. In the Tang and Song dynasties, kites were popular entertainment for common folks.
相传,2000年前,中国著名哲学家墨子以木头制成木鸟,研制3年而成。但飞了一天就坏了。后来,人们就开始发明风筝。东汉时期,得益于造纸术的发展,人们开始用纸制作风筝。在唐宋时期,风筝是最受百姓喜爱的娱乐运动。
Chinese kites maintain rich cultural connotations. For traditional kites, designs feature Chinese characters, such as "happiness" (欢乐), "longevity" (长寿) and "good luck" (好运), showing people's pursuit of beautiful things. Weifang in Shandong Province is known as the "capital of kites in the world". An international kite festival is held in the city every year.
中国的风筝还蕴含着文化内涵。传统的设计寓意欢乐、长寿和好运,表达人们对美好事物的追求。山东潍坊是"世界风筝之都",每年都会举办一次世界风筝节。
The article is translated and editted by Chinlingo. Please indicate the source (info.chinlingo.com) for any use, reproduction or transfer.
本文由Chinlingo编译后发布,如需转载,请标明来源:info.chinlingo.com.