It was the route along which fine cloths, spices and riches flowed between Europe and East Asia for hundreds of years. But new analysis of textiles and dyes found in a tomb complex in Nepal suggests the Silk Road may have extended further south than previously believed.
这是一条曾在数百年里用于在欧洲和东亚之间运输丝绸、香料和财富的商路。然而,对从尼泊尔的一处墓穴群中出土的织物和染料的分析说明,丝绸之路最南端可能比人们过去认为的更远。
Archaeologists found a gold, silver and cloth funerary mask discovered in the Samdzong tomb complex in Nepal had been made with materials from north-east Asia between 400AD and 650AD.
考古学家发现,在尼泊尔瑟姆德宗墓葬中出土的一个用金、银和布制成的面具,其材料来自公元400年-600年的东北亚。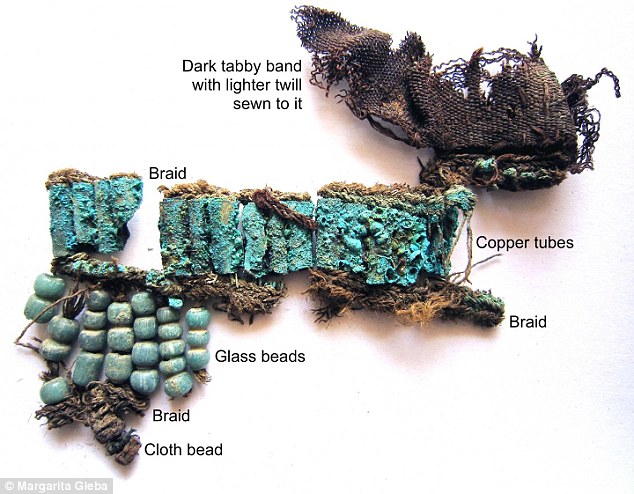 Alongside the funerary mask was some wool that included copper, glass and cloth beads (pictured).
Analysis of this showed traces of dyes including Indian lac and munjeet alongside silk from China
Dr Margarita Gleba, from the University of Cambridge's McDonald Institute for Archaeological Research, found the cloth contained degummed silk fibres and Indian dyes.
剑桥大学麦克唐纳考古研究所的玛格丽塔•格莱巴博士发现,布料中含有脱胶丝纤维和印度染料。
Dr Gleba said: 'There is no evidence for local silk production suggesting that Samdzong was inserted into the long-distance trade network of the Silk Road.'
她说:"数据进一步印证了一种观点,即木斯塘曾在一个更大的人与地区网络中担当小而关键的一环,而不是一个孤立而遥远的存在。"
'The data reinforce the notion that instead of being isolated and remote, Upper Mustang was once a small, but important node of a much larger network of people and places.
她还说:"这些织物可以让我们进一步认识当地的纺织材料和技术,以及不同的群体是通过怎样的机制,来发展和适应新的纺织技术,以顺应当地的文化和经济需求的。"
The cloth used in the funerary mask was found to contain silk but also Indian dyes such as munjeet and lac, which suggests the materials had been imported from China and India.
'这个殡葬用面具所使用的布料,不仅有丝的成分,还含有茜草、紫胶等印度染料,这说明,这些材料来自中国和印度。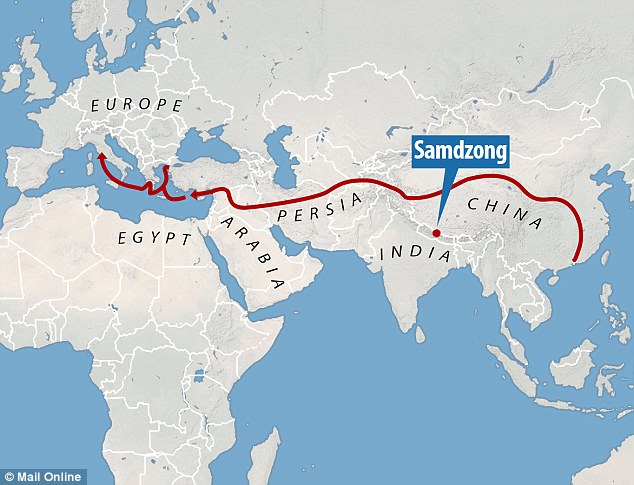 The researchers say their discovery suggests merchants travelling the Silk Road (shown in red)
had plied their wares far further south than had been initially thought
The Silk Road was an ancient network of trade route that ran through central Asia connecting China to the Mediterranean Sea. It was initially named after the lucrative trade in Chinese silk but other precious items such as jade, gold, silver, bronze and spice were also transported initially between China and Egypt, then later to ancient Greece and Rome and eventually to Medieval Europe.
丝绸之路是一个途经中亚,连接中国与地中海的古老的贸易网。它最初得名于中国利润丰厚的丝绸贸易,但玉器、金、银、铜和香料等珍贵的商品,也在中国和埃及间运输,丝绸之路后来延伸至古希腊、罗马和中世纪的欧洲。
While many sea route were opened up by sailors to transport goods, merchants crossing overland were thought to have travelled by northern and southern routes that bypassed the Takliamakan Desert in north west China.
就像运输商品的航海者开辟了很多海上航道一样,过去,人们认为,商人们曾沿着绕过中国西北部塔克拉玛干沙漠的南北两条路线,往返于两个大陆之间。
The northern route took several paths through Kazakhstan, Afghanistan and Uzbekistan.
北部的路线途经哈萨克斯坦、阿富汗和乌兹别克斯坦。
The southern route ran through the Karakoram mountains that sit on the border of Pakistan, India and China.
南部的路线途经位于巴基斯坦、印度和中国边境的喀喇昆仑山。
They merged again near Merv in Turkmenistan before continuing west to the south of the Caspian Sea.
两条路线在土库曼斯坦的梅尔夫附近汇合,然后继续向西,抵达里海南部。
But the cloth discovered in the tombs near the village of Samdzong in the Mustang region of Nepal suggest merchants may have also extended their route further south still.
然而,在尼泊尔木斯塘地区瑟姆德宗村附近这处墓穴群中发现的布料说明,商人们可能把他们的路线延伸到了更往南的地方。
At a height of 13,100ft (4,000 metres), the cloth was exceptionally well preserved alongside the remains of the ancient people who were buried in tombs cut into the mountainside in Samdzong.
在海拔4000米的地方,布料和在山腰上凿出的墓穴中的古人遗骨保存完好。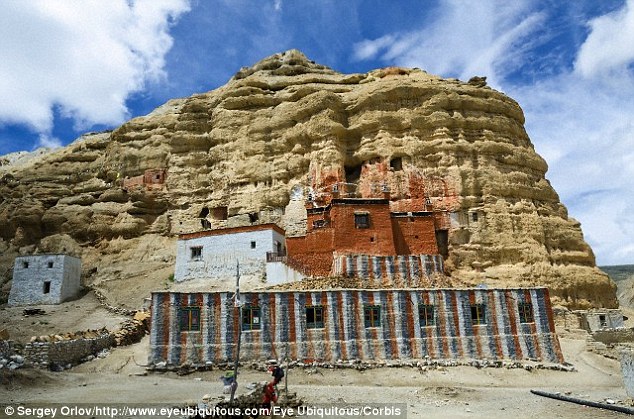 The tombs were cut into the cliff face in Upper Mustang (similar caves above a monastery in Lo Manthang,
Nepal pictured) more than 13,100ft up, where the dry cold air helped to preserve the cloth
The man-made remains were only exposed to view in 2009 when an earthquake caused the façade of the cliff to calve off. One segment of cloth found in the tombs was made of wool with copper, glass and cloth beads attached to it.
2009年,由于地震导致悬崖正面的山石脱落,这些人造墓穴才被人发现。墓穴中发现的其中一片布料是用羊毛制成的,上面还装饰着用铜、玻璃和布制成的珠子。
It was found near a coffin of an adult alongside the spectacular gold and silver funerary mask. The mask has small pinholes around its edges, suggesting it had been sewn to a fabric and was perhaps part of a piece of decorative headwear.
这块布料是在一个成年人的棺材附近发现的,这位墓穴主人还戴着用金银打制的豪华的入葬面具。面具边缘有一圈小孔,这说明它曾被缝到织物上,可能是某种头部装饰品的一部分。
Writing in the journal Science and Technology of Archaeological Research, Dr Gleba and her colleagues explain how analysis found a range of organic dyes on the cloth. They said turmeric, knotweed indigo, Indian lac and munjeet were all found on the cloth along with cinnabar.
格莱巴和她的同事在发表于《考古科学与技术研究》期刊的文章中,解释了他们是如何通过分析,发现这块布料中含有多种有机染料的。作者说,这块布料中含有姜黄、蓼蓝、印度紫胶、茜草和朱砂。
They said: 'The results indicate that locally produced materials were used in combination with those likely imported from afar, including China and India.'
文章说:"结果显示,它同时使用了当地生产的材料和那些可能从中国和印度等遥远国度进口的材料。"