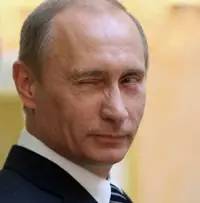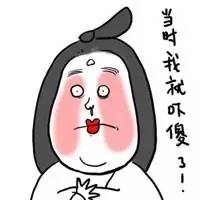 Recently, the rumor that Wendi Deng, the ex-wife of the media tycoon Rupert Murdoch, has probably hooked a new sweetheart has gone viral in Western media. It's nothing new about Deng's love affairs, but she's dating Putin this time.
前几天,一条八卦猛料刷爆了各大媒体:传媒大亨默多克的前妻邓文迪疑似有了新欢!OK,这其实不算是新闻哈,邓文迪的恋爱绯闻一刻没停过,然而这次的绯闻对象竟然是:普京!
Absolutely right! It's Putin, the President of Russia, who's good at both flying a plane and riding a horse.
没错,就是那个上天开得了飞机,下地骑得稳摩托,没事骑骑马秀秀肌肉的俄罗斯总统!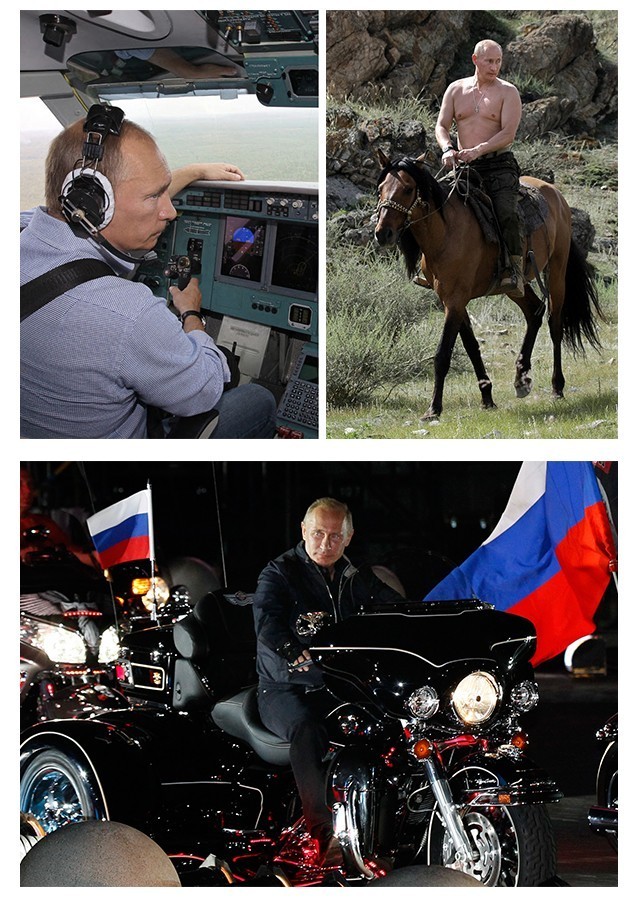 The news, no matter whether it's true or not, has become a hot topic. People would have considered it a Fool's Day prank, if the heroine is NOT Wendi Deng. Does it make you recall Deng's affair with the British ex-PM Tony Blair? The pairing of Deng and Putin sounds acceptable.
这条消息一下子就炸了锅,若是女主角换了别人,大伙儿肯定以为是愚人节玩笑(然而这则消息是在愚人节前一天曝出的),但是换了邓文迪,呵呵。回想之前邓文迪和英国前首相托尼布莱尔之间的传闻,和普京组CP的八卦貌似也是可以接受啊!
However, the Kremlin press office replied the media with "groundless":
然而,俄罗斯方面表示,朋友,你们脑洞有点大啊!
But, that claim didn't quench their curiosity about whether Deng has hooked Putin. Let's take a look at how the Western media covered the affair.
不过,外媒们对于普京是否已被邓文迪收入囊中,仍然津津乐道。现在,我们带大家360度无死角地深度围观外媒的八卦姿势。
US Weekly: Pupert Mudock's Ex-Wife Wendi Deng Is Dating Vladimir Putin
《美国周刊》标题:默多克前妻邓文迪正和普京约会
The rumor circulating around the corridors of power – from Washington, D.C., to Europe and Asia – is that Vladimir Putin and Wendi Deng, Rupert Murdoch's ex-wife, are dating. One insider close to the powerful leader tells Us Weekly the relationship is "serious".
一则流言席卷从华盛顿到欧洲再到亚洲的权力走廊;普京正在和默多克的前妻邓文迪约会。有内线爆料说,两人对待这段关系的态度是很"认真的"。
Deng has yet to be spotted looking romantic with the Russian leader, but was seen boarding her pal Roman Abramovich's yacht in St. Bart's on Monday, March 28. Abramovich also happens to be friends with Putin.
3月28日,邓文迪和自己的孩子们登上了俄罗斯土豪阿布拉莫维奇的游艇,开始度假之旅,她和阿布的女友是闺蜜,而阿布还有一个比较牛的朋友:普京。找闺蜜旅游也需要八卦?没错,因为阿布女友朱可娃当时不在船上。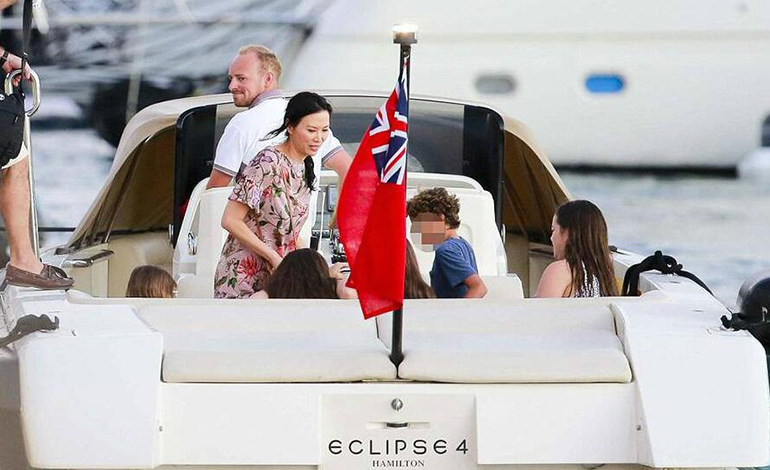 Wendi Deng was spotted spending holiday on Abramovich's yocht.
Merely an April Fool's Day joke? But the date when the US Weekly exposed the news was March 31, not April 1.
怎么看都像是一条愚人节玩笑对不对?But,《美国周刊》的爆料时间可是在美国时间的3月31日,不是4月1日哦。
In an emailed comment, April 4, an official from the Kremlin press office told The Hollywood Reporter: "There is no truth in the story published in US Weekly stating that the President of Russia is in a relationship with Wendi Deng."
不过,据《好莱坞报道》网站报道,克林姆林宫方面发表了一份官方声明,说普京和邓文迪的约会是子虚乌有,《美国周刊》上刊登有关俄罗斯总统普京和邓文迪的关系不是真的。
Is that all? Too young too simple! More follow-ups appear in more presses.
但是,你以为这一切都结束了?图样图森破啊!(管你有没有官方辟谣,你咬我啊~),国外其他媒体纷纷跟进。
Daily Mail: Wendi Deng rumored to be dating Vladimir Putin after magazine links the pair
《每日邮报》:某杂志将邓文迪和普京联系起来,传闻两人正在约会
Reuters: life…has maneater Wendi Deng hooked her most powerful conquest yet?
《路透社》:"少男杀手"邓文迪已经勾搭到她最有权势的战利品了吗?
The Guardian: Wendi Deng with Putin? She's taking on Rupert Murdoch in a romantic arms race
《卫报》:邓文迪和普京?她和默多克展开爱情军备竞赛!
Slate: Wendi Deng reportedly performs masterful bae upgrade with Vladimir Putin
《Slate》: 据报道,邓文迪的权势对象已升级至普京
hollywoodlife.com: Vladimir Putin dating Rupert Mudoch's ex-wife Wendi Deng – It's 'serious'
hollywoodlife.com:普京约会默多克前妻邓文迪 – '认真的'
OK: April Fools? Or is Vladimir Putin really shacking up with Rupert Murdoch's ex-wife Wendi Deng?
《OK杂志》:愚人节?普京真的和默多克的前妻邓文迪在一起了吗?
IB Times: Wendi Deng dating Vladimir Putin: Has Rupert Murdoch's ex-wife moved on with Russian leader?
《国际财经时报》: 邓文迪约会普京:默多克的前妻和俄罗斯领导人开始新恋情?
The article is translated and editted by Chinlingo. Please indicate the source (info.chinlingo.com) for any use, reproduction or transfer.
本文由Chinlingo编译后发布,如需转载,请标明来源:info.chinlingo.com.