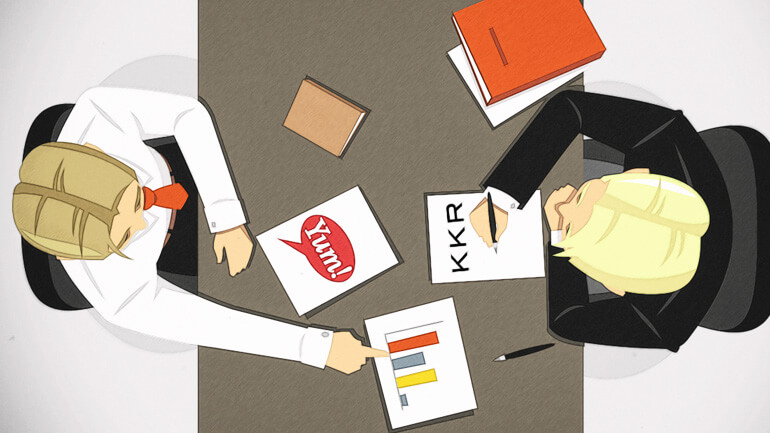 Yum hopes to rekindle its customers' appetites in China.
百胜餐饮希望重新点燃中国消费者的胃口。
Yum Brands, the owner of KFC, Taco Bell and Pizza Hut, is in talks with KKR and other financial firms about the sale of a stake in its China business. The US firm could reportedly sell up to 20% of its Chinese operations, valuing the unit at about $10bn.
百胜餐饮集团作为肯德基、Teco Bell和必胜客的集团公司,与世界知名的产业投资机构KKR集团以及其他一些金融公司就其中国业务的股权出售进行谈判。这家美国公司据称可能出售其中国业务20%的股份,价值约100亿美元。
Last October, it announced plans to spin off and list its China division by the end of 2016. The shake-up is set to be the biggest since Yum was split from PepsiCo two decades ago.
去年10月,它宣布计划于2016年年底拆分并列出其中国业务部分。这次大换血是自二十年前百胜餐饮从百事可乐公司分离出来后最大的一次。
However, talks are said to be in their early stages and a deal is not guaranteed.
然而,该谈判据说还在初始阶段,还不保证有交易产生。
"We continue to make good progress since we announced the transaction separating Yum and Yum China," a Yum spokesperson said in a statement.
"我们自从公布分离百胜餐饮和百胜餐饮中国的事务之后就一直进展得很顺利,"百胜餐饮发言人在声明中说。
"We will provide updates on the transaction at appropriate times and we won't comment on rumours or speculation."
"我们会在适当的时候向大家更新这笔交易的进展,但我们不会对谣言和猜测发表评论。"
Yum has an overall market value of $32bn, but gets more than half of its profits from the China business. However, its earnings from the mainland have been hit in recent years by a food safety scandal involving a meat supplier, as well as increased competition.
百胜餐饮总市场价值为320亿美元,但它从中国的业务中获得超过一半的收益。然而,它在大陆的收入受到近几年肉类供应商食品安全风波的打击,同时受到越来越激烈的竞争的影响。
Shares of Yum rose by nearly 2% in US trading following the reports about the sale talks.
在出售谈判报道之后,百胜餐饮集团的股票在美国上涨了2%。