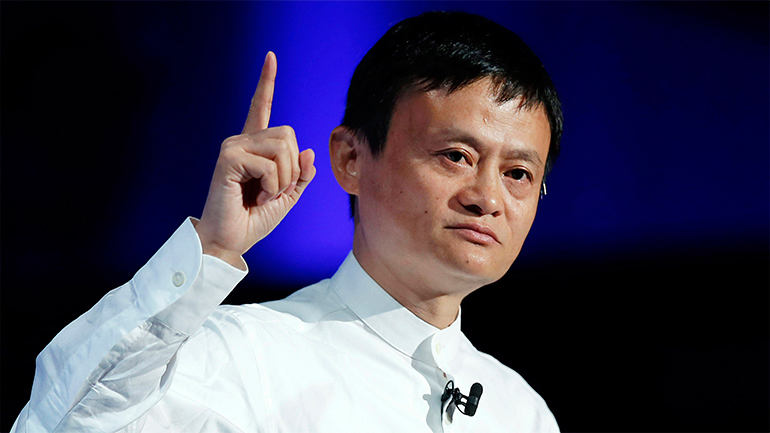 Duncan Clark is known in Beijing as a savvy commentator on China's rapidly morphing tech world. A British citizen who first came to China in 1994, he learned the language and stayed for two decades. His background as an investment banker specializing in telecommunications at Morgan Stanley in London and Hong Kong helped him understand in the mid-1990s that the China market was about to take off.
在北京,邓肯•克拉克(Duncan Clark)因为能对瞬息万变的中国科技界做出精辟的点评而闻名。这位英国公民于1994年首度踏足中国,学会了汉语又旅居了20多年。他曾在伦敦与香港的摩根士丹利(Morgan Stanley)任职投资银行部门,专攻电信通讯类业务。这样的背景让他在90年代中期便洞悉到中国市场即将起飞。
Mr. Clark opened a consultancy firm, BDA, which helped raise money for the major telecom operators China Mobile, China Unicom and China Telecom. One of the most interesting characters he encountered, Mr. Clark said, was Jack Ma, in the early days of Alibaba, the e-commerce giant Mr. Ma founded. That insider view infuses Mr. Clark's book "Alibaba: The House Jack Ma Built,'' to be published in April. In an interview, Mr. Clark discussed Alibaba's phenomenal growth, Mr. Ma's emergence as a public figure and what sets Mr. Ma apart from the Facebook founder Mark Zuckerberg.
克拉克创立了自己的投资顾问企业博达克咨询有限公司(BDA)。该公司曾协助中国移动、中国联通、中国电信等大型电信运营商筹措资金。克拉克曾表示,要说他遇过的最有趣的人物,在电子商务巨头阿里巴巴草创时期的马云当属其一。克拉克在他即将于今年4月出版的新书《阿里巴巴:马云的商业帝国》(Alibaba: The House Jack Ma Built)里就融入了自己的幕后观点。在接受本报的访谈时,克拉克探讨了阿里巴巴的惊人成长、马云成为公众人物这一现象,以及马云和Facebook创办人马克•扎克伯格(Mark Zuckerberg)的差别何在。
Q. You once described Jack Ma as someone who likes to cultivate the persona of an outsize personality. Isn't there a risk in having too high a profile in China and being taken down?
问:你曾说过马云是个喜欢营造抢眼风格的人物,不过在中国,行事过于高调难道没有遭到打压的风险吗?
A. Executives who say or do the wrong thing are always at risk. I titled the last chapter of my book ''Icon or Icarus.''
答:那些说错话、做错事的企业高管总是有很多风险。我书里的最后一章就叫做《登高的偶像还是折翼的依卡鲁斯》。
Sure, he has an outsize personality and a large public following, but he has been careful not to fall foul of the authorities. If anything, he has positioned Alibaba as a useful ally as the government attempts to put Chinese consumers in the driving seat. Spend more, save less is the new mantra.
马云的确是个性鲜明的人,也有大批民众追随,不过他很小心行事以免违逆当局的意思。如果说他做了些什么的话,马云是在中国政府企图让消费者主导经济发展之际,把阿里巴巴定位于对政府有利的一个盟友。钱要花得越多越好、存得越少越好,这是新的经济箴言。
Q. Alibaba has been working in recent years to reorganize and become more efficient. All tech start-ups go through growing pains. How severe are those pains at Alibaba right now?
问:近年来阿里巴巴在着手重整结构、让公司变得更有效率。所有科技初创公司都会经历发展时期的种种困难。对现今的阿里巴巴来说,这类困难有多大?
A. Alibaba was founded 17 years ago, employs over 38,000 people, and is a listed company on the NYSE. It has experienced lots of ups and downs, both as a private and a public company, and gone through many reorganizations. Alibaba is more of a commerce company than a tech company, although its future is increasingly one in which technology plays a leading role.
答:阿里巴巴是在17年前创立的,现在雇用了逾3.8万名员工,还是在纽约证券交易所挂牌上市的公司。不论是作为私人还是公开募股的公司,它都经历过许多起伏、有过很多次重整。阿里巴巴的商务性质大于科技性质。不过谈到这间公司的未来,科技所占的地位会越来越重。
After a few years of piecemeal international expansion — including a failed attempt to launch its own consumer-facing site in the U.S. — Jack last year brought in former Goldman Sachs banker Michael Evans to oversee its global footprint, with new offices on the East Coast of the U.S. and across Europe.
经过数年在国际间的逐步扩张——其中包括它曾试着在美国创立面向消费者的网购平台,但以失败告终——马云在去年延揽了曾供职高盛银行(Goldman Sachs)的迈克尔•埃文斯(Michael Evans)来为阿里巴巴的全球布局操盘,也在美国东海岸与欧洲各地建立了新据点。
Q. Ma started out as an outspoken, slightly goofy businessman. Now he is attending major political events like the China Development Forum — which is a major way for Beijing to promote China. Has he chosen to go into politics of his own free will, or has he allowed himself to be co-opted as a matter of survival?
问:起初马云给人感觉是个直言不讳、略带傻气的商人。现在他则开始参加诸如中国发展高层论坛——北京向外界宣传中国的一个重要途径——之类的大型政治活动。他是自愿踏入了政治领域,还是为企业生存考虑而被动介入?
A. Even before he founded Alibaba, Jack was a regular speaker at conferences at home and abroad. His public appearances have been critical for him to grow and maintain his profile. He is the ultimate performer, his folksy charm and seemingly impossible ambitions as effective in English as in Chinese.
答:在创立阿里巴巴之前,马云就经常在国内外参加各种会议,发表讲话。这种公开的露面,对他发展和维持个人形象一直很重要。他很有表演才能,身上散发出一种质朴的魅力,但又表达着看似不可能实现的雄心,无论是对外国听众还是中国听众而言,都很有吸引力。
Before he founded Alibaba, his third venture, Jack worked as a civil servant in Beijing, giving him valuable insights into the intersection of business and politics in China. This is crucial as he expands his empire beyond e-commerce into areas such as finance. The process isn't smooth however: Jack has already encountered powerful vested interests such as opposition from state-owned banks alarmed by the rapid growth of his money market fund or plans for an online bank.
阿里巴巴是马云在商业上的第三次探索。在此之前,他在北京当公务员,因此对中国政商结合的特色有深入的了解,这一点非常有价值。当他的商业帝国不断发展壮大,越过电子商务领域,进入金融之类的行业时,具备上述认知是极为重要的。即便如此,这个过程也并非一帆风顺:马云已经遭遇了一些来自既得利益方的阻力,比如国有银行的反对。后者看到阿里巴巴的货币市场基金或网上银行项目发展很快,就开始警觉了。
Q. Is Alibaba, whose business depends heavily on private vendors using it to sell their wares, really committed to getting rid of counterfeit products as demanded by the Chinese State Administration for Industry and Commerce (S.A.I.C.)?
问:阿里巴巴的生意极为依赖在其平台上销售货物的私人卖家。它真的像工商局要求的那样在致力于消除平台上的假货吗?
A. Fakes and unscrupulous traders are part and parcel of commerce. In China, as in the U.S., there are people who actively seek out fakes, people who are unwilling or unable to pay for the real thing.
答:假货和无良商人是商业领域必然存在的部分。中国和美国一样,都有人在有意识地买假货,因为他们不愿意或没有能力购买真品。
Simply moving trading online doesn't eliminate the problem, but it has created tensions between S.A.I.C., the brand owners who suffer from piracy and operators of e-commerce platforms like Alibaba. The short-lived, but very public, spat with S.A.I.C. in January 2015 illustrated that Alibaba has no choice but to step up its efforts to root out fakes on its platforms: to help the government do its job.
把生意挪到网上,并不能解决此类问题,但会让它跟工商局和品牌商的关系变得紧张,因为盗版和阿里巴巴之类的电子商务交易平台的存在,让后者的利益受到了损害。2015年1月,阿里巴巴和工商总局之间有过一次短暂而又非常公开的冲突。这次争执显示出,阿里巴巴没有别的选择,只能加强它在根除平台假货方面的努力:做本该政府来做的事。
Alibaba became famous for Taobao, the platform where small merchants or individuals sell a wide range of third-party products — including fake products, especially in the early days. Merchants who pass off fake products as real can expect to see their store ratings and business suffer. Alibaba can also shut down the Alipay accounts of repeat offenders, and use big data to analyze trading patterns.
阿里巴巴起初是因淘宝而广为人知。该平台上有很多小商贩和个人销售各种各样的第三方产品——包括假货,尤其是在早些年。这些卖假货的商贩有可能面临店铺评级降低和生意受损的后果。阿里巴巴也可以关掉反复违规的店铺的支付宝账户,并利用大数据分析交易模式。
But Alibaba's success hangs increasingly on another platform, Tmall, where brand owners sell their own — real — products, or via large retailers, directly to consumers. Taobao was vital to Alibaba's past success. Tmall is the key to its future, as Alibaba generates a commission on every sale. By contrast, on Taobao, Alibaba relies purely on advertising revenue.
不过,阿里巴巴的成功如今越来越依赖于另一个平台——天猫商城。这是一个品牌商直接销售或通过大零售商销售真品的平台。对阿里巴巴过去的成功而言,淘宝的确功不可没。但天猫是它未来制胜的关键,它可以在该平台的每一笔交易中抽成。相比之下,在淘宝这一平台上,阿里巴巴只能赚取广告费。
Q. Alibaba seems to be buying into new areas that could be considered vanity projects, or projects that assist the Chinese government with soft power. Hollywood and The South China Morning Post, the Hong Kong English-language newspaper, are two examples. How much of Ma's desire for promoting China is involved in these projects?
问:阿里巴巴似乎正在通过撒钱来进入一些新领域,而它们可以看作形象工程,或能帮助中国提升软实力的项目。投资好莱坞电影和购买香港英文报纸《南华早报》就是两个例子。在这些投资项目中,马云推广中国的愿望占了多大成分?
A. The relatively small — $200 million — purchase of The South China Morning Post will do little to move the needle for Alibaba's business, raising the question of why the company felt inclined to buy it in the first place. In explaining the purchase, Alibaba vice chairman Joe Tsai vowed to protect the newspaper's editorial independence. Yet he also voiced frustration at how China is portrayed in Western media. While Alibaba is unlikely to use the paper as a vehicle for promoting itself, it faces an uphill struggle to convince skeptics that it made the purchase for reasons other than helping the Chinese government project its influence in the territory.
答:收购《南华早报》是一笔比较小的投资——2亿美元——不会对阿里巴巴的生意有什么影响,因而让人不明白公司买下它的动机。在解释进行这项收购的原因时,阿里巴巴董事局副主席蔡崇信(Joe Tsai)承诺,他们会保持该报的采编独立权。但他也透露出,他们对中国在西方媒体报道中的形象感到不满。尽管阿里巴巴不太可能会将这家报纸用作自我宣传的工具,但它的确面临着一个艰巨的任务,即让怀疑者相信,它收购的原因并非为了帮助中国政府在该领域施加影响。
Q. How would you describe the differences in entrepreneurial style between Mark Zuckerberg and Jack Ma? Do you think Facebook, which is now blocked, will enter the China market?
问:你会如何描述马克•扎克伯格和马云在创业风格上的不同?你觉得现在被封的Facebook,将来有可能进入中国市场吗?
A. Jack is an entrepreneur's entrepreneur: He's not a tech guy, he didn't go to Harvard, he even once supplemented his income as an English teacher by buying and selling plastic carpets on the streets. Mark Zuckerberg has a tech background, who leveraged that and good timing while at Harvard to build a massive and almost global social business.
答:马云是创业者中的创业者:他不是搞技术的,也没上过哈佛,之前做英语老师时甚至曾在街头倒卖塑料垫赚外快。马克•扎克伯格是技术出身,还在哈佛上学的时候,他就依靠这一背景开始创业,再加上又赶上了好时机,由此发展出规模庞大的、几乎覆盖全球的社交网络生意。
But China will likely remain beyond Facebook's grasp. China has hardly stood still without Facebook: Tencent's WeChat is a dominant player in China already, superior in some important ways to Facebook especially in mobile. No doubt Jack and Zuckerberg have explored how they might work together, not least because Tencent is a formidable competitor to Alibaba in social and mobile.
不过,Facebook很有可能依然无法获得中国市场。就算没有Facebook的存在,中国的社交网络也在不断发展:腾讯的微信已经是这个市场的主导者,它在一些重要的方面优于Facebook,尤其是在移动端。所以马云会和扎克伯格商讨如何展开合作,一点也不奇怪,尤其是考虑到在社交和移动领域,腾讯是阿里巴巴一个强大的对手。
But to enter China, Facebook would have to water down its local product, or de-link it from the rest of the world — which risks alienating customers and the U.S. government. It's hard to see how Facebook can square the circle. But that doesn't mean that Mark Zuckerberg won't keep on trying.
然而,要想进入中国市场,Facebook的社交产品就得打折扣,或说与世界其他地区的社交网络隔离——这可能会导致Facebook疏远已有的用户和美国政府。它很难破解这种两难的局面。但这并不意味着马克•扎克伯格不会继续为此努力。