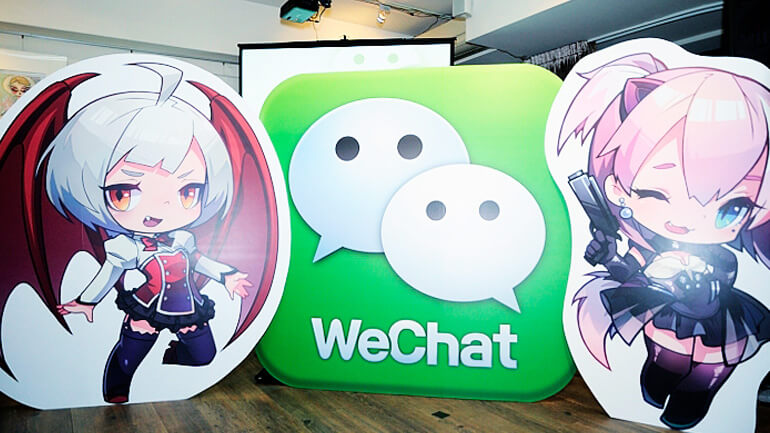 WeChat, China's smash hit chat app, has long been a bellwether for the future of mobile messaging. It was first to popularize putting brands in chat and integrating third-party services, two trends Facebook-owned WhatsApp and Messenger and others are jumping on, and it looks like payment is the next major focus.
中国最火的聊天软件微信一直在未来的移动通讯领域扮演着领头羊的角色。微信之所以受到青睐,一开始是因为人们在聊天的时候可以添加表情贴图,然后是因为微信融入了一些第三方服务,这也吸引了脸谱旗下的WhatsApp和微软旗下的MSN等手机通讯软件争相效仿,而手机支付似乎就是这些公司的下一个重点开发领域。
Tencent, the company behind WeChat, just announced impressive end of year financials that included its highest quarterly revenue growth for three years. Among the other items disclosed, WeChat is now up to 697 million active users worldwide each month having added close to 200 million to that figure over the past year.
微信所属的腾讯公司刚刚公布了其令人瞩目的2015年度财报。这份财报包括了腾讯三年来的最高季度收入增长。除此以外,腾讯还公布了微信每月在全球范围内拥有的活跃用户多达6.97亿,比2014年增长了约2亿。
Beyond text messaging, voice and video calling, the service includes a social network timeline, branded accounts, shopping, games and more. Payment is another area and over the past year, Tencent has put considerable focus into its China-based service, WeChatPay, which can be used to transfer money between WeChat users and make payments online and with participating offline retailers.
除了文字聊天、语音聊天和视频聊天以外,微信还有朋友圈、公众号、购物、游戏等功能。至于在手机支付这一领域,过去一年里,腾讯把大量精力放在了微信支付,这一功能使用户之间可以互相转账以及在线付款给线下的合作零售商。
Tencent previously disclosed that 200 million user cards were attached to the payment service as of November 2015, thanks to a genius campaign that taps into China's tradition of sending red envelopes during New Year, but now it said the figure is "safely more than 300 million" while it also gave us clues as to how large its volumes could become.
腾讯之前透露截至2015年11月,有2亿用户将银行卡与微信支付绑定在一起,这归功于新年期间人们都在用微信发红包。但据保守估计,现在这一数字超过了3亿,这也让我们能够大概估算出其总数最高可达到多少。
Reuters reported that Pony Ma, Tencent CEO, told reporters at a Hong Kong press conference that the company took 0.1 percent on transactions, which means the service saw close to $50 billion in bank transfers that month. At that same pace, that would mean close to $550 billion in payments processed per year — that's close to double the $282 billion that PayPal processes a year.
据路透社报道,腾讯CEO马化腾在香港的新闻发布会上表示,微信要向每笔交易收取0.1%的手续费,这意味着微信支付在当月的交易总量超过500亿美元。 如果这种势头能延续下去的话,微信支付每年要处理的交易量至少高达5500亿美元,这将是美国移动支付公司PayPal去年交易总量的近两倍,而PayPal 2015年的交易量仅为2820亿美元。
That's hugely impressive and it shows that WeChat is a growing threat to Alipay, the service controlled by Alibaba's $60 billion-valued payment affiliate. Alipay hasn't disclosed its annual payment volume since 2013 — when it recorded $519 billion — though that figure will be much higher now. While Alipay is established as China's top payment option with 500 million users and 200 million credit cards, the sheer convenience and mainstream adoption of WeChat play massively in its favor.
这一惊人的数额也表明了微信逐渐威胁到了支付宝的地位。阿里巴巴旗下的支付宝市值高达600亿美元。支付宝在2013年公布其全年交易总额达5190亿美元,然而接下来的几年再也没有公布相关数字了,尽管现在的这个数额要比之前的高得多。支付宝拥有5亿用户,2亿张银行卡绑定,成为消费者在线付款的首选平台,但是微信的便利以及主流大众的倾向选择也吸引了人们使用微信支付。
Tencent is also stoking the fire by dropping fees for peer-to-peer transactions, a move aimed at making WeChat the standard for moving money between friends. Another new policy charges users a fee when they transfer a certain from their WeChatPay wallet to their bank account, thus incentivizing them to retain funds in their account, which will presumably then be spent on or distributed to others via the service.
腾讯也火力全开,投入大量资金在P2P交易上,这一举动目的是要让微信成为好友间转账的首选平台。腾讯也出台了另一项新政策,当用户将微信钱包里的钱转到银行卡时,需要支付手续费,此举是为了让用户把钱一直存在微信账户里,然后可以通过微信进行消费或者转账给其他好友。
WeChat pulls in more money from games and advertising, and President Martin Lau said that Tencent's doesn't anticipate WeChatPay becoming a profitable business because of subsidizing merchants and other costs. But, the real value, Lau argued is that WeChatPay "will benefit our overall ecosystem," such as empowering future advertisements with one-click purchasing from users, and synergies with financial services like Tencent's wealth management fund and online bank.
微信从第三方游戏渠道和广告渠道获得了大量收益,而腾讯总裁刘炽平却说腾讯不指望微信能够盈利,因为它们不仅要补贴商家还要支付其他费用。刘炽平认为微信支付的真正价值在于他对我们整个生态都有好处,例如用户未来只需点击一下广告就能购买商品以及跟金融服务机构协同合作,就像腾讯的理财通和网上银行那样。