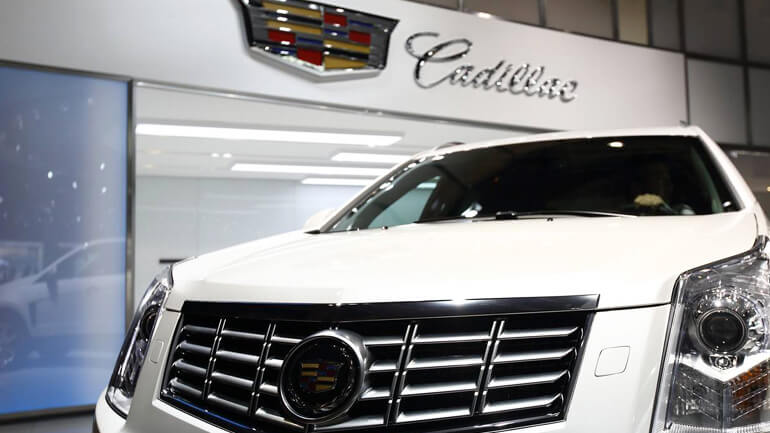 Cadillac is revving up sales to younger luxury buyers in China through smoother designs and localized production to keep prices accessible.
凯迪拉克汽车正在通过更具流线型的车身设计和当地生产降低价格,争取中国年轻的豪华车购买者。
The General Motors brand is softening some hard edges on its angular cars to appeal to Chinese buyers used to the smoother lines of luxury cars made by BMW, Audi and Mercedes-Benz that dominate high-end sales in the world's biggest car market.
这个通用汽车旗下的品牌正在软化其棱角分明的线条,以迎合早已习惯了宝马、奥迪和奔驰等一线豪华品牌流线型车身的中国买家。
After a slow start in China, Cadillac is poised to overtake Japan's Lexus among the leading second-tier luxury brands, according to consultancy LMC Automotive.
据英国艾尔西汽车市场咨询公司称,在中国起步较晚的凯迪拉克汽车正在呈现强劲势头,有望在二线豪华品牌阵容超越日本的雷克萨斯汽车。
The opening in January of its first dedicated factory in China should also help Cadillac make its cars more accessible to younger luxury buyers by avoiding a 25 percent import tax. Cadillac says the average age of a buyer of its cars in China is 34, little more than half the average age in the U.S.
今年1月凯迪拉克在中国的第一家工厂投产,从而避开了25%的进口关税,有助于凯迪拉克汽车为中国年轻买家接受。凯迪拉克公司说,购买其汽车的中国买家平均年龄为34岁,约为美国买家平均年龄的一半。
"In China, young buyers already dominate the luxury market. Since Cadillac is a relative newcomer … it was far easier to begin to cultivate the desired positioning for the brand from the get-go," Cadillac President Johan de Nysschen said.
凯迪拉克汽车公司总裁约翰·尼琛说:"在中国,年轻买家主导了豪华品牌市场。相对来说凯迪拉克是个新来者,但也正因如此更容易开始培养我们想要的品牌定位。"
Cadillac's China sales rose 17 percent last year to nearly 80,000 cars, or a 4.1 percent share of the luxury market, on the back of its ATS-L compact sedan and XTS large sedan. This year, de Nysschen has set a 25 percent growth target, to above 100,000 Cadillacs in China.
凯迪拉克汽车去年在华销量上升了17%,达到近8万辆汽车,占中国豪华品牌市场4.1%的份额,销售主力是其ATS-L紧凑型轿车和XTS大型轿车。尼琛把今年在华销售目标定为超过10万辆汽车,上升25%。
The former BMW and Infiniti executive predicts China could overtake the United States as Cadillac's biggest market in 5-10 years. Cadillac sold around 175,000 cars in the U.S. last year.
尼琛预测未来5到10年内,中国可能取代美国成为凯迪拉克最大的市场。凯迪拉克汽车去年在美国的销量约为17.5万辆。