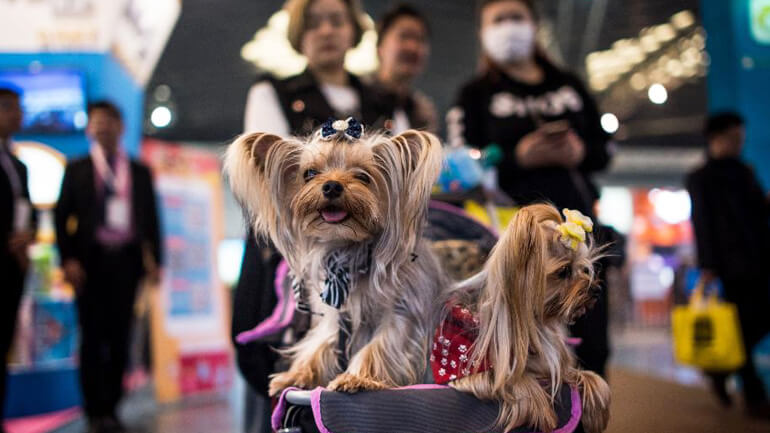 "I love my dogs so much they basically take up most of my time," says Shanghai native Huang Yuwen. "My life revolves around them."
上海人黄瑜文说:"我太爱我的狗狗们了,它们基本上占据了我的大部分时间。我的生活就是围着它们转。"
Although eight months pregnant, the 26-year-old dog beauty therapist wouldn't dare miss the Shanghai International Pet Expo (SIPE) 2016 – and neither would her pooches. She's brought along two of her eight, who will compete in agility and beauty contests. Huang beams as she tells me about their achievements: "They are my treasures. I am due next month, but I couldn't resist coming here and having them compete."
虽然怀孕八个月,但这位26岁的狗美容师也不敢错过今年的上海国际宠物博览会——还有她的爱犬。她领着家中8只狗中的2只,参加敏捷和选美比赛。黄瑜文在提到它们的成绩时一脸兴奋:"它们是我的掌上明珠。虽然我下个月就要生产,但我还是忍不住让它们来到这里参加比赛。"
The National Bureau of Statistics of China reports that the People's Republic is third in the world for dog ownership, behind only the U.S. (55.3 million) and Brazil (35.7 million), with a total of 27.4 million pet dogs. China is also second in global cat ownership, with 58.1 million cats reported (versus 80.6 million in the U.S.). As of 2014, some 30 million urban households, or nearly 7 percent of the nationwide total, have owned a dog. Cat owners amounted to 2 percent.
中国国家统计局报告说,中国养狗的人数世界第三,仅次于美国(5530万)和巴西(3570万),共有2740万只宠物狗。中国养猫的人数世界第二,有5810万只宠物猫(美国为8060万只)。截止2014年,全国大约3000万户城市家庭(占全国总数的近7%)在养狗。养猫的比例为2%。
The pet industry is booming. Forecast to grow by more than 50 percent to RMB15.8 billion by 2019, according to market research firm Euromonitor, the pet care sector in China is rapidly outpacing the world's biggest market – the United States – which grew by just over 4 percent in 2015.
宠物行业正在蓬勃发展。据市场调研公司欧睿信息咨询公司,预计到2019年,中国宠物护理行业将增长50%以上,达到158亿元,将迅速超越全球最大市场美国——其2015年的增长率仅为4%。
Events like SIPE are, increasingly, becoming the backbone of the sector, offering business opportunities for multinationals and domestic pet ventures alike. Pet Fair Asia, Asia's largest trade show for animal supplies and aquariums, is perhaps an even better example. Started in Hong Kong, the expo moved to Shanghai in 2011, a decision no doubt spurred by the growing demands of the market. Since then, it has grown exponentially, expanding from two to four halls of Shanghai Exhibition Center – a whopping 22,000 square meter floor space – and seeing hour-long lines of people wanting to visit.
类似上海国际宠物博览会的展会正越来越多地成为行业的中坚力量,为跨国公司和国内企业带来商业机会。亚洲最大的动物用品和水族箱贸易展亚洲宠物展览会也许是一个更好的例子。从香港开始的该展会在2011年移师上海,这一决定无疑受到市场需求不断增长的推动。从那时起,展会的规模成倍增长,从上海展览中心的两个展厅扩大到四个展厅——占地面积达到惊人的22000平方米,参加展会的人需要排几个小时的长队。
"There'll be 800 companies attending this year, and a total of 2,000 brands and 60,000 expected visitors," says Grace Wu, senior manager of Pet Fair Asia's Organizing Committee. "Everyone wants a piece of the pie, including similar trade shows, which have started using our name and model to draw in customers."
亚洲宠物展组委会的高级经理吴金华说:"今年将有800家公司参展,共计2000个品牌和60000名参观者。每个人都想分一杯羹,包括类似的展览会已经在使用我们的名称和吸引客户的模式。"
Once deemed an elitist pastime by Mao Zedong during the Cultural Revolution, pet ownership in China is becoming commonplace, especially for the rising middle and upper classes.
饲养宠物在文化大革命期间被视为是精英消遣,而现在则越来越普遍,特别是在新兴的中产阶级和上流社会当中。
"Having a dog or a cat is an act of love, of course, but also a sign of financial wealth and success," says Chen Yu, a 27-year-old sales executive who owns two Pekingese dogs. "Particularly if it's pure breed." Chen spends about two fifths of her monthly salary on her pets, buying them imported food and treating them to salon visits.
有两条京巴犬的27岁销售主管陈宇说:"养狗或猫当然是一种有爱的行为,也是财富和成功的标志,特别是如果它是纯种的话。"她每个月五分之二的收入都花在宠物上,购买进口食品并带狗做美容。
"Spa services, from manicures to hair styling, are very popular," confirms Jiang Yuxuan, pet beauty director at Naughty Family, one of Shanghai's most in-demand pet salon and private clinic. "We style 40 pets on average, although during holiday season that number can go up to 60 or 70. We are always very busy."
上海最火的一家宠物美容和私人诊所顽皮家族的宠物美容总监说,"从美甲到造型设计都非常受欢迎。一般来说,他们每天平均可以给40只宠物做造型,节日期间,这个数字可能上升到60到70只。"
If there's a sector that's really benefiting from China's pet obsession boom, however, it's food. Mars, Nestle, Procter & Gamble and Colgate-Palmolive have all rushed to the Chinese market over the last few years, lured by the possibility for profit. Data from a Mintel review show that China has now become the largest pet food market in Asia Pacific and one of the largest in the world, estimated to be worth over $50 billion and having grown by 30% annually on average.
如果有一个行业真正从中国的宠物热中受益,那一定是食物行业。玛氏、雀巢、宝洁和高露洁在过去几年间被利润所吸引,争先恐后地挤进中国市场。明特尔市场调查公司的数据显示,目前中国已成为亚太地区最大的宠物食品市场,在世界也是数一数二的,估计总价值超过500亿美元,年均增长率达30%。