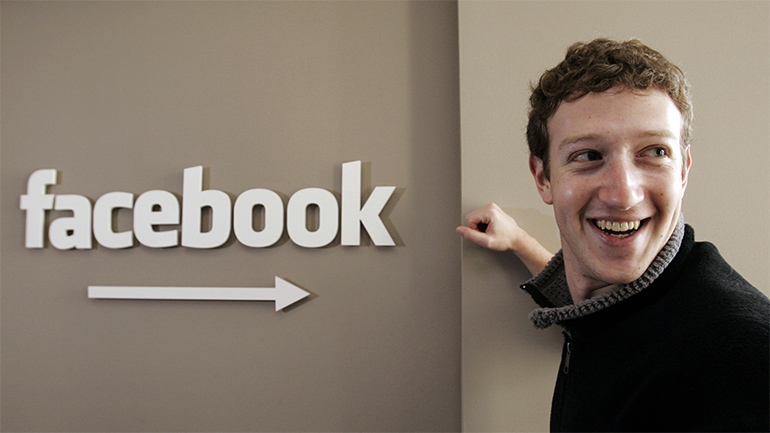 In terms of publicity, it was a great weekend for Mark Zuckerberg in China.
从媒体曝光的角度来说,马克·扎克伯格(Mark Zuckerberg)在中国度过了一个愉快的周末。

Mr. Zuckerberg, the Facebook founder, returned to Beijing for yet another trip that drew local headlines and captivated online China. He wrote a post that went viral about a jog through Tiananmen Square; held a widely covered conversation with China's best-known entrepreneur, Jack Ma of Alibaba; and on Saturday met with one of the most powerful men in China, Liu Yunshan, the country's propaganda chief.
Facebook创始人扎克伯格再度到访北京成了当地的大新闻,并在中国网络上引起了热议。他发的在天安门前跑步的帖子广泛流传。他与中国最知名的企业家、阿里巴巴创始人马云的对话受到广泛报道。周六,他还受到了刘云山的接见,刘是中国最有权势的人之一、负责宣传事务。
It followed previous trips in which Mr. Zuckerberg impressed Chinese audiences with his rookie Chinese language skills and spoke about his fascination with the country. Even at times while he was outside China, he met with China's president, Xi Jinping; told a Chinese official he was reading a book of Mr. Xi's words and gave his newborn daughter, Max, a Chinese name. (It is Chen Mingyu.)
这一次沿袭了他之前几次来华的风格。之前来华时,他作为初学者的中文水平给中国民众留下了深刻印象。他还谈到了自己对这个国家的喜爱。即便不来中国,他也能见到中国国家主席习近平。他还告诉一名中国官员,自己正在看习近平的一本著作,并且给自己刚出生的女儿麦克斯(Max)起了个中文名字(陈明宇)。
The visits have cemented his place as one of the best-known foreign business executives in China. But it is far from clear whether his charm offensive will unlock Mr. Zuckerberg's ultimate goal: persuading the Chinese government to lift its ban on the social media service and open it to the country's almost 700 million Internet users.
多次来华巩固了他作为在中国最知名的外国企业高管之一的地位。但尚不清楚扎克伯格的魅力攻势能否实现他的终极目标:说服中国政府解除对Facebook这个社交媒体服务平台的禁令,向中国近7亿互联网用户开放。
Courting Chinese leaders in such a public fashion is an unusual strategy for a foreign executive. With star power comes influence, and any clout not directly controlled by the Chinese Communist Party can be deemed dangerous. China demonstrated this last month, when a widely read social media account of a prominent real estate tycoon disappeared after he criticized Mr. Xi's call for unswerving loyalty from the country's media.
对一名外国高管来说,如此公开地讨好中国领导人是一项不同寻常的策略。随着明星效应一同到来的还有影响力,而任何不直接受中国共产党控制的力量,都可能会被认为是危险的。中国本月的做法就表明了这一点。在对习近平要求中国媒体始终保持忠诚提出批评后,一位知名房地产大亨阅读量广泛的社交媒体账号消失了。
The few American technology firms that have entered China in recent years have played down their efforts. Though Travis Kalanick, a founder of Uber, frequently travels to China, news of his presence rarely spreads across the Chinese Internet. There was almost no fanfare in advance of LinkedIn's deal with two closely connected Chinese venture capital shops to enter China, an event that was marked with a blog post.
最近几年进入中国的少数几家美国科技企业都没有极力宣扬自己的行动。尽管优步(Uber)创始人特拉维斯·卡兰尼克(Travis Kalanick)频繁访华,但有关他的新闻甚少在中国的网络上传播。领英(LinkedIn)只用博客文章的形式,宣布与两家关系紧密的中国风投公司签署协议进入中国,事前几乎没什么大张旗鼓的宣传。
If Mr. Zuckerberg succeeds, it could show other foreign companies blocked in China that they have a potential path into the huge and fast-growing market — one that calls for them to accept China's strict controls on discourse and to refrain from rocking the boat. A failure would underscore Chinese distrust of foreign technology companies and cement the idea that the low-profile approach is the only way to gain market access.
如果扎克伯格成功了,则可能会向其他在华被禁的外国公司表明,它们可能有一条进入增长迅猛、规模巨大的中国市场的路径——而这要求它们接受中国对言论的严格控制,并忍住不捣乱。如果扎克伯格失败了,则会突显中国对外国科技企业的不信任,同时证明低调行事才是获准进入中国市场的唯一途径。
Mr. Zuckerberg's meeting with Mr. Liu — a rarity for an American business executive — underscores the dynamic. Mr. Liu sits on the Chinese Communist Party's Politburo Standing Committee, the summit of power in China. The meeting serves China's propaganda purposes, allowing the country to show that one of the titans of America's new tech-based economy is happy to pay homage to China's leaders and its style of Internet governance.
对一名美国企业高管来说,与刘云山会面实属罕见,这突显了其中的深意。刘云山是中共中央政治局常务委员,位居中国的顶级权力机构。两人的会面符合中国的宣传目标,让其能够向外界表明,美国新型科技经济的巨头之一,乐于向中国领导人及其治理互联网的方式致敬。
If there is anyone Facebook has to win over, it is Mr. Liu, who has for years presided over the controls on China's highly censored and stage-managed media.
如果说Facebook必须要赢得某个人的支持,这个人便是刘云山。多年来,刘云山一直掌控着受到严密审查和幕后操纵的中国媒体。
At the meeting, Mr. Liu lauded Facebook's technology prowess, but he also emphasized the importance of Internet governance "with Chinese characteristics," according to an official state news media account, a reference to censorship and surveillance within China.
据一家官方媒体报道,会面期间,刘云山称赞了Facebook的科技实力,但也强调了"具有中国特色"的互联网治理的重要性,这是暗指中国的审查和监控行为。
Mr. Zuckerberg praised China's progress in building an advanced Internet and vowed to work with Chinese peers to "build a better world in cyberspace," according to Xinhua, China's official news agency.
中国官方通讯社新华社报道,扎克伯格赞赏了中国在建设先进互联网方面取得的成就,并承诺要与中国一道"通过互联网创造更加美好的世界"。
Facebook did not respond to a request for comment.
Facebook没有答复记者的置评请求。
On Friday, Mr. Zuckerberg posted a photo of himself smiling as he jogged past the Mao Zedong portrait in Tiananmen Square. He avoided mentioning both the violent crackdown on peaceful demonstrators there in 1989 and that morning's dangerous air pollution levels.
周五当天,扎克伯格发了一张自己微笑着在天安门广场上跑步经过毛泽东画像的照片。他没有提到1989年那里的和平示威遭到残暴镇压一事,也没有提到那天上午已达到危险级别的空气污染。
During the discussion with Mr. Ma, the Alibaba founder, on Saturday, Mr. Zuckerberg also generally avoided sensitive topics, speaking instead about artificial intelligence and what should motivate entrepreneurs. He also praised China's emphasis on engineering, saying that he believed it would help solve future labor shortages associated with high-technology jobs.
周六对话阿里巴巴创始人马云期间,扎克伯格总体上也避开了敏感的话题,转而讨论人工智能和应该如何激发企业家的动力。他还称赞了中国对工科的重视,称他认为这有助于解决未来与高科技岗位有关的劳动力短缺的问题。
"In general we're seeing a huge constraint around the world on the number of good engineers who are graduating from universities," Mr. Zuckerberg said. "And I think this is something that China has gotten really right by emphasizing for a long time."
"总体上我们认为全球优秀的工科大学毕业生人数严重不足,"扎克伯格说。"我认为在这件事情上,中国的长期重视真的很正确。"
China's state-run television broadcaster China Central Television posted a social media message that included a photo of Mr. Zuckerberg and his wife, Priscilla Chan, who is Chinese-American. Next to the photo, a cartoon character declares, "A son-in-law of China!"
中国官方的中央电视台在社交媒体上发布了一则消息,并附上了一张扎克伯格和妻子、华裔美国人普莉希拉·陈(Priscilla Chan)在一起的照片,照片旁边还用卡通字体写着:"中国女婿!"