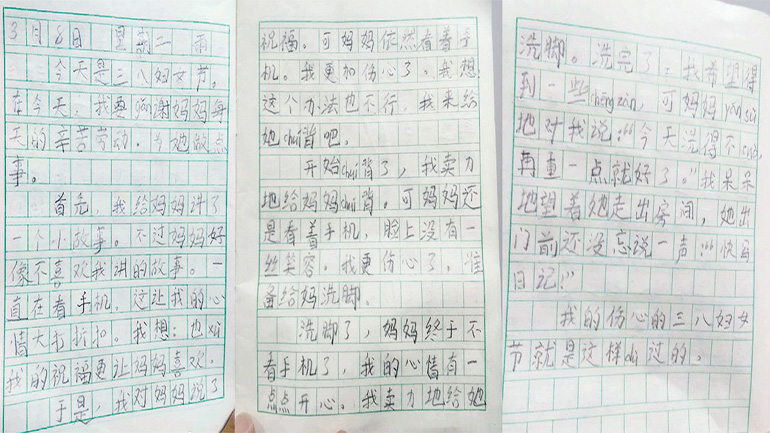 A pupil's diary describing how his cellphone-obsessed mother ignored his efforts to express his gratitude for her on International Women's Day has become an online sensation.
一位小学生的日记里伤心写道,他在三八妇女节当天努力向妈妈表达感谢,却被忽视,因为他的妈妈只顾着低头看手机,一时成为网民热议的事件。
The boy, a second grader at a primary school in Taizhou City, east China's Zhejiang Province, wrote the diary on March 8, a day when China holds various activities to promote respect and love of women.
这位男孩是浙江省台州市的一位小学二年级学生。这篇日记是在3月8日国际三八妇女节写的,当天中国各地举办多种活动以示对女性的尊敬和关爱。
The boy's teacher Wang Yuwei asked students to do something to show their gratitude towards their mothers — anything from singing a song or just expressing a good wish.
男孩的老师王玉文要求学生为他们的母亲做点什么以表达感激之情——从唱一首歌到送上美好的祝福,随便什么都可以。
In the diary, the boy wrote that he first told a story to his mother, but she seemed uninterested and stared into her cellphone. Sad but not discouraged, he then said recited some blessings, yet his mother remained occupied with her handset. Seeing that, he chose to massage her back.
在日记中,男孩写道,他先给妈妈讲了一个故事,但她好像不感兴趣,一直盯着手机看。尽管伤心,但并未气馁,他接着背诵了祝福的话语,但妈妈仍然玩手机。于是,他开始为妈妈捶背。
"My mother was still looking at her cellphone, without a trace of a smile on her face, and I felt sadder," he wrote in the diary "Heartbroken Women's Day".
他在日记中说,"我的妈妈还是玩手机,脸上没有一丝笑容,我感到越发难过了。伤心的三八妇女节。"
His mother told the newspaper she felt ashamed after reading the diary and vowed to spend more quality time with her son.
他的妈妈在接受采访时说,在读到孩子的这篇日记后她感到很惭愧,誓言以后要多陪儿子,享受天伦之乐。
A random interview with students at the school found nearly 70 percent say their parents are often distracted by their phones.
在对该校学生的随机采访中,大约70%的孩子说,他们的家长经常玩手机。
Zhu Huizheng, deputy headmaster of the school, has urged parents to pay close attention to family education because they are the first teachers to influence children.
该校副校长朱辉震呼吁家长们要高度重视家庭教育,因为父母是孩子成长的第一个老师。