THE YUANYANG RICE TERRACES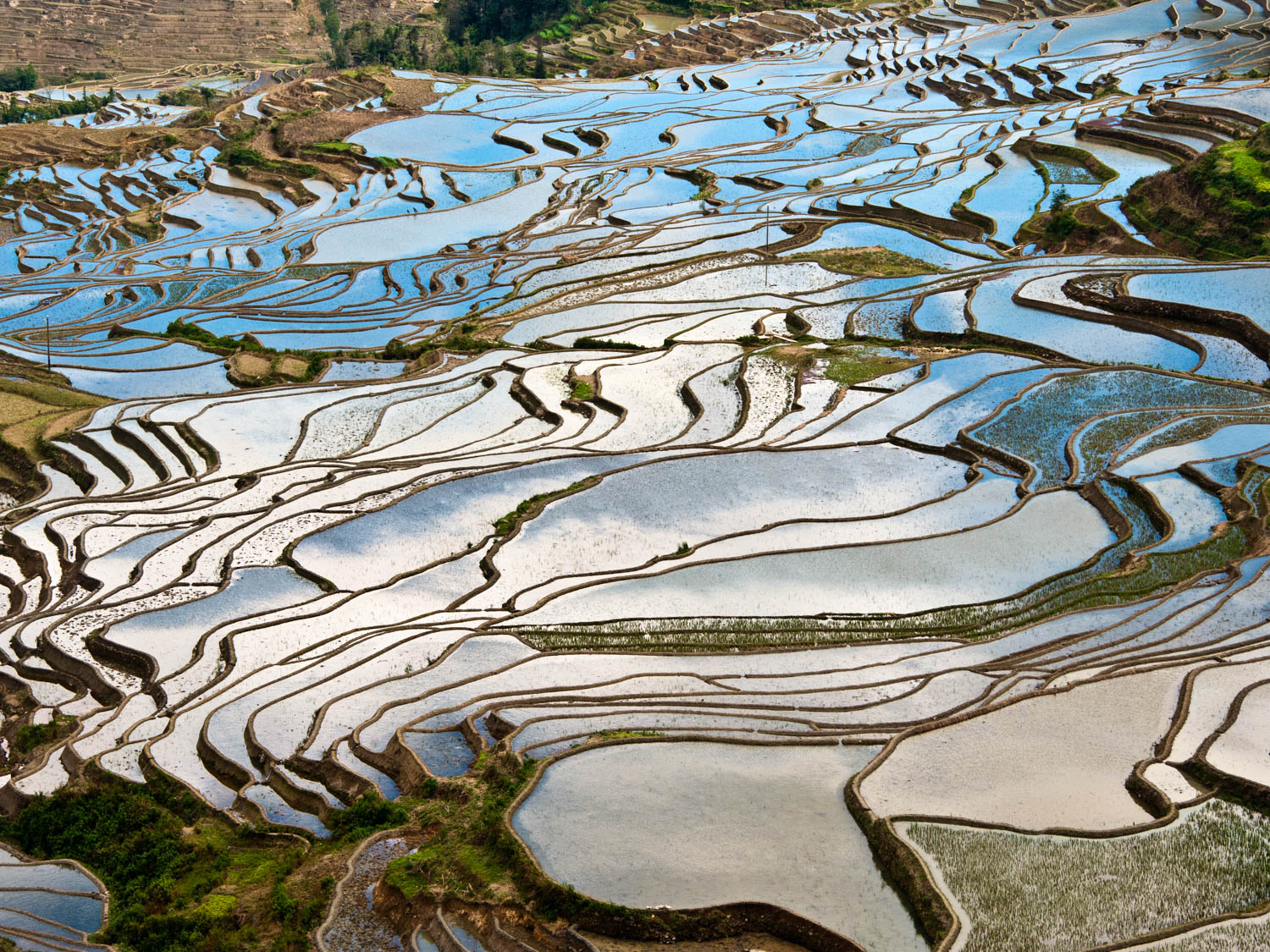 Having reached the southernmost tip of Yunnan and eaten as much good food as we think we can manage, we decide to head northward—for years, I've wanted to visit the notoriously stunning Yuanyang rice terraces, hand-excavated from the region's steep hillsides over the last 1,300 years. In some places, 3,000 layered terraces extend upward from the valley floor, like mirrored steps leading to the sky. In summer, the terraces will be vivid green with growing rice. Now, in early winter, they're empty, filled with water that reflects the clouds in a mosaic of color.
The locals here are a mix of Hani and Yi people. The Hani women dress in somber tunics fastened with enormous silver buttons made from old coins; the Yi women wear bright pinks, reds, yellows, and white, all richly embroidered. We eat lunch in a canteen perched on the edge of one of the steep market streets. A warming bowl of rich chicken and pork stock is filled with slippery-smooth rice noodles and topped with a dizzying array of bright, bustling flavors: sour, salty, fiery, and bitter. This is mixian, possibly the most popular street snack in all of Yunnan. Over the last four weeks, we've tasted over a dozen variations on this same dish, all of them juxtapositions of texture and flavor—slippery and crunchy, soft and firm, bland and savory. The essentials are always the same: rice noodles served in a broth with some leafy greens and a host of condiments and toppings, from pickled long beans to chili oil to pork cooked with fermented soybeans to hot tomato salsa and pickled cabbage.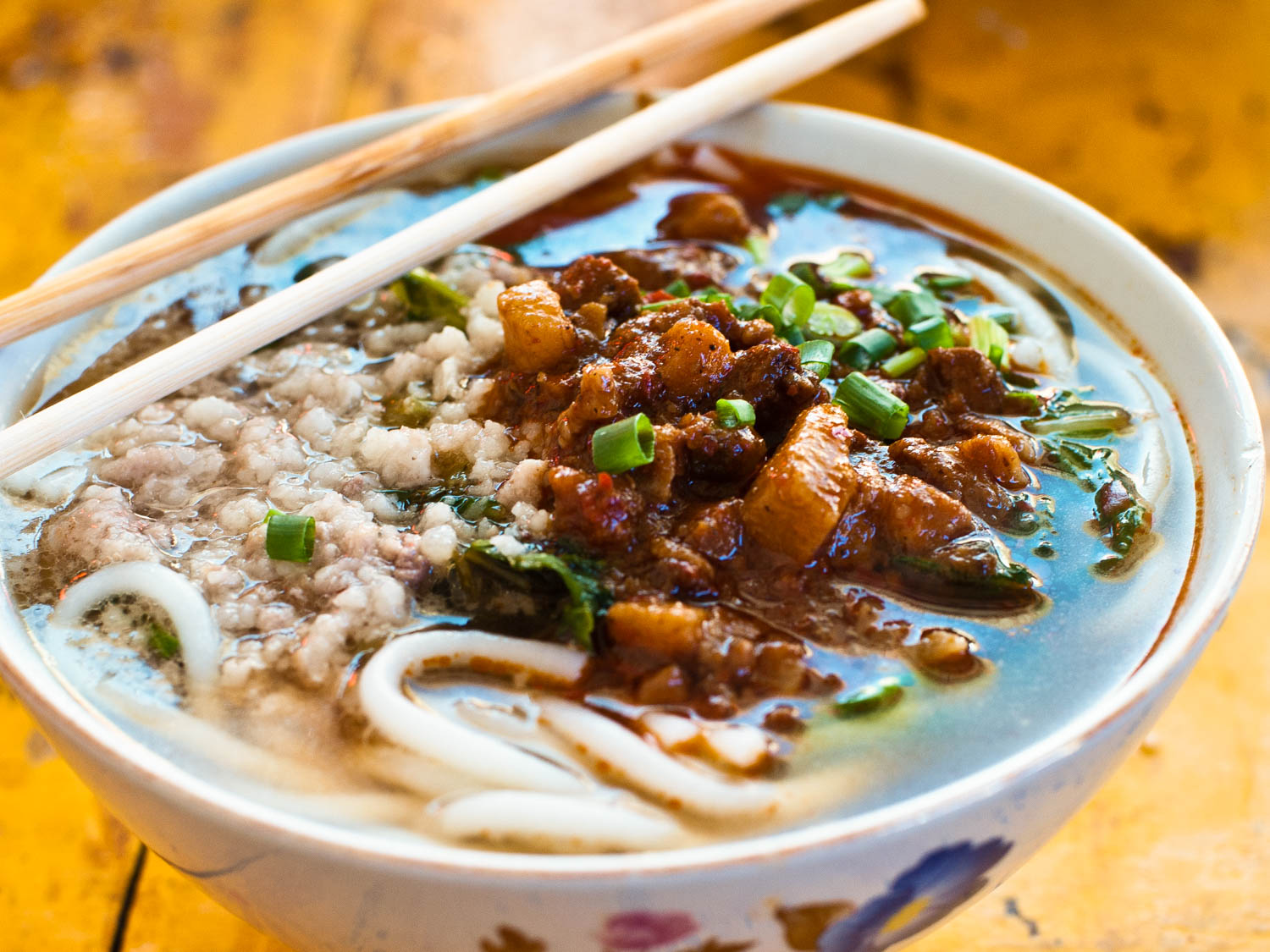 At the rice terraces, mixian comes with a saucer of roasted tofu squares. A Yi woman sits at the charcoal grill, patiently turning squares of wu tian doufu, a five-day-old tofu that's just beginning to ferment and soften slightly in the center. The cubes brown and puff, transforming into nutty, crispy balls with tender, warm centers, ready to eat, dipped into a zingy sauce made with soy sauce, ground green Sichuan pepper, cilantro, and pickled chili.
Outside, another Yi woman plunges lengths of fat white rice noodle into hot oil. They poof into elongated golden balloons in the sizzling oil, crispy on the outside and sticky-rice-chewy and gooey in the center. These nuomi youtiao are sweet and light.
"Just like doughnuts," I tell Bella as I bite into one.
"If doughnuts were made of sticky rice," she smiles back.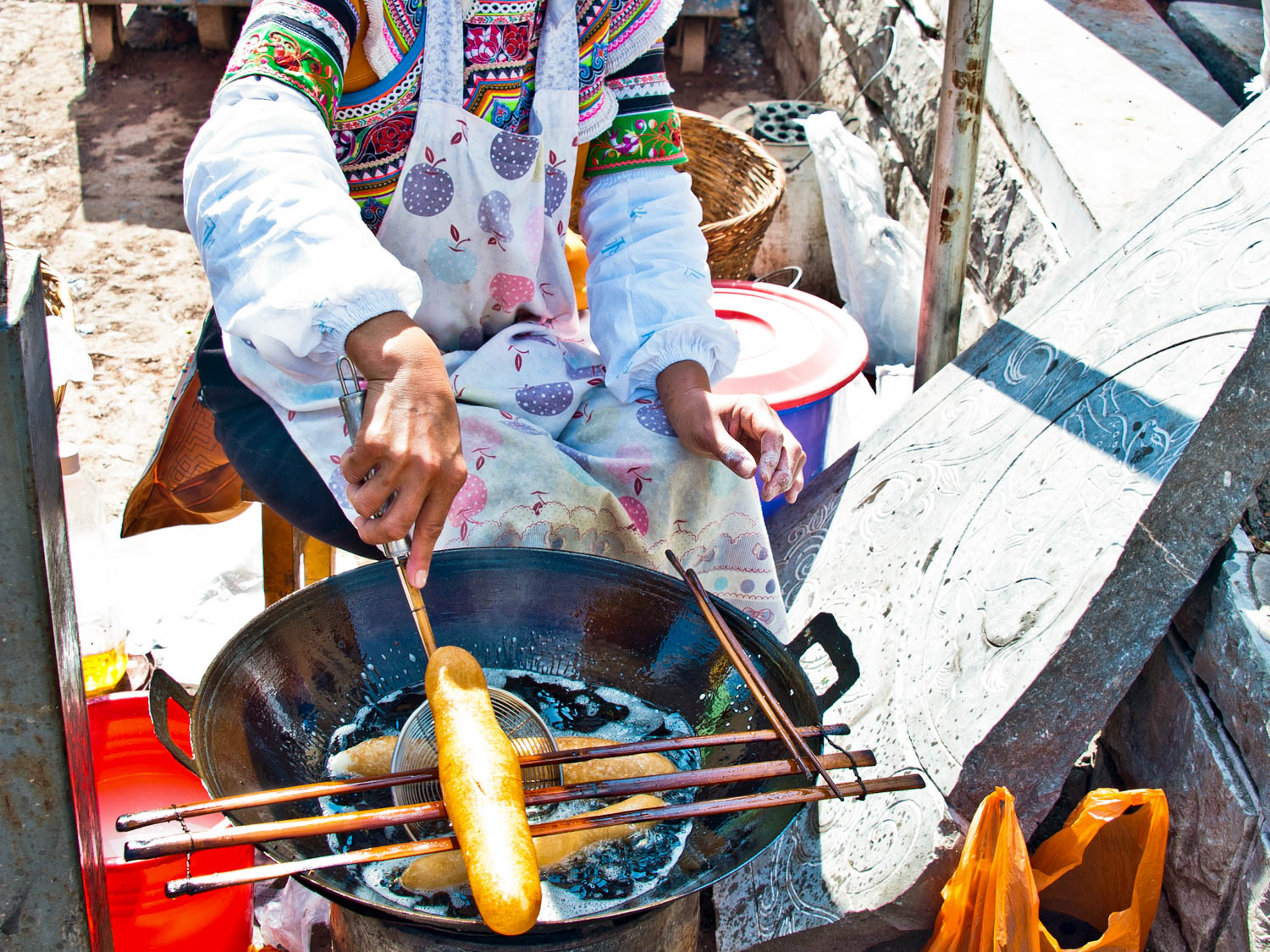 Although our bodies are still lean, in our minds we feel fat and happy, restored and nourished. Just when we think the food could not possibly get any more diverse or flavorful, we stumble across a feast of epic proportions.
"You've heard about the Hani Long Table Feast?" the man in the gas station asks as we fill the tank of our RV. He seems sure only of the date, not the time or the place, so we inquire in a tiny local restaurant.
"Oh, yes!" the waitress says. "The Hani Long Table Feast! There's dancing, and singing, and of course the feast. Table after table after table of food!"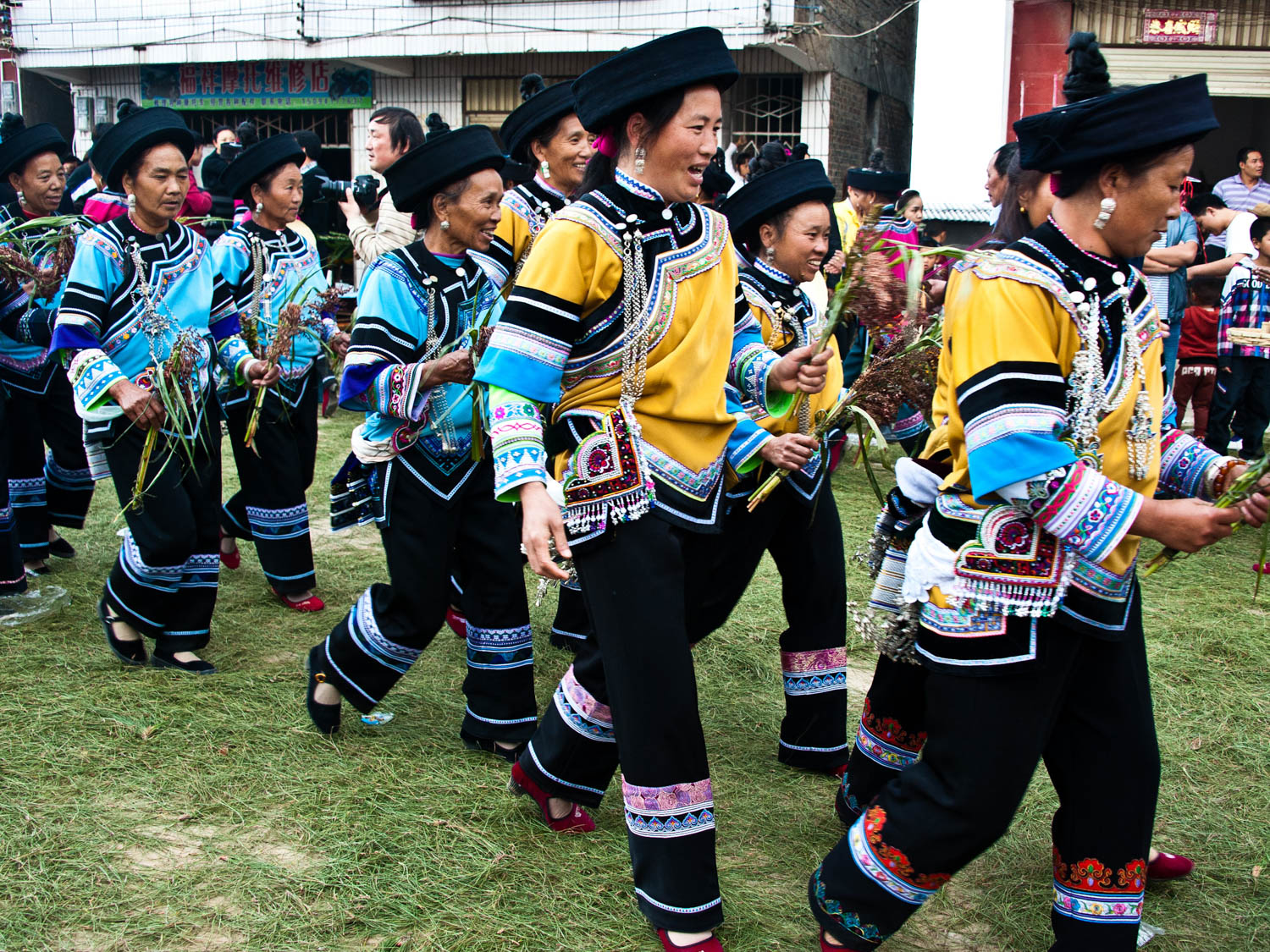 And so, several hours later, we drive through terraced rice paddies, climbing a winding road to Jiayinxiang village on very sketchy instructions gleaned from our investigations. It's the autumn New Year—a time to celebrate the end of the harvest and the start of the cold season—and hundreds of Hani people have congregated to participate in the festivities. The entrance to the village is decorated with flags and laid with fir branches, and our feet stir up a lovely pine scent as we walk. And then, suddenly, we're swept up in a procession as the music begins. Around us, people dance to drums and sing, slowly advancing through the village square and into the main street, where a spectacular feast is laid out.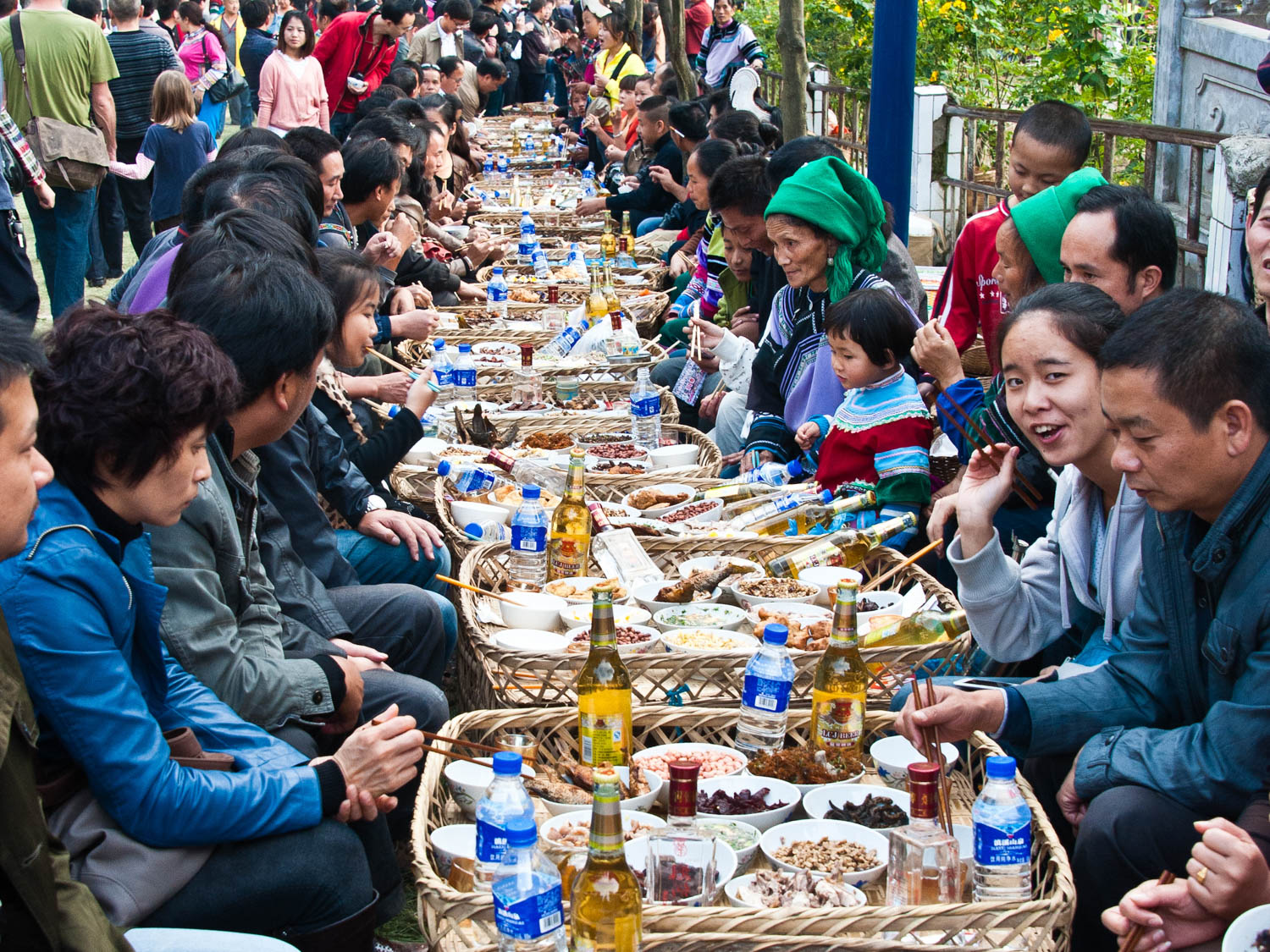 The whole scene is almost overwhelming. The main street of the village is lined with two long rows of low wicker tables, stretching as far as I can see, more than a hundred end on end. And every table is weighed down with Hani festive foods: small fish, raised in rice paddies and fried until crackling-crisp; poached chicken and roast duck; boiled peanuts; rounds of golden corn; and lichen salad dressed with mint, chili, and soy.
Everyone, save the very smallest of children, is drinking bowls of rice wine or the local Lancang River beer. A toast starts with a shout at one end of the street and spreads in a wave to the other end, as each table stands in rapid succession to toast the table next to them. The food has barely been touched, but everyone is already red-cheeked and rolling-drunk, telling funny stories and singing songs, as waves of toasting rise up and down the street every few minutes.
We stop two young Hani women to ask if any tickets remain, and they immediately insist we join their family. "It would be our honor!"
Matt looks at me sideways, knowing that turning up uninvited always has the potential to go awry. "Imagine if I brought home four strangers to my mum's place on Christmas Day! She'd go through the roof," I mutter. But the opportunity is too good to turn down, so we accept the invitation and hope we won't impose too much on our soon-to-be hosts.
They lead us to a narrow lane off the main street, close enough that we can still hear the toasts and singing. We're introduced to their mothers, who accept with sublime grace the unexpected arrival of four foreigners at their home on the day of a major festival.
Bella, Lily, and I join the mothers, sisters, female cousins, and young children at the women's table, where my daughters are showered with compliments about their chopstick skills and their Chinese, then lined up for as many photos with all the young cousins, then all the aunts and grandmothers. Lily secretly rolls her eyes at me, but I can tell she's having a whale of a time. Matt joins the men—their husbands, fathers, grandfathers, and uncles—in a nearby room, thick with cigarette smoke and the distinctive smell of baijiu, the local grain liquor. The baijiu sloshes into glasses as the men set about determining just how much a foreigner can drink.
"Maybe I should join the women's table for a while?" he suggests, looking worse for wear. But the ruddy-faced grandfathers drag him back for one more round of shots.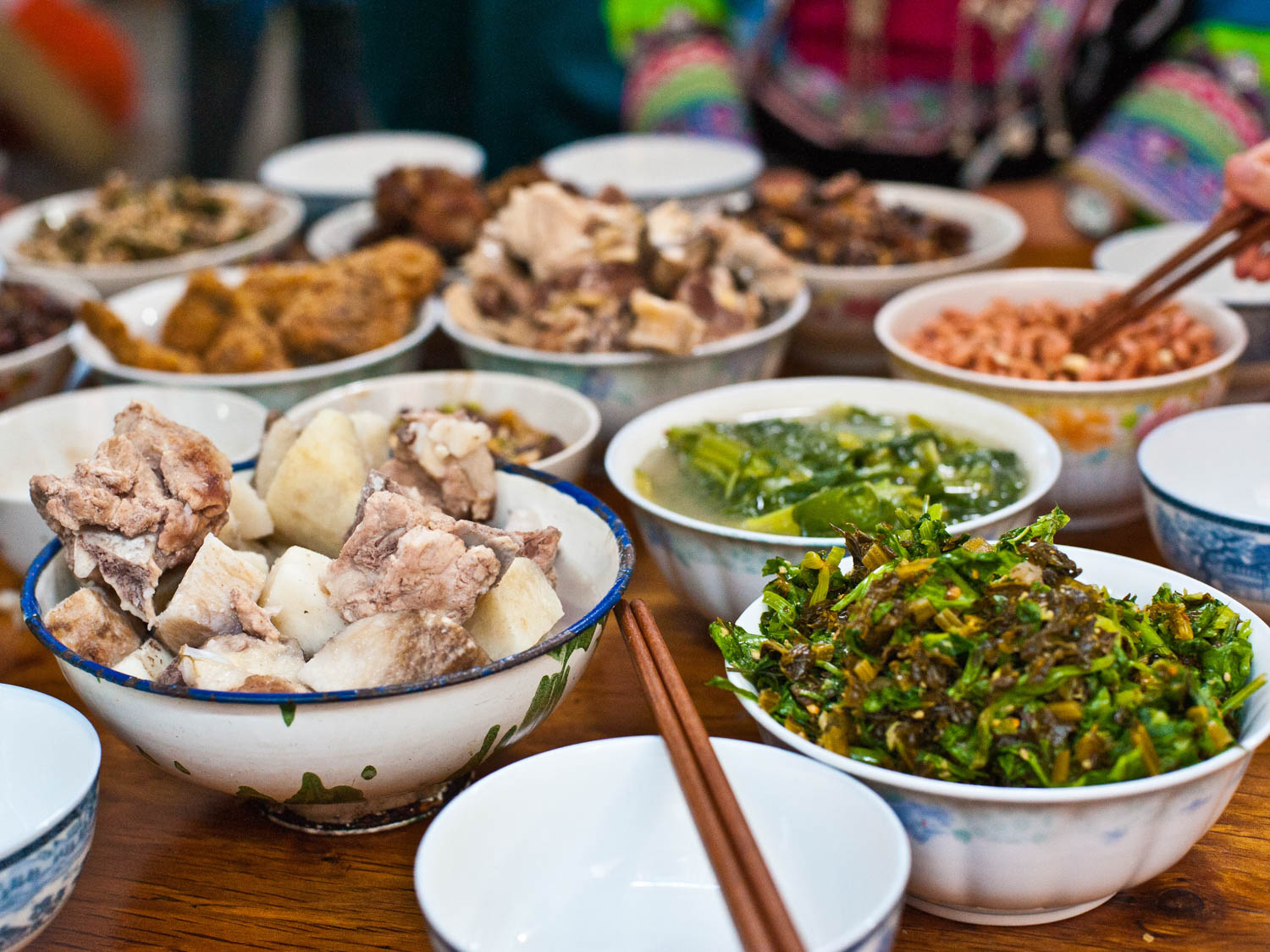 We taste wild foraged herbs with unfamiliar names and exciting new flavors—one similar to Vietnamese mint and another with a citrusy sharpness. We try pickled fern fronds, crisp and vinegary; roasted black walnuts; spiced braised duck, dark-fleshed and rich; boiled pork served with a fiery dipping sauce of fermented tofu and pickled chilies; and mysterious green vegetables I have never seen before or since, pickled and salted.
As the evening wears on, a continuous stream of people come and go—relations and neighbors, and friends of neighbors, and relations of friends—and all of them tell us the same thing: "Make sure you come back next year!"