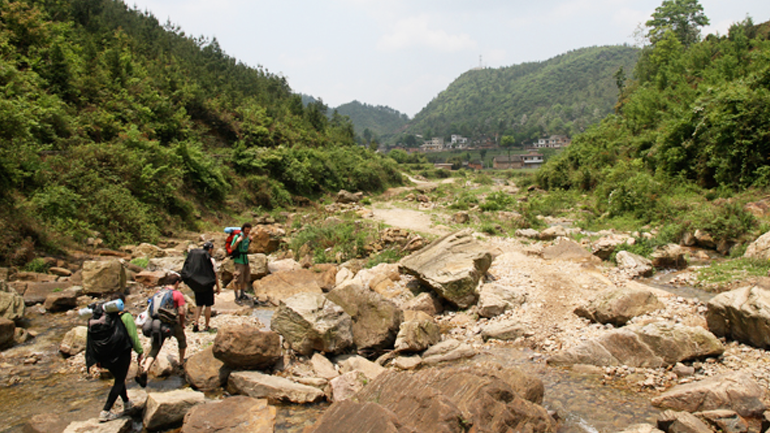 At a café in Changsha, Hunan province, Xu Jing shared her experience of being a budget traveller with a group of young people who are as enthusiastic about traveling as her.
在湖南长沙的一个咖啡厅,徐晶分享了她与一群和她一样热衷旅行的年轻人以低预算旅行的经历。
Being tired of the traditional nine-to-five office routine, Xu quit her job with a listed company based in Changsha and travelled to Africa on a budget. She visited Kenya, Tanzania and Ethiopia at an average cost of less than 60 yuan a day.
厌倦了一成不变朝九晚五的办公室作息,她辞去了在长沙一家上市公司的工作,以低预算去非洲旅行。她以平均每天少于60元的花费游历了肯尼亚、坦桑尼亚和埃塞尔比亚。
"It wasn't an adventure, but exploration; I approached the world in my own way and as my own person," she said.
"那不是一次探险,而是探究;我以自己的方式、以我个人去接触这个世界,"她说。
Budget traveling — whether it is hitchhiking, couch surfing or camping and eating simple –has become a trend for the younger generation of Chinese travellers.
低预算旅行,无论是搭便车、沙发客,还是露营、简单吃点儿,已经成为中国年轻一代旅行者的时尚。
Twenty-seven-year-old Tang Dasi from Zhanjiang in Guangdong province spent 30 days on a budget tour of Southwest China's Sichuan province, Tibet autonomous region and Nepal after quitting a State-owned company. He got some brand new experiences — parachuting and climbing the Himalayas.
来自广东湛江27岁的汤达思辞去了国企的工作,用30天时间以低预算游历了中国西南部的四川省、西藏自治区和尼泊尔。他还获得了全新的经历——跳伞和登喜马拉雅山。
"With increasingly greater pressure and a faster pace of life, young people have become flippant, impetuous and vulnerable, but new travel concepts give us an opportunity to rediscover ourselves," Tang said.
"在生活的越发增压和快速节奏下,年轻人已变得浮躁、冲动而脆弱,但新的旅行概念给予我们重新寻找自我的机会,"汤达思说。
According to China's outbound travel site Qyer.com, more than 77 million Chinese backpackers travelled abroad in 2014, most of whom were aged 21-30, accounting for 62.4percent of the total.
来自中国出境游网站穷游网的数据显示,2014年有超过7700万中国背包客出境旅游,其中大部分年龄在21至30之间,占总体的62.4%。
A group of young travellers who returned from France, Russia, the Netherlands and Belgium said low-cost and independent traveling is becoming popular for two reasons. On one hand, travel agencies have hiked their prices, and on the other, the experience and knowledge they gained during budget backpacking helped construct new value and knowledge systems.
从法国、俄罗斯、荷兰和比利时回国的一群年轻旅行者说,低成本和独立的旅行方式因为两个原因而备受欢迎。一个方面,旅行社涨高了费用,另一方面,他们从低预算背包旅行中获得的经验和知识帮助他们构建了新的价值和知识体系。
Wu Fangzhou, a university student, spent 50 days traveling 13 Chinese provinces at a cost of just 4,000 yuan. She slept in KFCs, railway stations and more often than not scored free nights on other people's couch.
吴方舟,一名大学生,用50天游历了中国13省,仅花费4000元。她曾在肯德基、火车站过夜,这频率比没能找到可以免费借宿的人家还高。
"I don't care if I'm exhausted from long travel or suffering from cold and hunger; I must see what's on offer at the next stop."
"我不在意长途旅行的疲惫或者遭受饥寒的折磨;我必须看看下一站有什么等着我去发现。"
However, Xu worried about safety and legal risks while on the road. "I didn't buy insurance and was most worried about falling ill. I would not have enough money to continue my trip if I got sick."
然而,徐晶在路上担心过安全和法律上的风险。"我没有买保险,所以最担心会生病。如果我生病了,就没有足够的钱继续旅行。"
Zhong Yongde, dean of the College of Tourism at Central South University of Forestry and Technology, suggests budget travellers make detailed contingency plans prior to any trip. He also called on judicial authorities to improve tourism-related laws and regulations as well as offer better judicial protection for independent travellers.
中南林业科技大学旅游学院院长钟永德建议低预算旅行者在出行前作好详细的应急方案。他还呼吁司法当局改善旅游业相关法规,并为独立旅行者提供更好的司法保护。