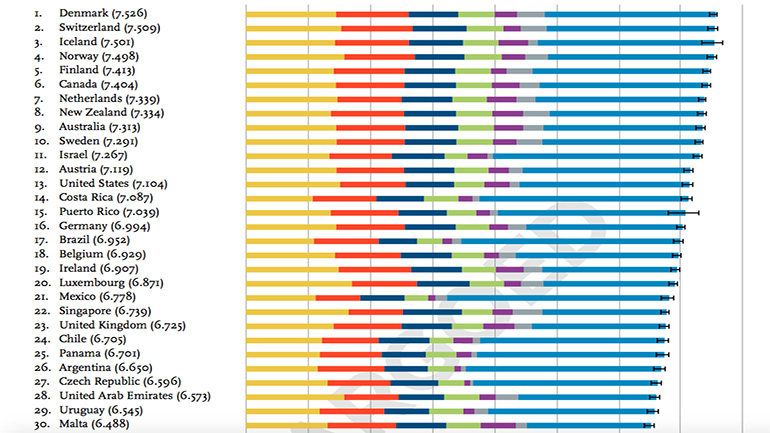 At the bottom of the list of more than 150 countries was Burundi, where a violent political crisis broke out last year. Burundi was preceded by Syria, Togo, Afghanistan, Benin, Rwanda, Guinea, Liberia, Tanzania and Madagascar. All of those nations are poor, and many have been destabilized by war, disease or both.
在150多个国家中垫底的是布隆迪,去年该国爆发暴力的政治危机。排名在布隆迪之前的是叙利亚、多哥、阿富汗、贝宁、卢旺达、几内亚、利比里亚、坦桑尼亚及马达加斯加。这些国家非常贫穷,其中很多国家因为战争、疾病或这两个问题而陷入动荡。
The top 10 this year were Denmark, Switzerland, Iceland, Norway, Finland, Canada, Netherlands, New Zealand, Australia, and Sweden. Denmark was in third place last year, behind Switzerland and Iceland.
今年的前十名分别是丹麦、瑞士、冰岛、挪威、芬兰、加拿大、荷兰、新西兰、澳大利亚和瑞典。去年,瑞士和冰岛分别夺得了冠亚军,丹麦则是第三名。
The bottom 10 were Madagascar, Tanzania, Liberia, Guinea, Rwanda, Benin, Afghanistan, Togo, Syria and Burundi.
垫底的10个国家分别是马达加斯加、坦桑尼亚、利比里亚、几内亚、卢旺达、贝宁、阿富汗、多哥、叙利亚和布隆迪。
Of the world's most populous nations, China came in at No. 83, India at No. 118, the United States at No. 13, Indonesia at No. 79, Brazil at No. 17, Pakistan at No. 92, Nigeria at No. 103, Bangladesh at No. 110, Russia at No. 56, Japan at No. 53 and Mexico at No. 21. The United States rose two spots, from No. 15 in 2015.
世界上人口最多的国家排名情况如下,中国83,印度118,美国13,印度尼西亚79,巴西17,巴基斯坦92,尼日利亚103,孟加拉国110,俄罗斯56,日本53,墨西哥21。2015年排名15的美国升了两位。
From 2005 to 2015, Greece saw the largest drop in happiness of any country, a reflection of the economic crisis that began there in 2007.
从2005年到2015年,希腊的幸福感降幅最大,反映出希腊2007年开始的经济危机的影响。
The happiness ranking was based on individual responses to a global poll conducted by Gallup. The poll included a question, known as the Cantril Ladder: "Please imagine a ladder, with steps numbered from 0 at the bottom to 10 at the top. The top of the ladder represents the best possible life for you and the bottom of the ladder represents the worst possible life for you. On which step of the ladder would you say you personally feel you stand at this time?"
幸福度排名是根据盖洛普(Gallup)的一项全球民调中的个人反应评估的。该调查涉及一个问题,也就是坎特里尔阶梯量表:"请想像一段从0级到10级的阶梯,最高的梯级代表最好的生活,阶梯底部则最糟糕。你感觉自己目前处于哪层阶梯?"
The scholars found that three-quarters of the variation across countries could be explained by six variables: gross domestic product per capita (the rawest measure of a nation's wealth); healthy years of life expectancy; social support (as measured by having someone to count on in times of trouble); trust (as measured by perceived absence of corruption in government and business); perceived freedom to make life choices; and generosity (as measured by donations).
学者们发现,各个国家间的差异有四分之三可以通过六个变量来解释:人均国内生产总值(衡量国家财富的最原始数据);健康预期寿命;社会支持(遭遇麻烦时是否有人可以依靠);信任(认为政府及商界不存在腐败行为);有在生活上做出选择的自由;及慷慨度(通过捐赠衡量)。
The report was prepared by the Sustainable Development Solutions Network, an international panel of social scientists that includes economists, psychologists and public health experts convened by U.N. Secretary-General Ban Ki-moon.
该报告由可持续发展解决方案网络(Sustainable Development Solutions Network)撰写,这是一个由联合国秘书长潘基文(Ban Ki-moon)召集的国际社会科学家小组,其成员包括经济学家、心理学家和公共健康专家。
Though the findings do not represent the formal views of the United Nations, the network is closely tied to the Sustainable Development Goals, which the organization adopted in September aiming, among other things, to end poverty and hunger by 2030, while saving the planet from the most destructive effects of climate change.
这些发现并不代表联合国的正式观点,但该网络与可持续发展目标(Sustainable Development Goals)密切相关,它于2009年引入了该目标,意图在2030年前终结贫穷和饥饿,同时避免气候变化导致最具毁灭性的后果。
The field of happiness research has grown in recent years, but there is significant disagreement about how to measure happiness. Some scholars find people's subjective assessments of their well-being to be unreliable, and they prefer objective indicators like economic and health data. The scholars behind the World Happiness Report said they tried to take both types of data into account.
有关幸福感的研究最近几年不断发展,但在如何衡量幸福感的问题上存在重大分歧。一些学者发现人们对幸福的主观评估并不可靠,他们倾向于使用经济及健康数据等客观指标。撰写《世界幸福度报告》的学者表示,他们努力将两种数据考虑在内。
In a chapter of the report on the distribution of happiness around the world, three economists — John F. Helliwell, an economist at the University of British Columbia; Haifang Huang of the University of Alberta; and Shun Wang of the Korea Development Institute — argued against a widely held view that changes in people's assessments of their lives are largely transitory. Under this view, people have a baseline level of contentment and rapidly adapt to changing circumstances.
在该报告有关世界各地的幸福感状况的章节中,三名经济学家——不列颠哥伦比亚大学(University of British Columbia)经济学家约翰·F·哈利维尔(John F. Helliwell),阿尔伯塔大学(University of Alberta)的黄海方(音)和韩国发展研究院(Korea Development Institute)的王顺(Shun Wang,音)——反对一种普遍观点,即人们对其生活的评估的改变在很大程度上是暂时的。这种观点认为,人们有一个满足底线,能够迅速适应变换的环境。
The three economists noted research showing that people's evaluations of their lives "differ significantly and systematically among countries"; that within countries, subgroups differ widely in their levels of happiness; that unemployment and major disabilities have lasting influences on well-being; and that the happiness of migrants approximates that of their new country, instead of their country of origin.
这三名经济学家指出,研究发现,各个国家的民众对于生活的评估"存在极大的、系统性的差异";在各个国家,不同群体的幸福感也存在广泛差异;失业及重大残疾对幸福感产生了持续影响;移民的幸福感接近他们到达的新国家,而不是他们的祖国。
The three economists noted that crises can prompt vastly different responses based on the underlying social fabric. In Greece, where the economy began to plummet in 2007, setting off a crisis in the eurozone that has resulted in three financial bailouts, widespread corruption and mistrust were associated with the diminishing sense of happiness over the past decade.
这三名经济学家指出,在不同的社会结构基础上,危机造成的反应是截然不同的。在希腊,经济从2007年开始下滑,在欧元区引发危机,导致相关国家开展了三次金融救援行动,在过去十年中,幸福感的减少与普遍的腐败及不信任现象有关。
In contrast, trust and "social capital" are so high in Japan that scholars found, to their surprise, that happiness actually increased in Fukushima, which was devastated by an earthquake and tsunami in 2011, because an outpouring of generosity and cooperation contributed to the community's resilience and rebuilding.
相比之下,学者们惊讶地发现,日本的信任水平和"社会资本"非常高,2011年被地震和海啸摧毁的福岛地区的幸福感实际上有所上升,慷慨与合作在一定程度上帮助该地区恢复和重建。
"A crisis imposed on a weak institutional structure can actually further damage the quality of the supporting social fabric if the crisis triggers blame and strife rather than cooperation and repair," the economists wrote. "On the other hand, economic crises and natural disasters can, if the underlying institutions are of sufficient quality, lead to improvements rather than damage to the social fabric."
"一个脆弱的制度结构遭遇危机,如果这场危机引发指责和冲突,而不是推动合作和补救,那实际上会进一步损害支撑性的社会结构的质量,"这些经济学家写道。"另一方面,如果根本制度足够强大,经济危机和自然灾害会促使社会结构获得改善,而不是遭到损害。"