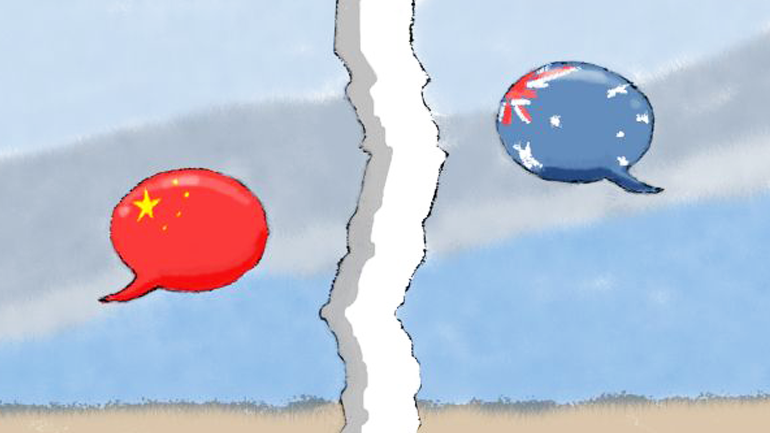 Australia needs far more speakers with at least a basic proficiency in Chinese if it is to make the most of growing trade and cultural links with the Asian giant.
想要更好地利用中澳商贸和文化交往,澳大利亚需要更多的有基本的中文能力的人。
As China's role in our economic and strategic future continues to grow, we badly need a deeper capacity to engage with it. We conspicuously lack that capacity. We are fast approaching a situation here where only Australians of Chinese ethnicity will speak Chinese. This should alarm both economic and strategic planners.
中国对澳大利亚经济影响大,澳急需汉语人才,但澳大利亚在这方面的培养却明显不足。很快,在澳大利亚只有华裔才懂说中文,这应该给经济和决策者敲响警钟。
English is aggressively taught in China so that the country can engage with the outside world in both business and scholarship, but we are failing abysmally in this country to master Chinese. This is lazy and even dangerous.
在中国,英文教育被广泛普及,所以中国人能胜任全球商贸,但在澳大利亚,人们对中文的掌握却很差。这是出于懒惰,也很危险。
It has been estimated that the current number of proficient adult speakers of Chinese in Australia of non-Chinese background is 130 at most; and half of those are already over 55 years of age. Obstacles and disincentives discourage non-Chinese students from taking up or persevering with Chinese as a second language; Last year, there were 400 year 12 students of Chinese as a second language – 20 per cent fewer than in 2008.
在澳大利亚,非华裔背景的会说中文者最多130人,其中半数以上年龄超过55岁。困难及无奖励情况下,令非华裔学生不愿将中文当第二语言。去年仅400个12年级的学生选择中文做第二语言,比2008年的还低20%。
This does not meet our needs as a 21st century nation. In a 2015 survey of Chinese tourism, Australia ranked second as a preferred destination last year. Chinese outbound tourism is expected to grow fast, yet Australia is totally unprepared.
这并不能满足新世纪的要求。去年的一份调查显示,在中国游客最想去的国家中,澳大利亚排第二,中国与澳大利亚的商贸也飞速发展,然而澳大利亚却没有任何准备。
Almost four years ago, the Business Council of Australia drew attention to our need to create a mature relationship with China through many channels and at many levels. This requires a certain percentage of the workforce to have at least basic competence in Chinese. Relying on the language capabilities of Asian-Australians will not be adequate.
四年前,澳大利亚商务委员会就说到需要通过多种渠道与中国建立关系。这需要培养拥有基本中文能力的人才,仅靠亚裔澳人是不足的。
There has been a bipartisan consensus for decades that this need was growing, but the policies put in place have not achieved the desired outcomes. The challenge is to provide the incentives and resources for more young Australians to take this path and become directly engaged in shaping this country's economic and strategic future.
澳大利亚两党长期有此共识,但政策实施却跟不上。澳大利亚需为年轻人提供更多的中文学习机会和奖励,以参与改变经济和战略未来。