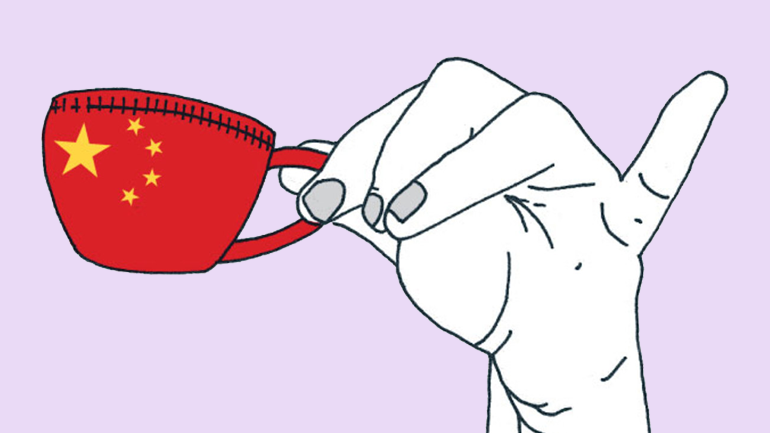 In a secluded courtyard, a lesson in deportment is under way. Some female students, each one with a book balanced on her head, are attempting to walk a few steps without the book falling off.
在一个幽静的庭院里,一堂仪态课正在进行。一些女学生,每一个人的头上都顶着一本书,试图向前走几步,不让书掉下来。
But there's an unusual aspect to this class. It is not happening in Europe, home to many of the world's best-known finishing schools. Instead, it is taking place in Beijing.
但这个课堂有其不同寻常的一面。这里并不是许多世界著名的精修学校的所在地欧洲。而是北京。
Welcome to Institute Sarita, which it claims is China's first finishing school.
欢迎来到瑞雅礼仪,这所宣称中国第一家的精修学校。
It is the brainchild of Sara Jane Ho.
这是何佩蓉的智慧结晶。
A native of Hong Kong, she went to boarding school and university in the USA. After working in investment banking, and for a non-governmental organisation (NGO) in China, she spent some time studying at a Swiss finishing school.
她是香港人,在美国读了寄宿学校和大学。在投资银行和中国的非政府组织(NGO)工作后,她花了些时间在一家瑞士精修学校学习。
Inspired by what she had learnt, on her return to China she decided to set up a school of her own.
受到所学的启发,她回到中国,决定创建自己的学校。
"Etiquette shouldn't be Chinese or French, it shouldn't be for the rich or for the poor, it should be for everybody," she says.
"礼仪不应该是中国的或法国的东西,不应该是富人或穷人的,而应该属于所有人,"她说。
"The spirit of etiquette, no matter where in the world, is the same – it's about respect and consideration for other people, and how to put other people at ease around you."
"礼仪的精神,不管在世界上哪个地方,都是一样的——它是关于对别人的尊重和照顾,和怎么让你周围的人觉得自在。"
The school targets an older age group than its European counterparts.
这所学校比在欧洲的学校定位年龄大一些的群体。
It offers two main courses – one for debutantes, and another, offering instruction in how to be a hostess, for married women.
它提供两门主修课——一门是针对初步步入社会的少女,另一门则指导已婚女性如何当一名女主人。
One of the most important subjects it teaches is deportment.
最重要的一门学科是仪态。
"It's about your character, and the feeling you give to others," explains the institute's president, Rebecca Li, who has also attended a Swiss finishing school.
"这关乎你的性格和你给别人的感觉,"学校总裁黎晟说,她也在一所瑞士精修学校就读过。
"You should make people feel you are confident – a person you can trust."
"你应该让人觉得你是自信的,是一个可以信任的人。"
How you stand, how you sit, how you walk, how you enter a room, how you shake hands – all these things can have an impact on how you are perceived and how others around you feel, according to Ms Li, "so you have to learn how to behave properly".
其他课程包括吃橘子的礼貌方式(使用刀叉),餐桌布置和晚餐排队的座次安排。
Other lessons include the polite way to eat an orange (which involves using a knife and fork), table setting, and dinner party seating arrangements.
其他课程包括吃橘子的礼貌方式(使用刀叉),餐桌布置,和晚宴的座次安排。
The vast majority of those who attend the school are women. Men occasionally take part in classes aimed at more mature students, such as lessons in dating etiquette, and managing personal relationships.
就读的大部分是女性。男性有时候也会参与一些定位更成熟的课程,比如约会礼仪和管理个人关系。
Ms Ho believes the fact that there is demand for courses offered by schools like hers is partly a result of the rapid changes happening in Chinese society.
何女士认为,社会上对像她这样的学校的课程有需求,一部分归根于中国社会正发生快速的变化。
She says that women in particular can find it hard to adjust.
她说特别是女性很难适应这种变化。
"In the last century Mao said, 'women hold up half the sky'; he liberated women by letting them enter the workforce, and now in the career world, you do see women advancing," she explains.
她说"上个世纪毛主席说'妇女能顶半边天';他通过让女性参加工作而解放了女性,而现在在事业上,你会看到女性的进步"。
"But there's [also] 2,000 years of Confucian values which say 'the woman should be the noble protector of the home, and her place is the home, and to bear children.'"
"但[同时]我们2000年的儒家价值观说'女性应该是家里的高贵保护者,她的责任就是家庭和照顾孩子。'"
She also believes that globalisation is having a big impact, particularly on the wealthy.
她也相信全球化是一个大冲击,特别是对富有的人。
"Elite Chinese are starting to send their children to boarding school, they're buying property abroad, they're emigrating abroad," she says.
"中国精英们正在把他们的孩子送到寄宿学校,他们在国外购置地产,他们移民到国外,"她说。
"They are learning very quickly, and they're becoming a lot more cosmopolitan, which is why etiquette, now more than ever, is very relevant."
"他们学得很快,他们变得更加地国际化,这就是为什么礼仪在现在,比任何时候都和我们更加息息相关。"
Her students agree. Candice Li runs her own business, which conducts research into the luxury market. She often travels internationally, and says that she has become more confident in dealing with foreigners after attending the Institute's classes.
她的学生们也很认同。李女士有自己的生意——分析奢侈品市场。她经常要在国际间旅游,说她在参加了学校的课程后与外国人打交道时更加自信了。
Studying at the school is far from cheap, with a 10-day debutante course costing around 8,500 pounds (12,200 dollars).
在这所学校学习价格不菲,10天的少女初入社会课的费用大约是8500英镑。
But for another student, Chelsea Chen, "how much you pay is not important, it's how much you can get from the course."
但对另一些学生,比如陈女士来说,"花多少钱不重要,重要的是你能从课程中学到多少。"
Ms Chen says she regards her attendance as an "investment… for my family… and for everyone surrounding me". She also hopes that, if in the future, she has children, she will be able to pass on what she has learnt to them.
陈女士说她把自己的参与视作一项"投资……对我的家庭……和我周围的每一个人"。她也希望,如果将来有孩子,她能够把自己学到的传授给他们。