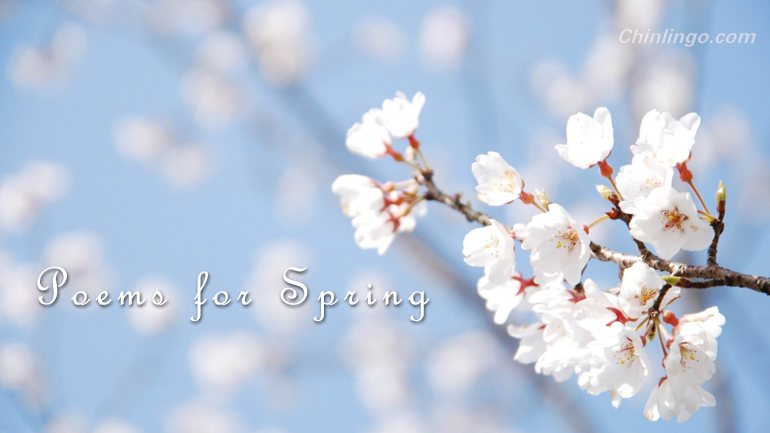 Butterflies Lingering over Flowers   
蝶恋花  
Deep, deep the courtyard where he is, so deep   
庭院深深深几许?
It's veiled by smokelike willows heap on heap,   
杨柳堆烟,
By curtain on curtain and screen on screen.   
帘幕无重数。
Leaving his saddle and bridle, there he has been  
玉勒雕鞍游冶处,
Merrymaking. From my tower his trace can't be seen.   
楼高不见章台路。
The third moon now, the wind and rain are raging late;   
雨横风狂三月暮,
At dusk I bar the gate,   
门掩黄昏,
But I can't bar in spring.  
无计留春住。
My tearful eyes ask flowers, but they fail to bring   
泪眼问花花不语,
An answer; I see red blossoms fly o'er the swing.
乱红飞过秋千去。
Spring Night
春夜
A moment of spring night is worth its length of gold,
春宵一刻值千金,
When flowers spread on moonlight and shade fragrance cold
花有清香月有阴。
The slender flute from the bower plays music slender;
歌管楼台声细细,
The tender night on garden swing casts shadow tender.
秋千院落夜沉沉。
Butterflies in Love with Flowers
蝶恋花
I lean alone on balcony in light,light breeze;
伫倚危楼风细细,
As far as the eyes see,
望极春愁,
On the horizon dark parting grief grows unseen.
黯黯生天际。
In fading sunlight rises smoke over grass green.
草色烟光残照里,
Who understands why mutely on the rails I lean?
无言谁会凭阑意。
I'd drown in wine my parting grief:
拟把疏狂图一醉,
Chanting before the cup, strained mirth brings no relief.
对酒当歌,强乐还无味。
I find my gown too large, but I will not regret;
衣带渐宽终不悔,
It's worthwhile growing languid for my coquette.
为伊消得人憔悴。
Gathering Mulberry Leaves
采桑子
Viewed from a light boat with short oars, West Lake is fair.
轻舟短棹西湖好,
Green water winds along
绿水逶迤,
The banks overgrown with sweet grass; here and there
芳草长堤,
Faintly we hear a flute song.
隐隐笙歌处处随。
The water surface is smooth like glass when no wind blows;
无风水面琉璃滑,
I feel the boat moves no more.
不觉船移,
Leaving ripples behind, it goes,
微动涟漪,
The startled waterbirds skim the flat sandy shore.
惊起沙禽掠岸飞。
Please visit Chinlingo for Chinese learning.