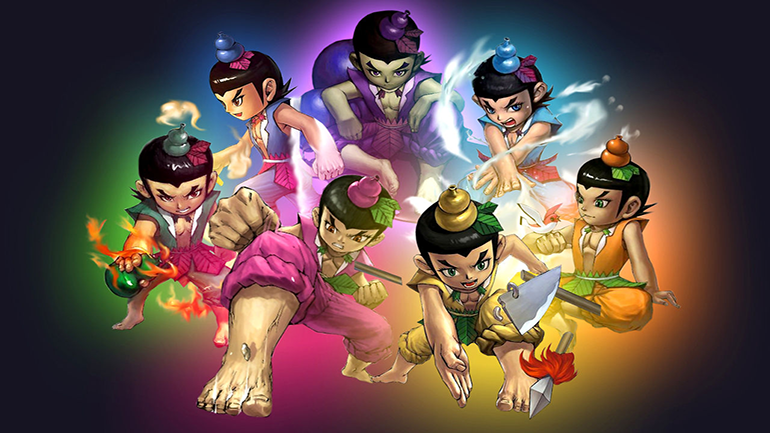 The popular Chinese animation TV series Calabash Brothers (葫芦兄弟, hú lú xiōng dì) is set to become a live-action film, announced Shanghai Film Group Corporation and Edko Films at a joint press conference in Shanghai on February 29.
脍炙人口的系列动画片《葫芦兄弟》将推出真人版电影。2月29日,上影集团与安乐电影公司联合宣布了这一消息。
Known as "Húluwá" among its many Chinese fans, the original 13-episode series was first broadcast in 1986 and follows the adventures of seven boys with super powers fighting two demonic spirits.
《葫芦兄弟》是上影集团于1986年推出的13集动画片,讲述了七个"葫芦娃"兄弟大战两个妖怪的故事,很受中国观众欢迎。
The animation is part of the collective memory of many fans who were born in the 1970s and 80s and they are both excited and anxious at the news.
《葫芦兄弟》是中国"70后""80后"们的童年集体回忆的一部分。闻此消息,他们表示即兴奋又担忧。
"No matter how terrible the movie's gonna be, I'm definitely going to watch it," said BanbiTyphoon on the Twitter-like social media Sina Weibo. Another, Duoduo, worried whether "the director could find seven identical brothers for filming."
新浪微博用户BanbiTyphoo 表示,"不管这部电影被改成了什么样,我一定会去看看。"另一个叫"多多"的网友则担心"导演是否能找到7个一样的兄弟来演葫芦娃。"
At the press conference, Bill Kong, president of Hong Kong-based Edko Films, promised that the remake had been decided upon after careful deliberation.
在新闻发布会上,香港安乐影业总裁江志强表示,启动拍摄真人版《葫芦兄弟》经过了审慎酝酿。
He added that they have opted for live-action rather than high-tech CG animation as part of their efforts to respect the roots of the classic animation.
他补充说,他们选择了真人版电影而不是高科技电脑动画版,将尽最大努力,在银幕上重塑经典。
A calabash is a light-green vine fruit, also known as opo squash or long melon. In the series,seven different-coloured calabashes fall from their stems and magically transform into the brothers.
葫芦是一种藤状植物的草绿色果实,又被称为瓠子或者长瓜。在《葫芦兄弟》系列中,七种不同颜色的葫芦从蒂部落下之后,神奇地变成了葫芦兄弟。
So far, the animation series has been translated into seven languages.
迄今为止,这部片子已经被译成了7种语言。