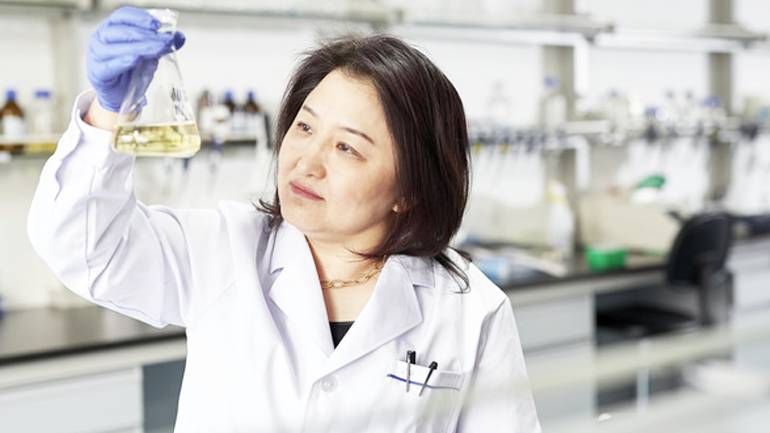 When Samantha Du returned to her native China in 2001 with a mission to build a pharmaceuticals company, the move seemed like a terrible mistake. She had left behind a comfortable life in the US where she spent the previous 12 years, first as an academic scientist and later in roles of rising seniority at Pfizer. Back in China, she felt like an alien in her own country as she tried to start her venture.
当2001年杜莹回国成立一家制药公司时,这一举动看上去似乎是个极大的错误。她放弃了在美国12年的舒适生活,在那里,她先是在大学当学者,后来在辉瑞公司任职。回到中国创业之初,她感到在自己的国家就像个外国人。
Several times she came close to quitting but was dissuaded by business partners. Fifteen years later, her persistence appears to be working. As, first, chief scientific officer of Hutchison China MediTech and now chief executive of Zai Lab, she is prominent among a wave of biotech entrepreneurs aiming to modernise China's pharma industry and make the country a force in drug development.
她多次想放弃,但都被生意伙伴劝服。15年后,她的坚持似乎见到了成效。先是成为和黄中国医药科技公司首席科技官,现在是再鼎医药有限公司首席执行官,她是一波旨在推动中国制药业现代化和培养中国药剂发展影响力的生物技术科学家中的佼佼者。
Most of them are "sea turtles" (the name given to Chinese professionals trained in the west who have returned home armed with qualifications and experience). All nine of Zai Lab's top management studied at US universities. They have been drawn home by rapidly improving opportunities in China's life science sector as Beijing pumps resources into its quest for a more innovative, high-value economy.
这些人中的大部分是"海归"。再鼎医药的九名高管都曾在美国大学就读。在中国政府投入资源建设高附加值创新经济之际,他们被中国生命科学领域迅速增加的机会吸引回国。
"We want to be the first Chinese biotech company with global standing," says Ms Du. She is hardly alone in that ambition. BeiGene, a company founded by Xiaodong Wang, former professor of biomedical science at the University of Texas, last month raised $158m on Nasdaq to accelerate development of four promising cancer drugs.
杜莹说:"我们希望成为中国首个拥有全球地位的生物技术公司。"她不是唯一有此雄心壮志的人。由曾是得克萨斯大学生物医学专家的王晓东创办的百济神州有限公司上月在纳斯达克筹集了1.58亿美元,加快了四种抗癌药物的开发。
Perhaps the most successful "sea turtle" in China's life science sector is Ge Li, who earned his doctorate at Columbia University and became a biotech entrepreneur in the US before returning home to found WuXi AppTec 15 years ago. The company has since become the biggest Chinese contract research organisation, performing R&D and manufacturing for many of the world's biggest pharma groups. About 5 per cent of WuXi AppTec's 10,000-strong workforce was trained overseas.
或许中国生命科学领域最成功的"海归"是李革,他在哥伦比亚大学获得博士学位后在美国成为一名生物科学企业家,15年前回国创办了药明康德新药开发有限公司。该公司成为中国最大的合约研究机构,为许多世界大制药集团进行研发和制造工作。药明康德的一万员工中约5%都在国外接受过教育。
While returnees are leading the development of China's biotech sector, they are increasingly drawing from an expanding local talent pool to build their businesses. China overtook the US in 2008 as the world's biggest producer of PhDs, and the number has continued to grow rapidly.
尽管"海归"们引领着中国生物技术领域的发展,但他们越来越多地从日益扩大的国内人才库中选拔人才来创办企业。2008年,中国取代美国成为世界最大的博士学位授予国,其博士数量仍在迅速增长。
With soaring numbers of scientists, rising investment in R&D and growing demand for medicines from an ageing population, China has all the ingredients for growth in its biotech sector. Ms Du and others like her are aiming to replicate the success of US companies such as Genentech and Amgen.
随着科研人员数量猛增、研发投资增加和老龄化人口对药物的需求加大,中国具备了生物技术领域增长的一切要素。杜莹和其他像她一样的人们希望复制遗传技术研究公司和安进公司等美国企业的成功,成为全球制药领域的生力军。