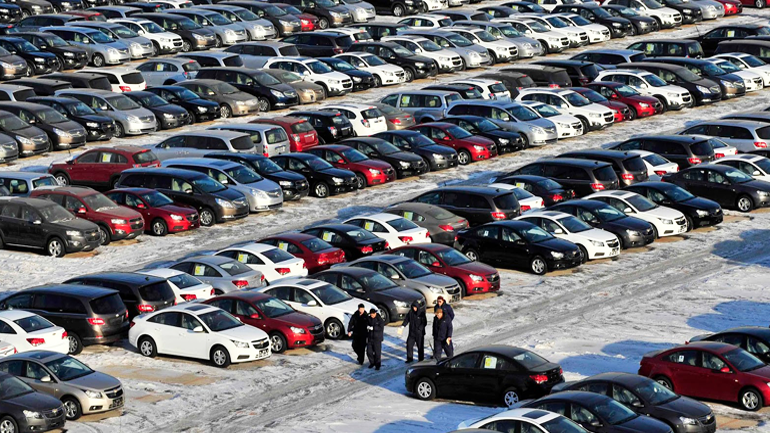 China is the world's largest new car market, with sales of 21m units last year compared with 17.4m in the US. When used cars are included, the US auto market swells to more than 40m units, against less than 30m total passenger car sales in China.
中国是世界上最大的新车市场,去年销售2100万辆,而美国为1740万辆。但如果将二手车包括进来,美国汽车市场超过4000万辆,而中国的销量不到3000万辆。
In value terms, the gap between the two markets is even larger. In 2014, the overall value of US car sales was almost $1.2tn, more than twice as large as China's $470bn.
按照销售额,这两大市场之间的差距更大。2014年,美国汽车销售额接近1.2万亿美元,是中国的两倍多,中国的销售额为4700亿美元。
This is not surprising, considering that two-thirds of cars on Chinese roads are less than five years old and 80 per cent of all buyers are first-time drivers. The latter fact explains why crossing an intersection in China can be a harrowing experience for pedestrians. Put another way, an industry that most Americans, Europeans and Japanese have grown up with and now take for granted does not yet even exist in China. Dismiss a shady character as a "used car salesman" and most Chinese people will not understand the reference.
这不足为奇,因为中国上路的小汽车三分之二不到5年,其中80%的买车人都是第一次开车。后一条事实说明了为什么在中国穿过十字路口对行人来说可能是个痛苦的经历。换句话说,大多数美国人、欧洲人和日本人与之共同成长并视为当然的一个行业,在中国根本不存在。将可疑的人称为"二手车贩子",多数中国人并不明白其所指。
The inevitable rise of what will soon be the world's largest used car market is one such example. While its emergence will initially cannibalise some new car sales — primarily those of cheap domestic brands — the potential for growth is huge. In most developed auto markets, there are at least two used car sales for every one new car sale. In China the ratio is inverted, with roughly three new car transactions for every used car sold.
中国不久之后将成为世界最大的二手车市场。虽然它的出现开始将影响一些新车的销量——主要是廉价的国内品牌,但是其增长潜力巨大。在多数发达的汽车市场上,每卖出一辆新车,至少会卖出两辆二手车。在中国这个比例正好相反,每卖出一辆二手车,约卖出三辆新车。
But a giant new used car market will not spring up by itself. Complicated financial reforms will need to be hammered out in order to facilitate its development.
不过一个庞大的新的二手车市场不会自己突然冒出来。为了推动其发展,需要推行复杂的金融改革。
As Janet Lewis at Macquarie Securities in Hong Kong points out, while regulations governing the sale of used cars vary from province to province, in general dealers must act as brokers between sellers and buyers. That is because value added tax would be incurred if they took temporary ownership of vehicles, putting further strain on already tight cash flows. When such wrinkles are finally ironed out, the inevitable surge in Chinese used car sales will also benefit car manufacturers now contending with a "new normal" of falling margins in what has historically been their most lucrative market.
香港麦格理证券公司的珍妮特·刘易斯称,虽然各省二手车销售的规章制度各不相同,但是一般来说经销商必须充当卖家与买主之间的中间人。这是因为他们如果临时拥有车辆的所有权,就会产生增值税,从而使本已紧张的现金流更加紧张。当这些问题最终得到解决,中国二手车销售必然大增,也有利于现在疲于应付中国市场上利润下降"新常态"的汽车制造商。中国市场曾经使它们利润最丰厚的市场。
The emergence of a proper Chinese used car market will help everyone and the world's largest multinational carmakers by boosting dealer profits.
健全的中国二手车市场的出现将使每个人受益,提高经销商利润有利于世界最大的跨国汽车制造商。