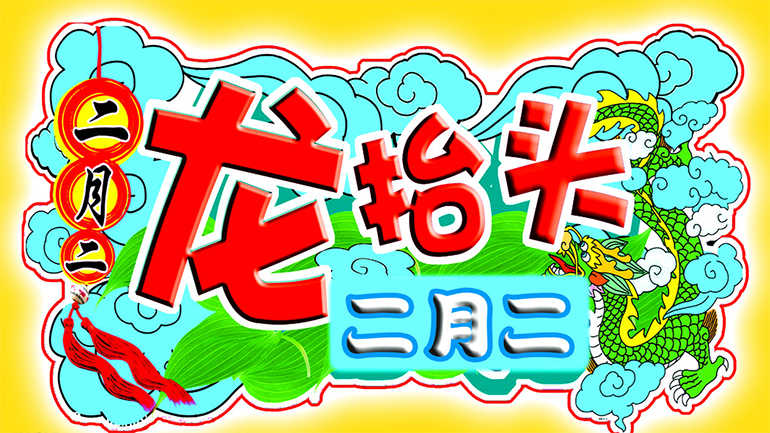 The Dragon Head-raising Day falls on the second day of the second lunar month, which is a traditional festival for Han nationality and many minorities in most Chinese regions. This year, the festival falls on March 10.
农历二月初二是为龙抬头,在中国,汉族和许多少数民族都会庆祝这一传统节日。今年3月10日正是龙抬头。
The origin of the festival is deeply related to Awakening of Insects, one of the 24 solar terms. It's said that when the day comes, the land will wake up while the Yang Qi starts to rise. Dragons are auspicious omen in Chinese folk legends and they dominate wind and rain. As the folk saying goes, "dragon raises its head on the second day of the second lunar month", people hope that dragons will make plentiful rain for the mankind and to facilitate spring ploughing.
龙抬头的起源与惊蛰有着密切的联系。据说,在龙抬头这一天,春回大地,万物复苏,阳气开始上升。在中国民间传说中,龙是吉祥物,掌管风和雨。"二月二,龙抬头",人们希望龙能带来风调雨顺,便利春耕。
It was first recorded in the ancient text《燕京岁时记》(Annual Customs & Festivals in Peking): "是日食饼者谓之龙鳞饼,食面者谓之龙须面。闺中停止针线,恐伤龙目也", meaning: on this day, those who eat pancakes must call the food "Dragon Scale Bing", and those who eat noodles should call the noodles as "Dragon Beard Noodles". In women's residences, needlework was halted so that the dragon's eyes will not be harmed. The dragon was believed to control the rain and the wind. The ancient Chinese accordingly attributed the first spring rains to the mysterious power of the dragon.
龙抬头最早收录在《燕京岁时记》:"是日食饼者谓之龙鳞饼,食面者谓之龙须面。闺中停止针线,恐伤龙目也"。意思是:在龙抬头这一天,吃饼的人称饼为"龙鳞饼",吃面的人称面为"龙须面",闺中女人应停止针线活,以免伤了龙眼。由于龙掌管风和雨,中国古人通常会因春天的第一场雨联想到龙的神秘力量。
The most well-known tradition on this day is the cutting of hair. On this day, if you cut your hair, it is believed you will have good fortune for the rest of the year. In addition, Chinese refrain from getting haircuts during the first lunar month of the year as it is believed that 正月剃头死舅舅 (if you cut your hair in the first month, your uncle will die).
龙抬头当天,最有名的传统就是理发。如果你在当天理发,那么你在这一整年都会交好运。此外,中国人忌讳在正月理发,有句谚语说道:"正月剃头死舅舅"。
This may seem like a strange tradition, but it is, in fact, related to the Manchu invasion against the Han Chinese, which led to the creation of the Qing Dynasty (1644-1912). When the Manchu took over, they ordered the Han Chinese to adopt their hairstyle. Anyone who refused cut their hair had their head chopped off.
这一传统听起来有点怪,但实际上和当年满人侵略汉族有关。满人篡权建立清朝(1644-1912)后,命令汉人接受他们的发型,拒绝理发者会被斩首。
In an attempt to preserve their Han identities they secretly defied rule from outsiders. The words 死舅 have similar pronunciation to 思旧, meaning "miss the past".
当时有人为怀念明朝,就在正月里不剪发以表"思旧",但又不能公开与清政府对抗,于是就有了"正月剪头死舅舅"的说法(死舅与思旧读音相似)一直流传到至今。
Today, this tradition has lost its original significance, but many still believe that having a haircut in the first lunar month brings bad luck, while having a haircut on Dragon Head Raising Day gives a blessing from heaven.
如今,这一传统早已失去原有的意义,但许多人仍忌讳在正月理发,而选择在二月初二理发,以求带来天赐的好运。