March 8 is International Women's Day. In China, we say women "hold up half the sky". In Chinese myth, a goddess named Nv Wa amended the broken sky and created human beings. Like the earth, women have been always taken as a symbol of caring and nurturing. And the moon, water, flowers, cats and snakes are connected with women. They symbolize the softness, adaptability, beauty and wittiness of women.
3月8日是国际妇女节。中国有句话,"妇女能顶半边天"。神话故事里也有女娲补天造人的传说。就像地球一样,女性常被视为关怀和孕育的象征。女性还与月亮、水、花儿、猫、蛇等物象联系在一起,拥有温柔、机灵、美丽、智慧等象征意义。
With multi-identities in modern society, women are not only mothers and wives who take care of their families, but also doctors, scientists and teachers who care about their patients, experiments and students. Their softness, adaptability, and wittiness become weapons to fight for their dreams and against sexual discrimination.
现代社会,女性也正在扮演多重角色,除了传统上顾家的母亲、妻子,还在医生、科学家、教师等领域发光发热。她们的温柔、机灵、智慧成了追求自己的梦想和反对性别歧视的武器。
We chose five prominent women in recent years whose achievements encourage more young women to pursue their dreams. Since we often use flowers as metaphors when describing women, these "flowers" will surely never wither either in history or in our memory.
今天,我们就为大家介绍五位当代杰出女性。她们的成就也激励着更多年轻女性去追逐自己的梦想。我们常常用花朵来形容女性,这五朵花将永远绽放在历史上,绽放在我们的记忆里。
Peng Liyuan
彭丽媛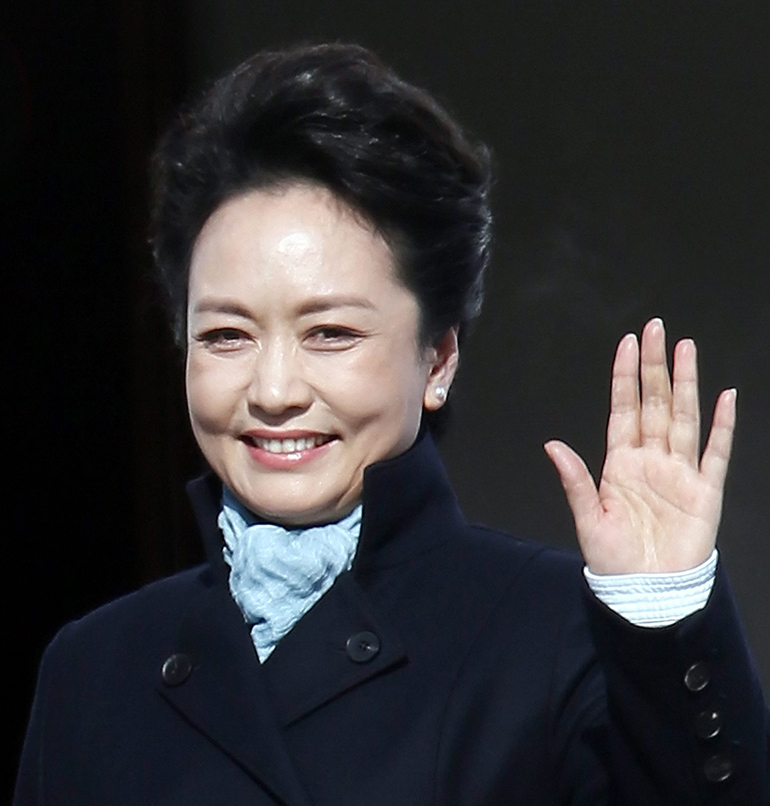 Soprano and China's first lady
女高音歌唱家、第一夫人
She was called "Peng Mama" (Mother Peng) as a term of endearment when she became first lady. As a celebrated soprano, Peng has been well-known for her beautiful voice since her debut at the 1982 CCTV Spring Festival Gala. She is the first soprano in China to receive a master's degree in Chinese folk vocal music. Her wide vocal range conveys a strong passion in Chinese folk music in a gentle, lovely, yet powerful way. Her famous songs include Ode to Red Plum Blossom and On the Hopeful Field. Her fashion sense, called "Liyuan Style", is a symbol of grace and elegance. Since 2004, Peng has devoted herself to many programs for the public good, such as the help for AIDS and tuberculosis patients and a stop smoking campaign. Her image and actions reflect the beauty – inside and out – and the pleasant character of Chinese women.
当她成为第一夫人后,被人们亲切的称为"彭麻麻"(彭妈妈)。作为一位著名的女高音歌唱家,自1982年在央视春晚亮相以来,彭丽媛便以其优美的嗓音而家喻户晓。她是中国第一位民族声乐硕士。她宽广的音域以温柔、可爱、抑或有力的方式演绎了中国民族音乐的强烈情感。她的代表作品有《红梅赞》、《在希望的田野上》等。她的时尚品味,被称为"丽媛风",是优雅和高贵的象征。自2004年以来,彭丽媛频频参加各种公益活动,包括关爱艾滋病人、关爱结核病患、宣传禁烟等。她的形象和行为反映了中国女性内外兼修的美,以及他们和蔼可亲的性格。
屠呦呦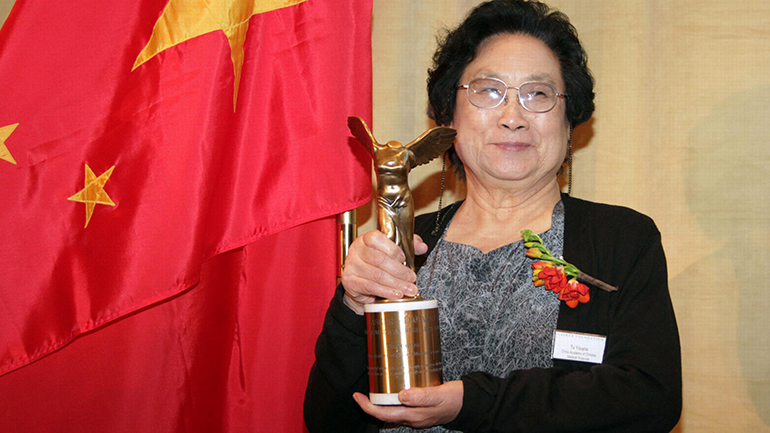 Pharmacologist
药理学家
With her soft smile, she looks like an amiable granny who anyone might have. She is Tu Youyou, who was awarded the 2015 Nobel Prize in Physiology or Medicine for her discoveries of a new therapy against malaria. She is the first Chinese female scientist to win the Nobel Prize. Her studies were inspired by traditional Chinese medicine theories and she extracted artemisinin in 1972 after hundreds of failures. Artemisinin has saved more than 200 million Africans suffering from malaria since 2000. Just as Tu said, "Artemisinin is a gift to the world from Traditional Chinese Medicine".
脸上带着淡淡的微笑,她看起来像是我们每个人都有的那个慈祥的奶奶一样。她就是屠呦呦,2015年诺贝尔生理学或医学奖获得者,理由是她发现了医治疟疾的新疗法。她成为第一个获诺贝尔奖的中国女科学家。屠呦呦多年从事中药研究,历经数百次的失败后,终于在1972年成功提取到了青蒿素。自2000年以来,青蒿素挽救了2亿多非洲疟疾患者的生命。正如她本人所说:"青蒿素是中国医学给世界的礼物。"
Li Na
李娜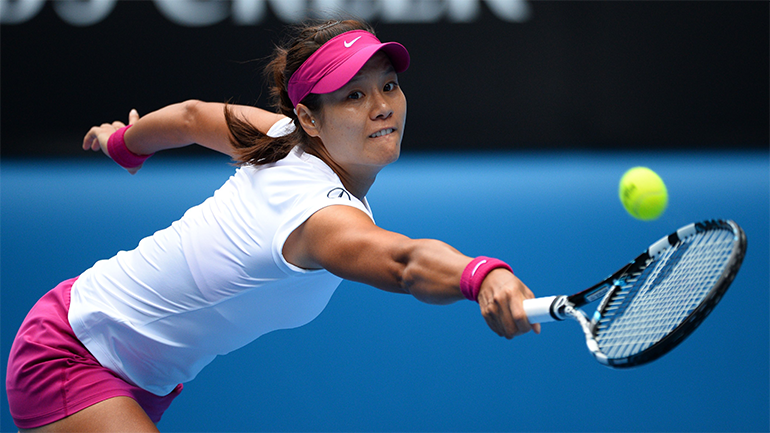 Professional tennis player
职业网球运动员
Many people were impressed by her powerful groundstrokes and quick reflexes when she played the game. She is Li Na, who started playing tennis when she was only six. In 2004, the 22-year-old Li became the first Chinese female player to win a WTA tour title. After winning nine WTA singles titles that includes two Grand Slam singles titles at the 2011 French Open and 2014 Australian Open, she became the first and only Grand Slam singles champion from Asia. She is also active in philanthropy, donating 500,000 yuan ($83,000) to Yushu in Qinghai province after the 2010 earthquake.
许多人对她强力的落地球和比赛中的快速反应印象深刻。她就是李娜,从6岁开始打网球。2004年,22岁的李娜成为首个获得世界网球协会桂冠的中国女球员。她一共获得了9个世界网球协会单打冠军,其中包括两个大满贯单打冠军,分别是2011年的法网和2014年的澳网。她也因此成为亚洲首位、也是唯一一位大满贯单打冠军得主。她也热心于慈善事业,2010年青海玉树地震,她捐赠了50万元(约8.3万美金)。
Dong Mingzhu
董明珠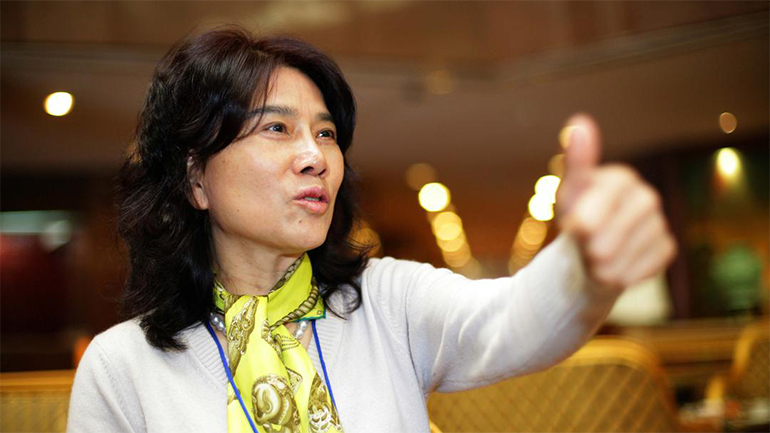 President of Gree Electric Appliances Inc
格力电器总裁
Dong's story lets you know that age has nothing to do with being a successful woman. She is the representative Chinese businesswoman who succeeded and broke the glass ceiling through industrious work. In 1990, she joined Gree when she was 36 years old and started her career from doing sales work. She became Gree's president in 2012. Her achievements helped China's home appliances industry to develop in an environmentally-friendly way. As a widow who lost her husband when her son was 2 years old, single mother Dong brought up their son and still fights in the competitive market.
董明珠的故事让你明白,年龄并不能阻挡你成为一个成功的女性。她是中国成功女商人的代表,通过努力奋斗,打破了年龄界限。1990年,36岁的董明珠进入格力,开始做销售。2012年,她成为格力总裁。她的成就之一就是让中国家电业走上了环保道路。儿子两岁时,董明珠遭受了丧夫之痛。她作为单身母亲将儿子养大,而且一直奋战在竞争激烈的家电市场。
Yao Chen
姚晨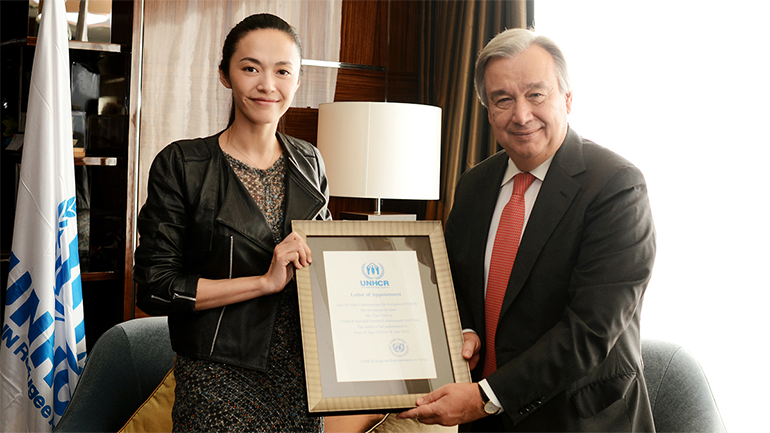 Actress
演员
Yao Chen, who most people know through her wonderful performance in the 2006 comedy series, My Own Swordsman. Since then, she has become one of the most influential actresses in China. In 2009 she started to use her Sina Weibo, which now has 79 million followers, to help people in need. In 2013 she became the first UNHCR (United Nations High Commissioner For Refugees) goodwill ambassador in China. And at the World Economic Forum in Davos in 2016, she was awarded the Crystal Award for artists who commit themselves to improve the state of the world.
2006年,姚晨因在喜剧《武林外传》中表演出色,一炮而红。自那时起,她便成为了中国最有影响力的女演员之一。2009年,她开始在微博上助人,迄今已拥有7900万粉丝。2013年,她获委任为首位联合国难民署中国亲善大使。2016年,因在公益方面的贡献,姚晨获颁达沃斯世界经济论坛水晶奖。