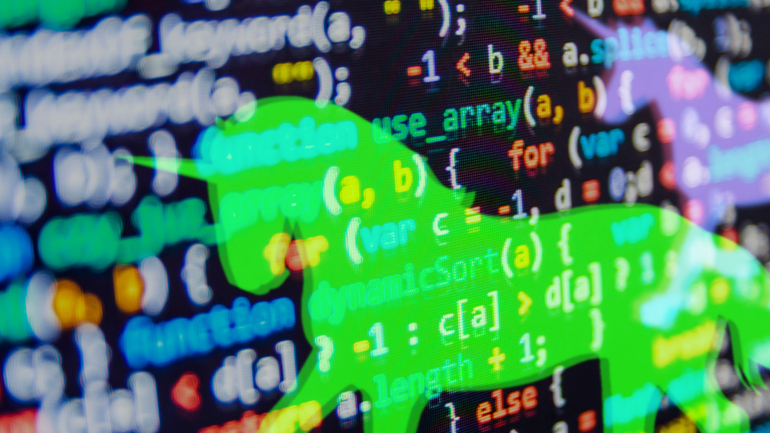 The number of so-called unicorn companies — tech startups valued at more than 1 billion dollars each — has reached 40, second to Silicon Valley in the United States.

所谓的独角兽公司的数量——将估值超过10亿的科技创业公司称为独角兽公司——已经达到了40个,仅次于美国的硅谷。
This is according to the Zhongguancun Unicorn List released on Monday by the Great Wall Enterprise Institute, a research house in the capital.
这是根据中关村在线周一通过长城企业研究所(首都的一家研究机构)发布的数据。
They account for half such companies in China, with an aggregate valuation of 146.2 billion dollars, including three worth more than 10 billion dollars each.
它们的数量占了中国同类公司的一半,总估值为1462亿美元,包扩三个价值超过100亿美元的公司。
Smartphone maker Xiaomi, valued at 46 billion dollars, ranks first, followed by group-buying player Meituan-Dianping, valued at 18 billion dollars.
智能手机生产商小米,估值460亿美元,排名第一;排名第二的为团购商美团大众点评网,估值180亿美元。
Didi Kuaidi, China's largest ride-hailing app, valued at 16.5 billion dollars, came in third, the report said.
报道说,中国最大的交通软件滴滴打车,估值165亿美元,排名第三。
Lin Renxiang, an analyst at iResearch Consulting Group, said, "Beijing is China's Internet center and many Internet companies are based in the city. Moreover, Beijing is home to China's top universities and research institutes, which cultivate technical talent for these unicorn companies."
艾瑞咨询的分析师林任翔说,"北京是中国的网络中心,许多互联网公司都设立在这座城市。而且,北京也是中国顶尖大学和研究机构的集中地,这也就为这些独角兽公司培养了科技人才。"
Lin estimates that more unicorn firms are likely to appear in service fields including big data, cloud computing and mobile health.
林预测:更多的独角兽公司很可能出现在包括大数据、云计算和移动医疗在内的服务领域。
According to the list, most unicorn companies operate in e-commerce, Internet finance, consumer electronics, transportation and big data. These companies have seen dramatic growth, with more than 30 unicorns formed after 2010 undergoing vigorous initial development.
根据中关村在线的数据,大部分独角兽公司都经营电子商务、互联网金融、家用电子产品、交通和大数据。在2010年经历了有力的初始发展后,这些公司已经得到了戏剧性的增长。
Liu Hang, spokesman for the management committee at the Zhongguancun Science Park, estimates that with technical breakthroughs in big data application, intelligent hardware, artificial intelligence and virtual reality, a series of new unicorn companies will emerge in these fields.
中关村科技园区管理委员会发言人刘航估计:随着在大数据应用、智能硬件、人工智能和虚拟现实方面的技术性突破,这些领域将会出现一系列新的独角兽公司。
By December, there were 70 unicorn firms nationwide. Beijing ranked first with 40, followed by Shanghai (15), Hangzhou (4) and Shenzhen (3), the report said.
据报道:截至2015年12月,全国共有70家独角兽公司。北京排名第一,拥有40家,上海第二(共15家),杭州第三(共4家),深圳第四(共3家)。
Last month, a list issued by Fortune magazine showed the number of unicorn companies globally had increased to 173, with 35 in China.
上个月,《财富》杂志发布了一个榜单,显示全球独角兽公司的数量已经增加到173家,其中有35家在中国。