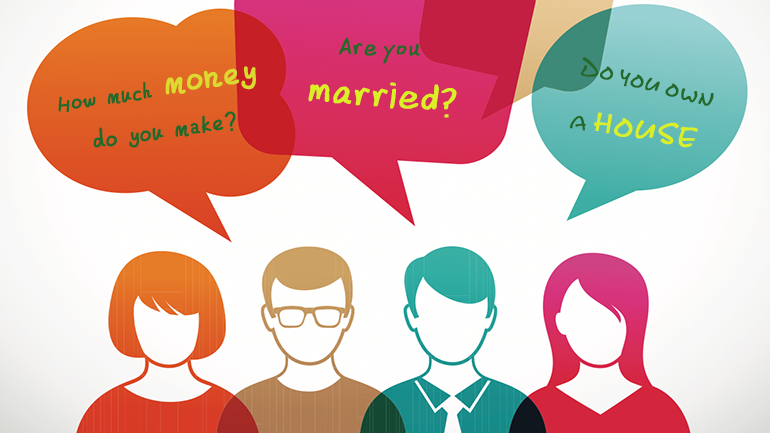 Here is a conversation which has happened to me fairly frequently. I get approached by a man or woman who is in her 60s or 70s, and the conversation starts like this:
这里有段经常发生在我身上的对话。有个六七十岁的老人朝我走来,然后就会开始这样一段对话:
"Are you married?"
"你结婚了没?"
"No."
"没。"
"Why not? Do you like men instead?"
"为什么还没结?难不成你喜欢男人?"
"No, I like women. I guess I have just not met the right one."
"不,我喜欢女人。我觉得我只是还没遇到对的人。"
"How much money do you make?"
"你赚了多少钱?"
"I make xxx."
"我赚了xxx元。"
"Do you own a house?"
"你有房吗?"
"No, I don't."
"没有。"
"You seem like a decent person. Why aren't you married?"
"你看起来很是正派体面。你为什么还没结婚?"
"I have had some bad luck."
"我运气不太好。"
"Would you be interested in meeting my daughter? She is 40 years old and not married yet. I was wondering if you could meet and become friends?"
"你有没有兴趣和我女儿处处?她40岁了,也还未婚。我想你们可以见个面然后处个朋友?"
By this time, my mind is whirling madly. If agree to meet, their hopes are very high, and if things don't work out, I will end up hurting them. Time for some honesty.
这时我心里是一团乱麻。如果我答应去见面,他们会对此事抱有很大期望,如果我们处不来,我最终会伤害到他们。我应该开诚布公。
"If you give me a way to contact her, I will contact her directly and we can have dinner. But I don't want you to be involved in the process if that's OK with you."
"如果你给我她的联系方式,我会直接去联系她,然后我们可以一起吃顿饭。但是我不希望你掺和进来,这样行吗?"
"OK. Do you have a recent photo? I will give it to her and ask her. And give me your phone number so that she can contact you directly."
"没问题。你有近照吗?我会给她看看,问问她的意思。然后你把你的电话给我吧,这样她就可以直接联系你了。"
"Here you go. Thank you."
"就这样吧,谢谢你。"
In fairness, this kind of conversation has happened to me in the US too, but only among Chinese.
说实在的,在美国,这种对话也有发生在我身上,但仅限中国人之间。
There are a lot of desperate Chinese parents out there.
那里有太多对儿女婚事极度焦虑的中国父母。
I had this conversation last year, 30 minutes into a first date. We were both 25:
这段对话发生在去年,就在第一次见面的30分钟内。我们俩都是25岁。
Girl: "So Peter, how much do you make each month".
女方:"那么,Peter,你每个月赚多少钱?"
Me: "Um… [an amount]".
我:"嗯,•••元(一个总额)。"
Girl: "That's not bad. Have you bought a house or a car yet?"
女方:"还不错。你买房了吗?买车了吗?"
Me: "Neither. I want to invest my income into education."
我:"都没有。我想把我的收入投资在学习方面。"
Girl: "Don't you think as a man it is your responsibility to own a house or car?"
女方:"你不觉得你作为一个男人,你有责任买房买车吗?"
Me: "…"
我:"••••••"
I don't know just how prevalent this is but all of my male friends in Shanghai and Beijing report having experienced various versions of this conversation, whereas in the UK I'd have found this baffling.
我不知道这种对话有多流行,不过我在上海和北京的男性朋友都说经历过这种对话的多种版本,但是在英国,我发现很多人对此表示不解。
Two parents in a compliment/response interaction:
两个家长互相之间的恭维/回应:
A: Your child is very intelligent.
A:你家孩子可真聪明。
B: He's not, he's not.
B:不不,他不聪明。
It only makes sense in China.
只有在中国才讲得通。